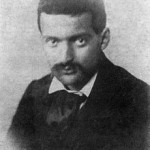 On this day in 1906 Post-Impressionist French artist Paul Cézanne died of pneumonia at his home in Aix-en-Provence, France at the age of 67.  Born 19 January 1839 in Aix-en-Provence, France.  One can argue that Cézanne formed the bridge between Impressionsim and early 20th century Cubism.  Matisse and Picasso both reportedly said that Cézanne "is the father of us all".  Perhaps my favorite artist.  He had one son, Paul, with his mistress Marie-Hortense Fiquet, who he later married.  One source of inspiration appears to be the French classical painter Nicolas Poussin.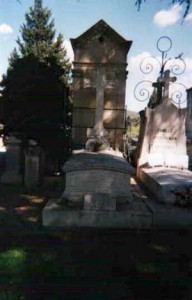 The Final Footprint – Cézanne is entombed in a single crypt private mausoleum in Cimetiere de Saint Pierre in Aix-en-Provence, France.  His landscape paintings are among my favorites, particularly;
| | | | |
| --- | --- | --- | --- |
| The House with Burst Walls, 1892-1894 | Road Before the Mountains, Sainte-Victoire, 1898-1902, Hermitage Museum, St. Petersburg | Château Noir, 1900-1904, National Gallery of Art | Bathers, 1894-1905, National Gallery London |
| | | | |
| --- | --- | --- | --- |
| Mont Sainte- Victoire, 1882-1885, Metropolitan Museum of Art | | Mont Sainte-Victoire, 1885-1887, Courtauld Institute Galleries, London | Jas de Bouffan, 1885-1887, Minneapolis Institute of Art |
Self Portraits – From left to right:  Self-portrait with Beret, 1898-1900, Museum of Fine Arts Boston; Self-portrait, watercolour 1895; Self-portrait, 1875, Musée d'Orsay; Self-portrait, 1879-1882, Kunstmuseum, Bern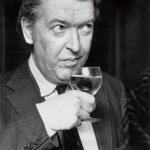 On this day in 1995, novelist, poet, critic, and teacher Sir Kingsley Amis died at St. Pancras Hospital in London at the age of 73.  Born Kingsley William Amis on 16 April 1922 in Clapham, South London.   Amis wrote more than 20 novels, six volumes of poetry, a memoir, various short stories, radio and television scripts, along with works of social and literary criticism.  He was the father of English novelist Martin Amis.  Amis's first novel, Lucky Jim (1954), is perhaps his most famous.  Amis was shortlisted for the Man Booker Prize three times in his writing career for Ending Up (1974), Jake's Thing (1978), and finally winning the prize for The Old Devils in 1986.  An admitted serial adulterer, Amis married twice: Hilary Bardwell (1948 – 1965 divorce) and novelist Elizabeth Jane Howard (1965 – 1983 divorce).  The Final Footprint – Amis was cremated and his cremains are at Golders Green Crematorium.  Golders was the first crematorium to be opened in London, and one of the oldest crematoria in Britain.  The crematorium, the Philipson Family mausoleum (designed by Edwin Lutyens), the wall, along with memorials and gates, the Martin Smith Mausoleum, and Into The Silent Land statue are all Grade II listed buildings.  The gardens are included in the National Register of Historic Parks and Gardens.  Golders is in Hoop Lane, off Finchley Road, Golders Green, London NW11, ten minutes' walk from Golders Green tube station.  It is directly opposite the Golders Green Jewish Cemetery.  The crematorium is secular, accepts all faiths and non-believers; clients may arrange their own type of service or remembrance event and choose whatever music they wish.  Other notable cremations at Golders include; Neville Chamberlain, T. S. Eliot, Sigmund Freud, Henry James, Rudyard Kipling, Vivien Leigh, Keith Moon, Peter Sellers, Bram Stoker, H. G. Wells and Amy Winehouse.
Have you planned yours yet?
Follow TFF on twitter @RIPTFF