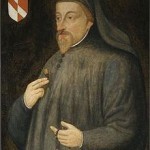 On this day in 1400, author, philosopher, alchemist, astronomer, diplomat, the Father of English literature, the greatest English poet of the Middle Ages, and the first poet to have been buried in Poet's Corner of Westminster Abbey, Geoffrey Chaucer died of unknown causes at the probable age of 56 or 57.   His many works include; The Book of the Duchess, the House of Fame, the Legend of Good Women and Troilus and Criseyde.  He is perhaps best known today for The Canterbury Tales.  Chaucer is a crucial figure in developing the legitimacy of the vernacular, Middle English, at a time when the dominant literary languages in England were French and Latin.  Born in London sometime around 1343, though the precise date and location of his birth remain unknown.  The Final Footprint – Chaucer is entombed in in Poet's Corner of Westminster Abbey.  Other notable Final Footprints at Westminster include; Robert Browning, Lord Byron, Oliver Cromwell, Charles Darwin, Charles Dickens, Edward The Confessor, Elizabeth I, George II, George Friederic Handel, James I (James VI of Scotland), Samuel Johnson, Ben Jonson, Charles II, Edward III, Edward VI, Henry III, Henry V, Henry VII, Richard II, Rudyard Kipling, Henry Wadsworth Longfellow, John Milton, Sir Isaac Newton, Laurence Olivier, Henry Purcell, Mary I, Mary II, Mary Queen of Scots, Lord Alfred Tennyson, Dylan Thomas, and William III.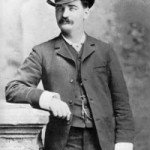 On this day in 1921, buffalo hunter, U.S. Marshal and Army scout, avid fisherman, gambler, frontier lawman, and sports editor and columnist, brother of James and Ed Masterson, friend of Wyatt Earp, Bat Masterson died from a heart attack at his desk in New York City at the age of 67.  Born Bartholomew Masterson on 26 November 1853, at Henryville, Canada East, in the Eastern Townships of what is Quebec today.  He later used the name William Barclay Masterson.  Masterson took part in the Second Battle of Adobe Walls, in what is now Hutchinson County, Texas, against Comanche forces led by Chief Quanah Parker.  The Final Footprint –  Masterson's body was taken to Campbell's Funeral Parlor and later buried after a simple service in Woodlawn Cemetery in Bronx, New York.  Other notable funerals at Frank E. Campbell include; Aaliyah, Irving Berlin, Lord Buckley, James Cagney, Oleg Cassini, Montgomery Clift, Frank Costello, Joan Crawford, Malcolm Forbes, Greta Garbo, Judy Garland, George Gershwin, Jim Henson, Peter Jennings, Jacqueline Kennedy Onassis, Heath Ledger, John Lennon, Norman Mailer, Notorious B.I.G., Les Paul, Ayn Rand, Igor Stravinsky, Ed Sullivan, Arturo Toscanini, Rudolf Valentino, Luther Vandross and Tennessee Williams.  Other notable Final Footprints at Woodlawn include; Irving Berlin, Miles Davis, Duke Ellington, Lionel Hampton, Fiorello La Guardia, Rowland Macy, Herman Melville, J. C. Penney, and Joseph Pulitzer.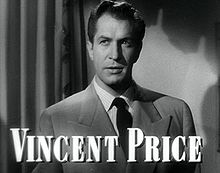 On this day in 1993 actor Vincent Price died in Los Angeles, California at the age of 82.  Born Vincent Leonard Price II on 27 May 1911 in Saint Louis, Missouri.  Although a fine actor, known for his various roles in horror movies, he is perhaps best remembered for his voice over work in two songs; one for the King of Shock Rock and one for the King of Pop.  In 1975 he appeared in Alice Cooper's song The Black Widow from his first solo album, Welcome to My Nightmare, one of my all-time favorite albums.  I am a big time unabashed Alice Cooper fan.  Then in 1982, he performed a monologue on Michael Jackson's Thriller.  The album, the song and the video are among the most popular and culturally significant recordings ever made.  Price was married three times: actress Edith Barrett (1938 – 1948 divorce), Mary Grant (1949 – 1973 divorce), and actress Coral Browne (1974 – 1991 her death).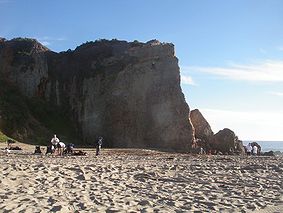 The Final Footprint – Price was cremated and his ashes were scattered off Point Dume in Malibu, California.
Have you planned yours yet?
Follow TFF on twitter @RIPTFF