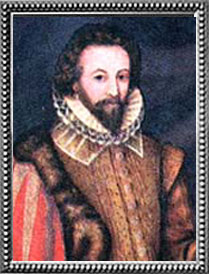 On this day in 1618, aristocrat, writer, poet, soldier, courtier, spy, and explorer, Sir Walter Raleigh was beheaded at Whitehall in London at the age of 66.  Born about 1552 in Devon, England.  He rose rapidly in Queen Elizabeth I's favour and was knighted in 1585.  Colonizer of Roanoke Island, he is credited with introducing potatoes and tobacco to England.  In 1591, he secretly married Elizabeth Throckmorton, one of the Queen's ladies-in-waiting.  When the Queen discovered the deception, she had him imprisoned in the Tower of London.  He would be released and would eventually regain favour with the Queen.  Elizabeth died in 1603 and Raleigh was arrested and again imprisoned in the Tower of London for allegedly plotting against King James.  Raleigh was found guilty but James spared his life and he was kept in the tower, legally dead.  In 1616, Raleigh was released to conduct a second exploration of Venezuela, where his men attacked a Spanish outpost.  The outraged Spanish ambassador demanded that James reinstate the death sentence and it was carried out on this date.  The Final Footprint – Before his execution Raleigh reportedly told the crowd the ax "is sharp medicine, but it is a physician for all diseases".  As was the custom, Raleigh's head was presented to his wife.  She had it embalmed and kept it at home.
Raleigh's body was entombed in the Anglican church of St. Margaret's, Westminster in London.  Upon the death of Lady Raleigh his head was either entombed with his body or it passed to his son Carew who kept it and had it buried with him at St. Margarets.  The city of Raleigh, North Carolina is named for him.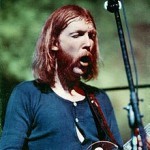 On this day in 1971,  guitarist, co-founder of the The Allman Brothers Band, brother of Gregg Allman, Skydog, Duane Allman died from injuries sustained in a motorcycle accident in Macon, Georgia at the age of 24.  Born Howard Duane Allman on 20 November 1946 in Nashville, Tennessee.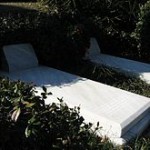 The Final Footprint – Allman's remains were laid to rest in Macon, Georgia's Rose Hill Cemetery.  Shortly after Duane's death, Ronnie Van Zant of Lynyrd Skynyrd began dedicating the song "Free Bird", to the memory of Duane Allman in concert.  In the "Free Bird" performance at Skynyrd's famed 1976 appearance at Knebworth, England, Van Zant says to pianist Billy Powell, "Play it for Duane Allman."  In 1973, fans carved the very large letters "REMEMBER DUANE ALLMAN" in a dirt embankment along Interstate Highway 20 near Vicksburg, Mississippi.  A photograph was published in Rolling Stone magazine and in the Rolling Stone Illustrated History of Rock & Roll; the carving itself lasted for over ten years.  In 1998 the Georgia State Legislature passed a resolution designating a stretch of State Highway 19, US 41, within Macon as the "Duane Allman Boulevard" in his honor.  Travis Tritt, in the song "Put Some Drive In Your Country" on his debut album, sings "Now I still love old country/I ain't tryin' to put it down/But damn I miss Duane Allman/I wish he was still around."
Have you planned yours yet?
Follow TFF on twitter @RIPTFF