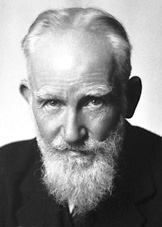 On this day in 1950, playwright, Nobel Prize winner and Academy Award winner, George Bernard Shaw died at his home, Shaw's Corner, in Hertfordshire, England at the age of 94.  Born 26 July 1856 in Dublin, Ireland.  Shaw is the only person to have been awarded both a Nobel and an Oscar.  His play Pygmalion was adapted by Alan Jay Lerner and Frederick Loewe into the musical My Fair Lady.  In 1898, Shaw married Charlotte Payne-Townshend, whom he survived.  Reportedly, the marriage was never consummated, at Charlotte's insistence.  Shaw reportedly had a number of affairs with married women.  The Final Footprint – Shaw was cremated and his cremains were mixed with those of his wife and they were scattered around the statue of Saint Joan in their garden.
A bronze statue of Shaw was erected in his honor in Niagara-on-the-Lake, Ontario, Canada.
Have you planned yours yet?
Follow TFF on twitter @RIPTFF