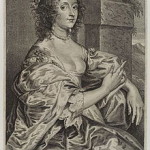 On this day in 1660, English courtier known for her beauty and wit and for her involvement in many political intrigues during the English Civil War, Lucy Hay died of apoplexy probably in London.  Born Lucy Percy possibly in 1599.  She became the second wife of James Hay, 1st Earl of Carlisle.  Her charms were celebrated in verse by contemporary poets, including Thomas Carew, William Cartwright, Robert Herrick and John Suckling, and by Sir Toby Matthew in prose.  She was a conspicuous figure at the court of King Charles I.  Alexandre Dumas probably based Milady in his The Three Musketeers on Hay.  She was the subject of a risqué poem by Suckling; "Upon My Lady Carlisle's Walking in Hampton Court Garden."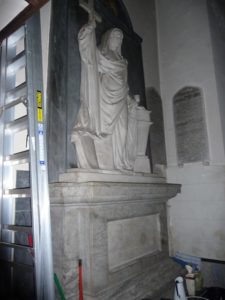 The Final Footprint – Lucy is entombed in the Percy Family Vault, St. Mary the Virgin Chuchyard, Petworth, Chichester District, West Sussex, England.
On this day in 1960, actor Ward Bond, died from a heart attack in Dallas, Texas at the age of 57.  Born Wardell Edwin Bond on 9 April 1903 in Benkelman, Nebraska.  Bond attended the University of Southern California and played football along side John Wayne.  He appeared in three of my all time favorite movies; as Rev. Capt. Samuel Johnston Clayton in The Searchers (1956), as Tom Yankee Captain in Gone with the Wind (1939) and as Pat Wheeler in Rio Bravo (1959).  My heroes have always been Cowboys.
The Final Footprint – Bond was cremated and his cremains were scattered in the Pacific Ocean somewhere between Newport Beach and Catalina Island.  Wayne gave the eulogy at his funeral.  Bond's will bequeathed to Wayne the shotgun with which Wayne had once accidentally shot Bond.  For his contribution to the television industry, Bond has a star on the Hollywood Walk of Fame at 6933 Hollywood Blvd.  In 2001, he was inducted into the Western Performers Hall of Fame at the National Cowboy & Western Heritage Museum in Oklahoma City.  There is also a Ward Bond Memorial Park in Benkelman.
Have you planned yours yet?
Follow TFF on twitter @RIPTFF