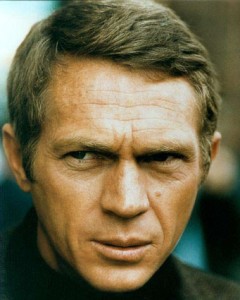 On this day in 1980, United States Marine Corp veteran, Academy Award-nominated actor, The King of Cool, Steve McQueen, died in Ciudad Juárez, Chihuahua, Mexico at the age of 50 from complications related to pleural mesothelioma.  Born Terence Steven McQueen on 24 March 1930 in Beech Grove, Indiana.  He married three times, once to his co-star Ali McGraw, from The Getaway.  In my opinion, one of America's greatest actors.  My favorite movies in which McQueen appeared are; The Magnificent Seven (1960), Nevada Smith (1966), Bullit (1968), Junior Bonner (1972), The Getaway (1972), Papillon (1973) and Tom Horn (1980).  I saw Papillon as a young teenager and enjoyed it so much I bought the book written by Henri Charrière.  One of my favorite books.  I still own that book.
The Final Footprint – McQueen was cremated and his cremains were scattered in the Pacific Ocean.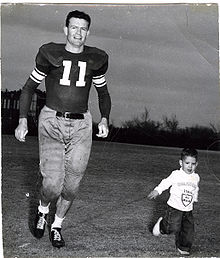 On this day in 2012, United States Army Air Corp veteran, football player at the University of Oklahoma, head coach of the Texas Longhorns (1957-1976), 3x National Champion, 11x Southwest Conference champion, Darrell Royal died due to complications of Alzheimer's disease in Austin at the age of 88.  Born Darrell K Royal on 6 July 1924 in Hollis, Oklahoma.  Royal also served as the head coach at Mississippi State University (1954–1955), the University of Washington (1956), compiling a career college football record of 184–60–5.  He won more games than any other coach in Texas Longhorns football history.  Royal also coached the Edmonton Eskimos of the Canadian Football League for one season in 1953.  He never had a losing season as a head coach for his entire career.  Royal was inducted into the College Football Hall of Fame as a coach in 1983.  Darrell K Royal – Texas Memorial Stadium in Austin, Texas, where the Longhorns play their home games, was renamed in his honor in 1996.  The Final Footprint – Royal is interred at the Texas State Cemetery in Austin.  Other notable final footprints at TSC include: Stephen F. Austin, John B. Connally, Nellie Connally, J. Frank Dobie, Barbara Jordan, Tom Landry (cenotaph), Ann Richards, Edwin "Bud" Shrake, William A. A. "Bigfoot" Wallace, and Walter Prescott Webb.
Leonard Cohen


Cohen in 1988
On this day in 2016, singer, songwriter, musician, poet, novelist, and painter Leonard Cohen died at the age of 82 at his home in Los Angeles. Reportedly, his death was the result of a fall at his home on the night of November 7, and he subsequently died in his sleep. Cancer was a contributing cause. Born Leonard Norman Cohen on September 21, 1934 in Montreal.
His work explored religion, politics, isolation, sexuality, and personal relationships. Cohen was inducted into the Canadian Music Hall of Fame, the Canadian Songwriters Hall of Fame, and the Rock and Roll Hall of Fame. He was a Companion of the Order of Canada, the nation's highest civilian honour. In 2011, Cohen received one of the Prince of Asturias Awards for literature and the ninth Glenn Gould Prize.
Cohen pursued a career as a poet and novelist during the 1950s and early 1960s.  He did not launch a music career until 1967, at the age of 33. His first album, Songs of Leonard Cohen (1967), was followed by three more albums of folk music: Songs from a Room (1969), Songs of Love and Hate (1971) and New Skin for the Old Ceremony (1974). His 1977 record Death of a Ladies' Man was co-written and produced by Phil Spector, which was a move away from Cohen's previous minimalist sound. In 1979, Cohen returned with the more traditional Recent Songs, which blended his acoustic style with jazz and Oriental and Mediterranean influences. Perhaps Cohen's most famous song, "Hallelujah" was first released on his studio album Various Positions in 1984. I'm Your Man in 1988 marked Cohen's turn to synthesized productions and remains his most popular album. In 1992, Cohen released its follow-up, The Future, which had dark lyrics and references to political and social unrest.
Cohen returned to music in 2001 with the release of Ten New Songs, which was a major hit in Canada and Europe. His eleventh album, Dear Heather, followed in 2004. After a successful string of tours between 2008 and 2010, Cohen released three albums in the final four years of his life: Old Ideas (2012), Popular Problems(2014) and You Want It Darker (2016), the last of which was released three weeks before his death.
Cohen's writing process, as he told an interviewer in 1998, was "like a bear stumbling into a beehive or a honey cache: I'm stumbling right into it and getting stuck, and it's delicious and it's horrible and I'm in it and it's not very graceful and it's very awkward and it's very painful and yet there's something inevitable about it."

In 1960, Cohen lived in rural Hydra, Greece with Marianne Ihlen, with whom he was in a relationship for most of the 1960s. The song "So Long, Marianne" was written to and about her. Ihlen died of leukemia three months before Cohen. His farewell letter to her was read at her funeral, stating that "… our bodies are falling apart and I think I will follow you very soon. Know that I am so close behind you that if you stretch out your hand, I think you can reach mine."
In the 1970s, Cohen was in a relationship with artist Suzanne Elrod. She took the cover photograph for Live Songs and is pictured on the cover of the Death of a Ladies' Man. She also inspired the "Dark Lady" of Cohen's book Death of a Lady's Man (1978), but is not the subject of one of his best-known songs, "Suzanne", which refers to Suzanne Verdal, the former wife of a friend, the Québécois sculptor Armand Vaillancourt. Cohen and Elrod separated in 1979, with him later stating that "cowardice" and "fear" prevented him from marrying her.
Cohen was in a relationship with French photographer Dominique Issermann in the 1980s. They worked together on several occasions: she shot his first two music videos for the songs "Dance Me to the End of Love" and "First We Take Manhattan" and her photographs were used for the covers of his 1993 book Stranger Music and his album More Best of Leonard Cohen and for the inside booklet of I'm Your Man(1988), which he also dedicated to her. In 2010, she was also the official photographer of his world tour.
In the 1990s, Cohen was romantically linked to actress Rebecca De Mornay. De Mornay co-produced Cohen's 1992 album The Future, which is also dedicated to her with an inscription that quotes Rebecca's coming to the well from the Book of Genesis chapter 24 and giving drink to Eliezer's camels, after he prayed for the help; Eliezer ("God is my help" in Hebrew) is part of Cohen's Hebrew name (Eliezer ben Nisan ha'Cohen), and Cohen sometimes referred to himself as "Eliezer Cohen" or even "Jikan Eliezer".
The Final Footprint –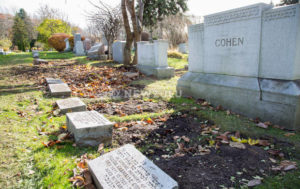 His funeral was held on November 10, 2016, in Montreal, at a cemetery on Mount Royal. As was his wish, Cohen was laid to rest with a Jewish rite, in a simple pine casket, in a family plot in Shaar Hashomayim Cemetery in Montreal . The city of Montreal held a tribute concert to Cohen in December 2016, entitled "God is Alive, Magic Is Afoot" after a prose poem in his novel Beautiful Losers. It featured a number of musical performances and readings of Cohen's poetry.
Have you planned yours yet?
Follow TFF on twitter @RIPTFF