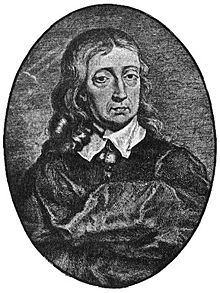 On this day in 1674, poet John Milton, died in Bunhill, London, England at the age of 65 from kidney failure.  Born on 9 December 1608 in Bread Street, London, England.  Best known for his epic poem in blank verse, Paradise Lost (1667).  The poem concerns the Christian story of the Fall of Man; the temptation of Adam and Eve by the fallen angel Satan and their expulsion from the Garden of Eden.  Milton incorporates Paganism, classical Greek references, and Christianity within the poem.  It deals with diverse topics from marriage, politics to monarchy and grapples with many difficult theological issues, including; fate, predestination, the Trinity, the introduction of sin and death into the world, angels, fallen angels, Satan, and the war in heaven. Milton draws on his knowledge of languages and diverse sources – primarily Genesis, much of the New Testament, the deuterocanonical Book of Enoch, and other parts of the Old Testament. Milton's epic is generally considered one of the greatest literary works in the English language.  He remains generally regarded as one of the most significant writer's in the English language.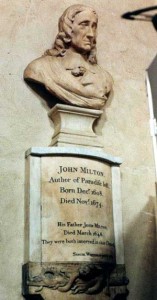 In 1643, he published a pamphlet called Doctrine and Discipline of Divorce.  He wrote: "Marriage is a cov'nant the very beeing wherof consists, not in a forc't cohabitation, and counterfet performance of duties, but in unfained love and peace. […] It is a lesse breach of wedlock to part with wise and quiet consent betimes, then still to soile and profane that mystery of joy and union with a polluting sadnes and perpetuall distemper; for it is not the outward continuing of mariage that keeps whole that cov'nant, but whosoever does most according to peace and love, whether in mariage, or in divorce, he it is that breaks mariage least; it being so often written, that Love only is the fulfilling of every Commandment."  A toast to unfained love and peace.  Milton married three times; Mary Powell (ended in 1652 her death), Katherine Woodcock (1656 – 1658 her death) and Elizabeth Mynshull (1662 – 1674 his death).  The Final Footprint– Milton is interred in St. Giles Cripplegate Churchyard in London.  There is a plaque and a statue of Milton inside the church.  There is cenotaph of Milton in Poet's Corner in Westminster Abbey.  There is a plaque commemorating his birth place in Bread Street.  There is a statue of Milton in Temple of British Worthies in Stowe.  The French Romantic painter Eugène Delacroix portrayed Milton in his painting Milton Dictates the Lost Paradise to His Three Daughters, c. 1826.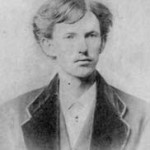 On this day in 1887, dentist, gambler, gunfighter of the American Old West, usually remembered for his friendship with Wyatt Earp and his involvement in the Gunfight at the O.K. Corral, Doc Holliday died from tuberculosis in the Hotel Glenwood in Glenwood Springs, Colorado at the age of 36.  Born John Henry Holliday on 14 August 1851 in Griffin, Georgia.  The legend and mystique of his life is so great that he has been mentioned in countless books, and portrayed by various actors in numerous movies and television series.  Debate continues about the exploits of his life.  Earp said, "Doc was a dentist, not a lawman or an assassin, whom necessity had made a gambler; a gentleman whom disease had made a frontier vagabond; a philosopher whom life had made a caustic wit; a long lean ash-blond fellow nearly dead with consumption, and at the same time the most skillful gambler and the nerviest, speediest, deadliest man with a six-gun that I ever knew."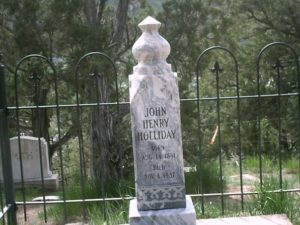 The Final Footprint – Holliday is buried in Linwood Cemetery overlooking Glenwood Springs.  The exact location of his grave was lost.  Among the more notable portrayals of Holliday on film include; Kirk Douglas, Jason Robards, Stacy Keach, Dennis Hopper, Val Kilmer, and Dennis Quaid.
Have you planned yours yet?
Follow TFF on twitter @RIPTFF