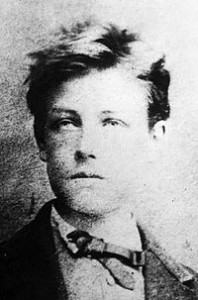 On this day in 1891, poet, Arthur Rimbaud, died in Marseille, France at the age of 37 from bone cancer.  Born Jean Nicolas Arthur Rimbaud on 20 October 1854 in Charleville, Ardennes, France.  He produced his best known poems in his late teens.  Victor Hugo called him the "enfant Shakespeare".  As part of the decadent movement, Rimbaud influenced modern literature, music and art.  He had a short and torrid affair with fellow poet Paul Verlaine.  Rimbaud never married.  He traveled extensively over three continents.  His poetry, as well as his life, are said to have influenced writers, musicians and artists including; Pablo Picasso, Dylan Thomas, Vladimir Nabokov, Bob Dylan, Patti Smith and Jim Morrison.  My favorite poem of his is Une Saison en Enfer (A Season in Hell) (1873).  The French painter Henri Fantin-Latour depicted Rimbaud and Verlaine in his 1872 painting Around the Table (Writers).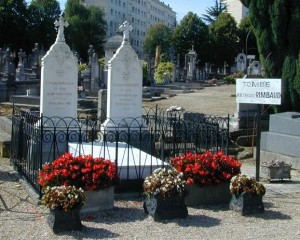 The Final Footprint – Rimbaud is entombed in Charleville-Mezieres Cimetière in Charleville-Mezieres, Champagne-Ardenne Region, France.  His tomb is marked by a large upright marble marker.  His inscription reads; Priez pour lui (Pray for him).
Have you planned yours yet?
Follow TFF on twitter @RIPTFF