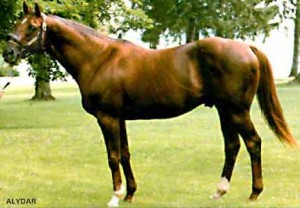 On this day in 1990, chesnut colt and American thoroughbred race horse, Alydar, died at the age of 15.  Foaled 23 March 1975 at Calumet Farms in Lexington, Kentucky; sire Raise a Native, dam Sweet Tooth, damsire On-And-On.  Trained by John M. Veitch and ridden by jockey Jorge Velasquez, Alydar finished second to archrival Affirmed in all three Triple Crown Races in 1978.  A feat never accomplished, before or since.   In my opinion, their matchup in the Belmont Stakes ranks as the most exciting race in the history of the sport.  Affirmed won by a head to claim racing's 11th Triple Crown Winner.  I watched all three races on television.  Both horses were beautiful chestnuts and I was a fan of both, but I was hoping that Affirmed would win.  Alydar was a major success as a stallion.  His offspring include; Easy Goer, Alysheba and Strike the Gold.  Alydar was allegedly killed in a staged accident so that his financially troubled owner could collect insurance proceeds.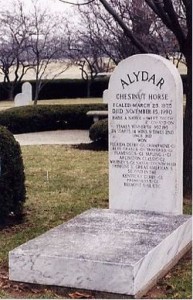 The Final Footprint – Alydar is interred in the Calumet Farm Equine Cemetery in Lexington.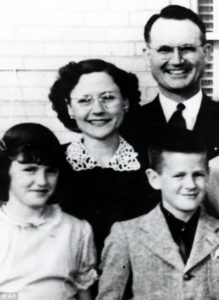 On this day in 1959, farmer Herbert Clutter (48), his wife Bonnie (45), their daughter Nancy (16), and their son Kenyon (15), were found bound and shot to death in various rooms of their home, on the family's River Valley Farm on the outskirts of Holcomb, Kansas.  The murders, arrests and convictions of Richard Eugene Hickock and Perry Edward Smith were the basis for author Truman Capote's acclaimed book, In Cold Blood, which was serialized in The New Yorker magazine in 1965 and first published in book form in 1966. Capote actually began work on the book several days after he read a news article in a New York paper in 1959 about the murders.  Capote was assisted in his research by his childhood friend, Harper Lee.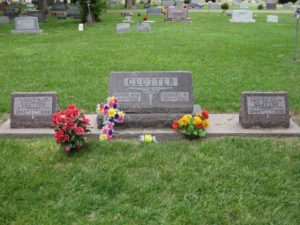 The Final Footprint – The Clutters are interred in Valley View Cemetery in Garden City, Kansas.
Have you planned yours yet?
Follow TFF on twitter @RIPTFF