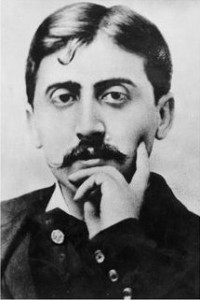 On this day in 1922, novelist Marcel Proust, died in Paris at the age of 51.  Born Valentin Louis Georges Eugène Marcel Proust on 10 July 1871 in Auteuil, France.  Author of the monumental  À la recherche du temps perdu (In Search of Lost Time; earlier translated as Remembrance of Things Past).  It was published in seven parts totaling about 3200 pages between 1913 and 1927.  W. Somerset Maugham called the novel the "greatest fiction to date".  Graham Greene called Proust the "greatest novelist of the 20th century".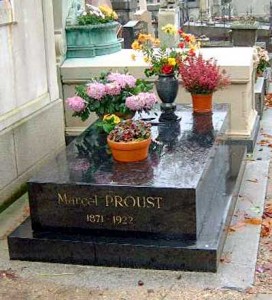 The Final Footprint – Proust is entombed in an individual above ground crypt in the Père Lachaise Cemetery in Paris.  Père Lachaise is the largest cemetery in Paris and one of the most visited cemeteries in the world.  Other notable Final Footprints at Père Lachaise include; Honoré de Balzac, Georges Bizet, Jean-Dominique Bauby, Maria Callas, Chopin, Colette, Auguste Comte, Jean-Baptiste-Camille Corot, Molière, Jim Morrison, Édith Piaf, Camille Pissarro, Sully Prudhomme, Gioachino Rossini, Georges-Pierre Seurat, Simone Signoret, Gertrude Stein, Alice B. Toklas, Oscar Wilde, and Richard Wright.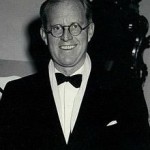 On this day in 1969, American businessman, investor, and government official, patriarch of the Kennedy Family, Joseph Kennedy died in Hyannis Port, Massachusetts at the age of 81.  Born Joseph Patrick Kennedy on 6 September 1888 in Boston.  He was the father of U.S. President John F. Kennedy, United States Attorney General and Senator Robert F. Kennedy, United States Senator Edward M. Kennedy, naval officer Joseph P. Kennedy, Jr., Special Olympics co-founder Eunice Kennedy Shriver, and former U.S. Ambassador to Ireland Jean Kennedy Smith.  He was a leading member of the Democratic Party and of the Irish Catholic community.  Kennedy was the inaugural Chairman of the U.S. Securities and Exchange Commission (SEC), appointed by President Franklin D. Roosevelt (FDR), and later directed the Maritime Commission.  Kennedy served as the United States Ambassador to the United Kingdom from 1938 until late 1940, including the early part of World War II.  Kennedy was educated at Harvard University, and embarked on a career in finance, making a large fortune as a stock market and commodity investor and by investing in real estate and a wide range of industries.  During World War I, he was an assistant general manager of a Boston area Bethlehem Steel shipyard, through which he developed a friendship with FDR, then Assistant Secretary of the Navy.  In the 1920s Kennedy made huge profits from reorganizing and refinancing several Hollywood studios, ultimately merging several acquisitions into Radio-Keith-Orpheum (RKO) studios.  After Prohibition ended in 1933, Kennedy consolidated an even larger fortune when he traveled to Scotland with FDR's son, James Roosevelt, to buy distribution rights for Scotch whisky.  His company, Somerset Importers, became the exclusive American agent for Gordon's Gin and Dewar's Scotch.  He owned the largest office building in the country at that time, Chicago's Merchandise Mart, giving his family an important base in that city and an alliance with the Irish-American political leadership there.  His term as ambassador and his political ambitions ended abruptly during the Battle of Britain in November 1940, with the publishing of his controversial remarks suggesting that "Democracy is finished in England. It may be here, [in the US]."   Kennedy resigned under pressure shortly afterwards.  In later years, Kennedy worked behind the scenes to continue building the financial and political fortunes of the Kennedy family.  Kennedy married Rose Elizabeth Fitzgerald, the eldest daughter of Boston Mayor John Francis "Honey Fitz" Fitzgerald (political rival of his father P. J. Kennedy) and Mary Josephine "Josie" Hannon.  The marriage joined two of the city's most prominent Irish-American political families.  The couple had nine children, four boys and five girls.  Kennedy survived all but one of his sons and one of his daughters.  The Final Footprint – Kennedy is interred in the Kennedy private family estate in Holyhood Cemetery in Brookline, Massachusetts.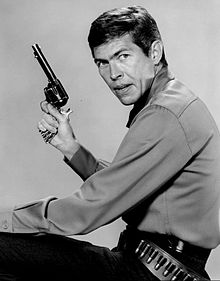 On this day in 2002, Academy Award winning actor James Coburn died of heart attack while listening to music in his Beverly Hills home at the age of 77.  Born James Harrison Coburn III in Laurel, Nebraska on 31 August 1928.  Coburn was featured in over 70 films and made 100 television appearances during his 45-year career, winning an Academy Award for his supporting role as Glen Whitehouse in Affliction.  His rugged and "cool" persona made him a prpminent tough guy in numerous leading and supporting roles in westerns and action films, such as The Magnificent Seven (1960), The Great Escape (1963), Major Dundee (1965), Our Man Flint (1966), In Like Flint (1967), Duck, You Sucker! (1971), Pat Garrett and Billy the Kid (1973), Charade (1963) and Cross of Iron (1977).  Coburn married twice; Beverly Kelly (1959 – 1979 divorce) and Paula Murad (1993 – 2002 his death).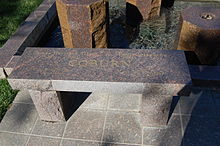 The Final Footprint – Coburn was cremated and his cremains were inurned in Westwood Village Memorial Park Cemetery (a Dignity Memorial® provider) in Los Angeles, California, and marked by a stone bench inscribed with his name.  Other notable final footprints at Westwood include; Ray Bradbury, Sammy Cahn, Truman Capote, Rodney Dangerfield, Farrah Fawcett, Brian Keith, Don Knotts, Burt Lancaster, Peter Lawford, Peggy Lee, Janet Leigh, Jack Lemmon, Karl Malden, Dean Martin, Walter Matthau, Marilyn Monroe, Carroll O'Connor, Roy Orbison, George C. Scott, Dorothy Stratten, Natalie Wood and Frank Zappa.
Have your planned yours yet?
Follow TFF on twitter @RIPTFF