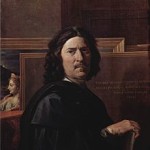 On this day in 1665, classical French painter, Nicolas Poussin, died in Rome at the age of 71.  Perhaps the leading painter of the classical French Baroque style, although he spent most of his working life in Rome.  He worked in Rome for a circle of leading collectors there and elsewhere, except for a short period when Cardinal Richelieu ordered him back to France to serve as First Painter to the King.  Most of his works are history paintings of religious or mythological subjects that often have a large landscape element.  He served as inspiration for classically-oriented artists, notably Paul Cézanne.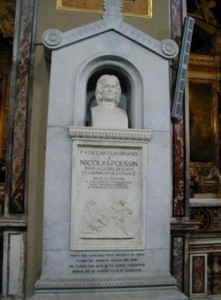 The Final Footprint – Poussin is interred at Basilica di San Lorenzo in Lucina in Rome.  The French writer, politician, diplomat and founder of Romanticism in French literature, François-René, vicomte de Chateaubriand, donated the marble memorial in honour of Poussin in 1820.  It reads; POUR LA GLORIE DES ARTS ET LHONNEUR DE LA FRANCE.
Gallery
Venus and Adonis – Nicolas Poussin – 1624 – Kimbell Art Museum, Fort Worth, Texas.

Cephalus and Aurora – Nicolas Poussin – 1627 – National Gallery, London.

Acis and Galatea – Nicolas Poussin – 1629 – National Gallery of Ireland, Dublin.

Adoration of the Golden Calf – Nicolas Poussin – 1633-34 – National Gallery, London.

A dance to the music of time – Nicolas Poussin – 1640 – The Wallace Collection.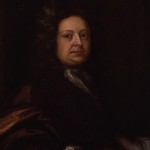 On this day in 1692, English poet and playwright who was appointed poet laureate in 1689, Thomas Shadwell died from an overdose of opium at Chelsea on 19 November 1692.  Born ca. 1642 at Stanton Hall, Norfolk, England.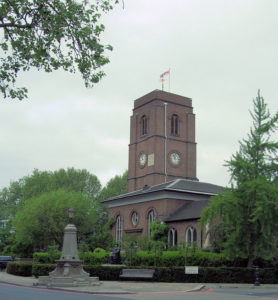 The Final Footprint – Shadwell was interred at Chelsea Old Church which was destroyed during World War II bombing.  He has a memorial in Poets' Corner of Westminster Abbey.  Other notable Final Footprints at Westminster include; Robert Browning, Lord Byron, Geoffrey Chaucer, Oliver Cromwell, Charles Darwin, Charles Dickens, Edward The Confessor, Elizabeth I, George II, George Friederic Handel, James I (James VI of Scotland), Samuel Johnson, Ben Jonson, Charles II, Edward III, Edward VI, Henry III, Henry V, Henry VII, Richard II, Rudyard Kipling, Henry Wadsworth Longfellow, John Milton, Sir Isaac Newton, Laurence Olivier, Henry Purcell, Mary I, Mary II, Mary Queen of Scots, Lord Alfred Tennyson, Dylan Thomas, and William III.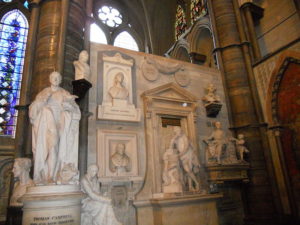 Have you planned yours yet?
Follow TFF on twitter @RIPTFF