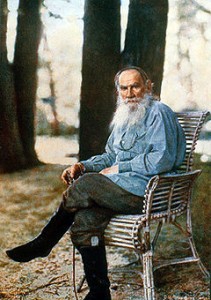 On this day in 1910, writer, Leo Tolstoy, died in Astapovo, Russia at the age of 82.  Born Lyev Nikolayevich Tolstoy on 9 September 1828 in Yasnaya Polyana, the family estate in the Tula region of Russia.  Perhaps best known for his masterpieces Anna Karenina (1877) and War and Peace (1869).  Some condsider Tolstoy to be the worlds greatest novelist.  Tolstoy is also known for his complicated and paradoxical persona and for his extreme moralistic and ascetic views, which he adopted after a moral crisis and spiritual awakening in the 1870s, after which he also became noted as a moral thinker and social reformer.  His literal interpretation of the ethical teachings of Jesus, centering on the Sermon on the Mount, caused him in later life to become a fervent Christian anarchist and anarcho-pacifist.  His ideas on nonviolent resistance, expressed in such works as The Kingdom of God Is Within You, were to have a profound impact on other thinkers and reformers.  On 23 September 1862, Tolstoy married Sophia "Sonya" Andreevna Bers, who was 16 years his junior and the daughter of a court physician.  Their relationship was apparently passionate and tumultuous and they had 13 children.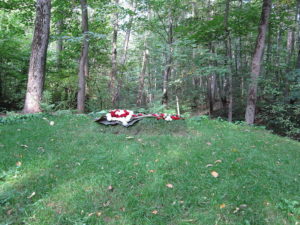 The Final Footprint – Tolstoy is interred in the  "Place of the Green Wand" in the Forest of the Old Order at Yasnaya Polyana.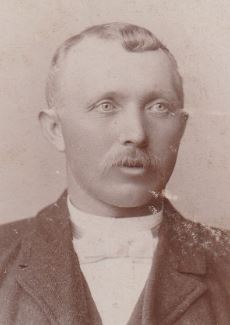 On this day in 1903, American Old West scout, hired gunman, Pinkerton, range detective, cowboy, and soldier Tom Horn executed by hanging in Cheyenne, Wyoming.  Born Thomas Horn, Jr. on the Horn family farm in rural northeastern Scotland County, Missouri.  Believed to have committed 17 murders as a hired gunman in the West, in 1902 Horn was convicted of the murder of 14-year-old Willie Nickell near Iron Mountain, Wyoming.  The boy was the son of sheep rancher Kels Nickell, who had been involved in a range feud with neighbor and cattle rancher Jim Miller.  The Final Footprint – Horn was buried in the Columbia Cemetery in Boulder, Colorado on 3 December 1903.  Rancher Jim Coble paid for his coffin and a stone to mark his grave.  While in jail he wrote his autobiography, Life of Tom Horn: Government Scout and Interpreter (1904), which was published posthumously. Numerous editions have been published of this book since the late 20th century, and debate continues as to whether he was guilty of Nickell's murder.  Horn was portrayed by Steve McQueen in movie Tom Horn (1980).  While the film took liberties with facts, McQueen's performance was highly praised, and the film was well received.
Have you planned yours yet?
Follow TFF on twitter @RIPTFF