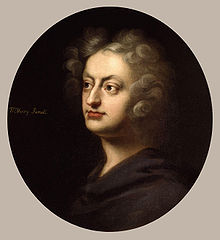 On this day in 1695, organist and Baroque composer, Henry Purcell, died at his home in Dean's Yard, Westminster at the age of 35 or 36.  Born on or about 10 September 1659 in St Ann's Lane, Old Pye Street, Westminster.  His legacy was a uniquely English form of Baroque music, a style of European classical music  extending from about 1600 to 1750.  This era begins after the Renaissance and was followed by the Classical era.  The word "baroque" came from the Portuguese word barroco, meaning "misshapen pearl".  Baroque music forms a major portion of the classical music canon and is associated with composers such as Johann Sebastian Bach, George Frideric Handel, Alessandro Scarlatti, Antonio Vivaldi, Claudio Monteverdi and Purcell.  Most importantly to me, it was during this period that opera became established as a musical genre.  Purcell's Dido and Aeneas (c. 1689) is, in my opinion, the first important English opera, and is still performed.  Purcell had a direct influence on rock and roll.  Apparently, both Pete Townshend of The Who and Queen, list Purcell's music as an influence on their own.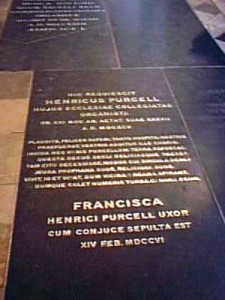 The Final Footprint – Purcell is entombed in Westminster Abbey near the organ in the North Choir Aisle.  His epitaph reads: "Here lyes Henry Purcell Esq., who left this life and is gone to that blessed place where only his harmony can be exceeded."  A bronze memorial sculpture by Glynn Williams, The Flowering of the English Baroque, in tribute to Purcell was installed in a park on Victoria St,. Westminster.  Other notable Final Footprints at Westminster include; Robert Browning, Lord Byron, Geoffrey Chaucer, Oliver Cromwell, Charles Darwin, Charles Dickens, Edward The Confessor, Elizabeth I, George II, George Friederic Handel, James I (James VI of Scotland), Samuel Johnson, Ben Jonson, Charles II, Edward III, Edward VI, Henry III, Henry V, Henry VII, Richard II, Rudyard Kipling, Henry Wadsworth Longfellow, John Milton, Sir Isaac Newton, Laurence Olivier, Mary I, Mary II, Mary Queen of Scots, Thomas Shadwell, Lord Alfred Tennyson, Dylan Thomas, and William III.
Have you planned yours yet?
Follow TFF on twitter @RIPTFF