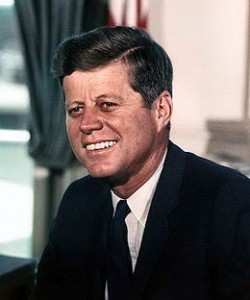 On this day in 1963, U.S. Navy veteran, U.S. Congressman, U.S. Senator, the 35th President of the U.S., author, American Icon, Jack, JFK, John F. Kennedy, died in Dallas, Texas at the age of 46.  Born John Fitzgerald Kennedy on 29 May 1917 at 83 Beals Street in Brookline, Massachusetts.  He graduated from Harvard in 1940 with a degree in international affairs.  Kennedy met his future wife Jacqueline Lee "Jackie" Bouvier at a dinner party.  They married 12 September 1953.  They had four children; Arabella (23 August 1956 – 23 August 1956), Caroline Bouvier (27 November 1957 – ), John Fitzgerald Jr. (25 November 1960 – 16 July 1999), Patrick Bouvier (7 August 1963 – 9 August 1963).  On Tuesday 8 November 1960, Kennedy won the presidential election over Republican Vice President Richard M. Nixon.  The Kennedys were popular on a level more common with movie stars than politicians.  This popularity and his charisma led to his administration being referred to as Camelot.  The Kennedys travelled to Texas in an attempt to reconcile a widening rift in the Texas Democratic party between the conservative wing led by Governor John B. Connally and the liberal wing led by U.S. Senator Ralph Yarborough and Don Yarborough (no relation).  Kennedy was fatally shot while riding in a Presidential motorcade with Jackie, Governor Connally and his wife Nellie Connally.  He was succeeded as president by vice president Lyndon Baines Johnson.  Conspiracy theories abound as to who was behind the assassination.  The Warren Commission finding that Lee Harvey Oswald was the lone gunman has been debated and disputed since the findings were released.  Groups behind supposed assassination plots include; the Mafia, the CIA, the Cubans, the Russians, the military industrial complex, or some combination of the above.  Mrs. Connally, who as mentioned was riding in the car with JFK, believed to her grave that there was more than one shooter.  November 22nd was a Friday that year.  All three major networks suspended their regular schedules and switched to all news coverage through November 25th, 70 straight hours.  I was three years old and Daddy and Uncle Ben told me later that I was upset because Saturday morning cartoons were not shown.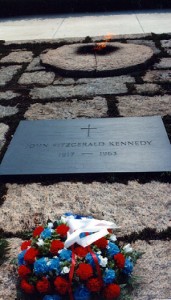 The Final Footprint –  Kennedy was interred in a temporary plot at Arlington National Cemetery on 25 November 1960.  On 14 March 1967, he was moved to his current plot at Arlington.  His grave area is paved with irregular stones of Cape Cod granite, which were quarried around 1817 near the site of the president's home and selected by members of his family.  Clover, and later, sedum were planted in the crevices to give the appearance of stones lying naturally in a Massachusetts field.  His grave is lit with an "Eternal Flame".  His brother Robert F. Kennedy was interred nearby following his assassination in 1968.  Upon her death in 1994, Jackie was interred next to JFK.  Upon his death in 2009, JFK's brother Edward Kennedy was interred nearby.  Other notable Final Footprints at Arlington include; the Space Shuttle Columbia, the Space Shuttle Challenger, Medgar Evers, Jacqueline Bouvier Kennedy Onassis, RFK, Edward Kennedy, Lee Marvin, Audie Murphy and Malcolm Kilduff, Jr.
There were other notable final footprints on this day in history including the authors C. S. Lewis, Aldous Huxley, Jack London (1916), lyricist Lorenz Hart (1943), a Stooge, Shemp Howard (1955), Mae West (1980), Scatman Crothers (1986), INXS frontman Michel Hutchence.  But for now at least, we dedicate this page to JFK and his memory.
Have you planned yours yet?
Follow TFF on twitter @RIPTFF