On this day in 1976, adventurer, author and statesman, André Malraux, died in Créteil, near Paris at the age of 75.  Born on 3 November 1901 in Paris.  Known for his novel entitled La Condition Humaine (Man's Fate) (1933).  He served in several minister positions during De Gaulle's entire presidency (1959–1969).  Malraux married three times; Clara Goldschmidt (divorce), Josette Clotis (her death) and Marie-Madeleine Lioux (separation).  I inherited a copy of his book The Voices of Silence (Les Voix du Silence) from my Grandmother Ruby Christner.  Memorable quotes from The Voices of Silence: "Art is an object lesson for the gods." "The art museum is one of the places that give us the highest idea of man." "Humanism does not consist in saying: 'No animal could have done what I have done,' but in declaring: 'We have refused what the beast within us willed to do, and we seek to reclaim man wherever we find that which crushes him.'"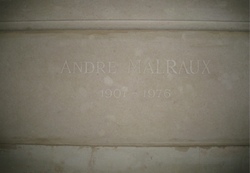 The Final Footprint – Malraux was cremated and his cremains were interred in the Verrières-le-Buisson (Essonne) cemetery.  In 1996 on the twentieth anniversary of his passing, in honor of his contributions to French culture, his ashes were moved to the Panthéon in Paris. The Panthéon is a secular mausoleum containing the remains of distinguished French citizens.  Other notable Final Footprints at the Panthéon include: Victor Hugo, Louis Braille, Pierre and Marie Curie, and Alexandre Dumas, père, Jean-Jacques Rousseau, Voltaire, and Émile Zola.
Larry Hagman

Hagman attending the "Night of 100 Stars" for the 82nd Academy Awards viewing party at the Beverly Hills Hotel, Beverly Hills, California, on March 7, 2010
On this day in 2012, United States Air Force veteran, actor, director, producer, Larry Hagman died at Medical City Dallas Hospital in Dallas, Texas at the age of 81 from complications of acute myeloid leukemia. Born Larry Martin Hagman on September 21, 1931 in Fort Worth, Texas. Perhaps best known for playing oil baron J.R. Ewing in the 1980s primetime television soap opera Dallas and astronaut Major Anthony "Tony" Nelson in the 1960s sitcom I Dream of Jeannie.
Hagman had supporting roles in numerous films, including Fail-Safe, Harry and Tonto, S.O.B., Nixon and Primary Colors. His television appearances also included guest roles on dozens of shows spanning from the late 1950s until his death and a reprisal of his signature role on the 2012 revival of Dallas. He also worked as a television producer and director.
Hagman was the son of actress Mary Martin. He underwent a life-saving liver transplant in 1995.
In 1954, Hagman married Swedish-born Maj Axelsson (born May 13, 1928, in Eskilstuna, Södermanlands län, Sweden – died May 31, 2016, in Los Angeles, California). Longtime residents of Malibu, California, they then moved to Ojai.
The Final Footprint 
In a statement to the Dallas Morning News, Hagman's family said: "Larry's family and close friends had joined him in Dallas for the Thanksgiving holiday. When he passed, he was surrounded by loved ones. It was a peaceful passing, just as he had wished for."
Upon his death, he was cremated, and his ashes were scattered at the Southfork Ranch in Parker, Texas.
Actress Linda Gray, who played Sue Ellen Ewing on Dallas, called Hagman her "best friend for 35 years", and was at his bedside when he died. In a statement, she said: "He was the Pied Piper of life and brought joy to everyone he knew. He was creative, generous, funny, loving and talented and I will miss him enormously. He was an original and lived life to the fullest."
Actor Patrick Duffy, who played Bobby Ewing on Dallas, was also at his bedside when he died. In a statement, he said: "Friday I lost one of the greatest friends ever to grace my life. The loneliness is only what is difficult, as Larry's peace and comfort is always what is important to me, now as when he was here. He was a fighter in the gentlest way, against his obstacles and for his friends. I wear his friendship with honor."
Have you planned yours yet?
Follow TFF on twitter @RIPTFF