On this day in 1572, Scottish clergyman, a leader of the Protestant Reformation and the founder of the Presbyterian denomination in Scotland, John Knox, died in Edinburgh at the approximate age of 62.  Born sometime between 1505 and 1515 in or near Haddington, the county town of East Lothian.  Believed to have been educated at the University of St Andrews.  Influenced by early church reformers he joined the movement to reform the Scottish church.  Knox was caught up in the ecclesiastical and political events surrounding the murder of Cardinal Beaton in 1546 and the intervention of the regent of Scotland, Mary of Guise.  He was taken prisoner by French forces the following year and exiled to England on his release in 1549.  While in exile, Knox was licensed to work in the Church of England, where he quickly rose in the ranks to serve King Edward VI of England as a royal chaplain.  In this position, he exerted a reforming influence on the text of the Book of Common Prayer.  When Mary Tudor ascended the throne and re-established Roman Catholicism, Knox was forced to resign his position and leave the country.  Knox first moved to Geneva and then to Frankfurt.  In Geneva, he met John Calvin, from whom he gained experience and knowledge of Reformed theology and Presbyterian polity.  He created a new order of service, which was eventually adopted by the reformed church in Scotland.  He left Geneva to head the English refugee church in Frankfurt but he was forced to leave over differences concerning the liturgy, thus ending his association with the Church of England.  On his return to Scotland, he led the Protestant Reformation in Scotland, in partnership with the Scottish Protestant nobility.  The movement may be seen as a revolution, since it led to the ousting of Mary of Guise, who governed the country in the name of her young daughter, Mary Queen of Scots.  Knox helped write the new confession of faith and the ecclesiastical order for the newly created reformed church, the Kirk.  He continued to serve as the religious leader of the Protestants throughout Mary's reign.
In several interviews with the queen, Knox admonished her for supporting Catholic practices.  Eventually, she was imprisoned for her alleged role in the murder of her husband, Lord Darnley, and James VI enthroned in her stead.  Knox openly called for her execution.  He continued to preach until his final days.  Knox married twice, first to Marjorie then to Margaret Stewart, the daughter of an old friend, Andrew Stewart, a member of the Stuart family and a distant relative of the queen, Mary Stuart. The marriage was unusual because he was a widower of fifty, while the bride was only seventeen.  One of my great-great grandfathers was a Knox.  I was baptised as an infant in The First Presbyterian Church of Canadian, Texas.
The Final Footprint – Knox is interred in the churchyard of St. Giles Cathedral, or the High Kirk of Scotland, though no grave marker exists.  St. Giles was the patron saint of Edinburgh, cripples and lepers.  A statue of Knox was incorporated in the International Monument to the Reformation (French: Monument international de la Réformation, German: Internationales Reformationsdenkmal).  Usually known as the Reformation Wall, it is a monument in Geneva, Switzerland that honours many of the main individuals, events, and documents of the Protestant Reformation by depicting them in statues and bas-reliefs.  One of the bas-reliefs features Knox preaching at St. Giles before the court of Mary Stuart including, James Stewart, Lord Darnley and Matthew Stewart.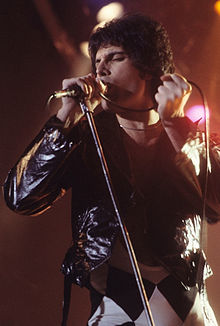 On this day in 1991, singer, songwriter, lyricist, lead singer of Queen, Freddie Mercury died at the age of 45 surrounded by friends at his home in Kensington, London, from bronchial pneumonia resulting from AIDS.  Born Farrokh Bulsara in the British protectorate of Sultanate of Zanzibar, East Africa (now part of Tanzania) on 5 September 1946.  As a performer, he was known for his flamboyant stage persona and powerful vocals over a four-octave range.  As a songwriter, he composed many hits for Queen, including "Bohemian Rhapsody," "Killer Queen," "Somebody to Love," "Don't Stop Me Now," "Crazy Little Thing Called Love," and "We Are the Champions."  In addition to his work with Queen, he led a solo career, and also occasionally served as a producer and guest musician (piano or vocals) for other artists.  The Final Footprint – On 27 November 1991, Mercury's funeral service was conducted by a Zoroastrian priest.  An intensely private man, Mercury's service was for 35 of his close friends and family, with the remaining members of Queen (Brian May, Roger Taylor, and John Deacon)  and Elton John among those in attendance.  Mercury was cremated at Kensal Green Cemetery, West London.  In accordance with Mercury's wishes, Mary Austin took possession of his ashes and buried them in an undisclosed location.  The whereabouts of his ashes are believed to be known only to Austin, who has stated that she will never reveal where she buried them.
The outer walls of Mercury's home purchased with Ausitn, Garden Lodge in 1 Logan Place became a shrine to Mercury following his death, with mourners paying tribute by covering the walls in graffiti messages.  Three years after his death, Time Out magazine reported, "Since Freddie's death, the wall outside the house has become London's biggest rock 'n' roll shrine.".  Today fans continue to visit to pay their respects with messages in letters appearing on the walls.
In 1992 he was awarded the Brit Award for Outstanding Contribution to British Music, and the Freddie Mercury Tribute Concert was held at Wembley Stadium, London.  As a member of Queen, he was inducted into the Rock and Roll Hall of Fame in 2001, the Songwriters Hall of Fame in 2003, the UK Music Hall of Fame in 2004, and the band received a star on the Hollywood Walk of Fame in 2002.  Also in 2002, Mercury was placed at number 58 in the BBC's poll of the 100 Greatest Britons.
In my opinion, Mercury is one of the greatest singers in the history of popular music.  In 2005, a poll organised by Blender and MTV2 saw Mercury voted the best male singer of all time.  In 2008, Rolling Stone editors ranked him number 18 on their list of the 100 greatest singers ever.  In 2009, a Classic Rock poll elected him the best rock singer of all time.
Another notable cremation at Kensal Green: Ingrid Bergman.
Have you planned yours yet?
Follow TFF on twitter @RIPTFF