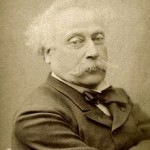 On this day in 1895, French author and dramatist, the son of Alexandre Dumas, père, Alexandre Dumas, fils died at Marly-le-Roi, Yvelines, at the age of 71.  Born 27 July 1824 in Paris.  When he was 20 years old, Dumas moved to Saint-Germain-en-Laye to live with his father.  There, he met Marie Duplessis, a young courtesan who would be the inspiration for his romantic novel The Lady of the Camellias (La Dame aux camélias), wherein Duplessis was named Marguerite Gauthier.  Adapted into a play, it was titled Camille in English and became the basis for Verdi's 1853 opera, La Traviata, Duplessis undergoing yet another name change, this time to Violetta Valery.  Dumas married Nadjeschda von Knorring (1867 – 1895 her death) and Henriette Régnier de La Brière (1895–1895 his death). 

The Final Footprint –  Dumas was interred in the Cimetière de Montmartre in Paris.  His grave is only some 100 metres away from that of Duplessis.  The film Pretty Woman (1990), starring Richard Gere as Edward Lewis and Julia Roberts as Vivian Ward, has a similar plot as La Traviata and Lewis takes Ward to see the opera, her first.  Other notable final footprints at Montmartre include composer Hector Berlioz, singer Dalida, artist Edgar Degas, poet Théophile Gautier and composer Jacques Offenbach.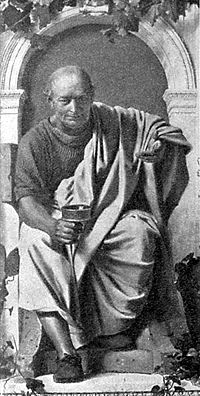 On this day in 8 BC, Roman lyric poet, Horace died in Rome at the age of 56.  Born Quintus Horatius Flaccus on 8 December 65 BC in the Samnite south of Italy.  The rhetorician Quintillian regarded his Odes as just about the only Latin lyrics worth reading: "He can be lofty sometimes, yet he is also full of charm and grace, versatile in his figures, and felicitously daring in his choice of words."  Horace also crafted hexameter verses (Sermones and Epistles) and iambic poetry (Epodes).  The satirist Persius commented: "as his friend laughs, Horace slyly puts his finger on his every fault; once let in, he plays about the heartstrings".  His career coincided with Rome's momentous change from Republic to Empire.  An officer in the republican army defeated at the Battle of Philippi in 42 BC, he was befriended by Octavian's right-hand man in civil affairs, Maecenas, and became a spokesman for the new regime.  For some commentators, his association with the regime was a balance in which he maintained a strong measure of independence (he was "a master of the graceful sidestep") but for others he was, in John Dryden's phrase, "a well-mannered court slave".  (Drawing of Horace, as imagined by Anton von Werner.)  The Final Footprint – Horace is entombed near his friend Maecenas in Rome.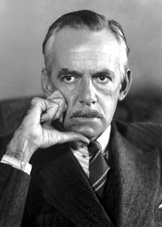 On this day in 1953, playwright and Nobel laureate in literature, Eugene O'Neill, died in room 401 of the Sheraton Hotel on Bay State Road in Boston, Massachusetts, at the age of 65.  Born Eugene Gladstone O'Neill on 16 October 1888 in The Barrett Hotel in Times Square.  Perhaps best known for his masterpiece Long Day's Journey Into Night (1957), which waqs published posthumously and won the Pulizer Prize in 1957.  In addition to that play I like Mourning Becomes Electra (1931) and The Iceman Cometh (1946).  O'Neill married three times; Kathleen Jenkins (divorce), Agnes Boulton (divorce) and Carlotta Monterey (his death).  His sons, Eugene Jr. and Shane, both committed suicide.  His daughter Oona married actor, director, producer Charlie Chaplin.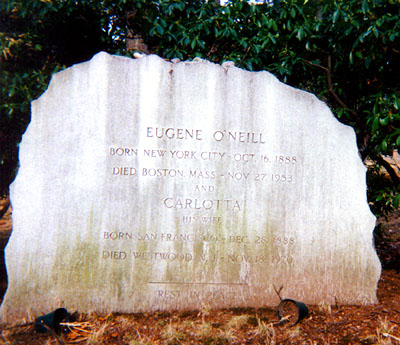 The Final Footprint – O'Neill's reported last words were; "I knew it.  I knew it.  Born in a hotel room, and Goddamnit, died in a hotel room."  O'Neill  is interred in the Forest Hills Cemetery in Boston's Jamaica Plain neighborhood.  The Barrett hotel where O'Neill was born is now a Starbucks, surprise, and there is a commemorarive birth plaque on the outside wall.  A statue of the young O'Neill was installed on the waterfront in Boston.
Have you planned yours yet?
Follow TFF on twitter @RIPTFF