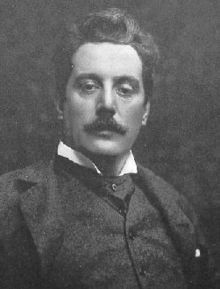 On this day in 1924, composer, Giacomo Puccini, died in Brussels, Belgium at the age of 65 from complications of throat cancer.  Born Giacomo Antonio Domenico Michele Secondo Maria Puccini on 22 December 1858 in Lucca, Tuscany, Italy.  Puccini's operas, including La bohème, Tosca, Madama Butterfly, and Turandot, are among the most frequently performed in the standard repertoire.  Some of his arias, such as "O mio babbino caro" from Gianni Schicchi, "Che gelida manina" from La bohème, and "Nessun dorma" from Turandot, have become part of popular culture.  I fell in love with a pretty woman during a performance of La bohème.  In the autumn of 1884, Puccini began a relationship with a married woman named Elvira Gemignani (née Bonturi) in Lucca.  Elvira became pregnant by Puccini, and their son, Antonio, was born in 1886.  Elvira, Antonio and Elvira's daughter Fosca, began to live with Puccini shortly afterwards.  Elvira's husband, Narisco, was killed by the husband of a woman that Narisco had an affair with.  Only then were Puccini and Elvira able to marry, and to legitimize Antonio.  The marriage between Puccini and Elvira was apparently troubled by infidelity, as Puccini had frequent affairs himself, including with well-known singers such as Maria Jeritza, Emmy Destinn, Cesira Ferrani, and Hariclea Darclée.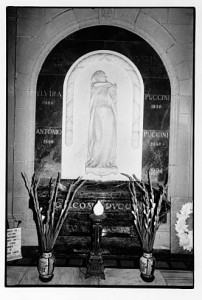 The Final Footprint –  News of his death reached Rome during a performance of La bohème.  The opera was immediately stopped, and the orchestra played Chopin's Funeral March for the stunned audience.  Puccini was temporarily entombed in the Toscanini Private Mausoleum in the Cimitero Monumentale in Milan.  Puccini's son arranged for the transfer of his father's remains to a specially created chapel inside the Puccini villa at Torre del Lago, Toscana, Italy in 1926.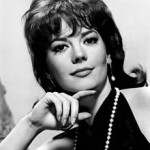 On this day in 1981, actress Natalie Wood drowned near Santa Catalina Island, California at the age of 43.  Born Natalia Nikolaevna Zacharenko in San Francisco on 20 July 1938.  Perhaps best known for her screen roles in Miracle on 34th Street, Splendor in the Grass, Rebel Without a Cause, and West Side Story.  After first working in films as a child, Wood became a successful Hollywood star as a young adult, receiving three Academy Award nominations before she was 25 years old.  Wood began acting in movies at the age of four and at age eight was given a co-starring role in the classic Christmas film Miracle on 34th Street.  As a teenager, her performance in Rebel Without a Cause (1955) earned her a nomination for the Academy Award for Best Supporting Actress. She starred in the musical films West Side Story (1961) and Gypsy (1962), and received Academy Award for Best Actress nominations for her performances in Splendor in the Grass (1961) and Love with the Proper Stranger (1963).  She was married to actor Robert Wagner twice, and to producer Richard Gregson in between her marriages to Wagner.  She had one daughter by each: Natasha Gregson and Courtney Wagner.  Her younger sister, Lana Wood, is also an actress.  The Final Footprint – Wood died while on a weekend boat trip with her husband Wagner and actor Christopher Walken, and the boat's captain, Dennis Davern.  Many facts surrounding her drowning are unknown, because no one has admitted seeing how she entered the water.  Wood's body was discovered by authorities at 8 am on 29 November 1981, one mile away from the boat, with a small inflatable dinghy found beached nearby.  Following an investigation, the Los Angeles County coroner's office ruled her death an accident by drowning and hypothermia.  The case was reopened in November 2011.  After nine months of further investigation, the Los Angeles County Chief Medical Examiner Dr. Lakshmanan Sathyavagiswaran amended Wood's death certificate and changed the cause of her death from accidental drowning to "drowning and other undetermined factors".  Natalie Wood was buried in at Pierce Brothers Westwood Village Memorial Park and Mortuary (a Dignity Memorial® provider) in Los Angeles, California.  Scores of representatives of international media, photographers, and members of the public tried to attend Wood's funeral; however, all were required to remain outside the cemetery walls. Among the celebrity attendees were Frank Sinatra, Elizabeth Taylor, Fred Astaire, Rock Hudson, David Niven, Gregory Peck, Gene Kelly, Elia Kazan and Sir Laurence Olivier.    Other notable final footprints at Westwood include; Ray Bradbury,  Sammy Cahn, Truman Capote, James Coburn, Rodney Dangerfield, Janet Leigh, Farrah Fawcett, Brian Keith, Don Knotts, Burt Lancaster, Peter Lawford, Peggy Lee, Jack Lemmon, Karl Malden, Dean Martin, Walter Mathau, Marilyn Monroe, Carroll O'Connor, Roy Orbison, George C. Scott, Dorothy Stratten, and Frank Zappa.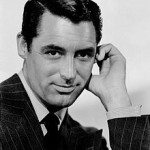 On this day in 1986, actor Cary Grant died in St. Luke's Hospital in Davenport, Iowa from a cerebral hemorrhage at the age of 82.  Born Archibald Alexander Leach at 15 Hughenden Road, Horfield, Bristol, England on 18 January 1904.  Known for his transatlantic accent, debonair demeanor and "dashing good looks", in my opinion, Grant is one of classic Hollywood's definitive leading men.  He was known for both comedic and dramatic roles; perhaps his best-known films include The Awful Truth (1937), Bringing Up Baby (1938), Gunga Din (1939), The Philadelphia Story (1940), His Girl Friday (1940), Arsenic and Old Lace (1944), Notorious (1946), The Bishop's Wife (1947), To Catch a Thief (1955), An Affair to Remember (1957), North by Northwest (1959), and Charade (1963).  Nominated twice for the Academy Award for Best Actor (Penny Serenade and None But the Lonely Heart) and five times for a Golden Globe Award for Best Actor, Grant was continually passed over.  In 1970, he was presented an Honorary Oscar at the 42nd Academy Awards by Frank Sinatra "for his unique mastery of the art of screen acting with the respect and affection of his colleagues".  Any movie with Cary Grant is a good movie.  Grant was married five times: Virginia Cherrill (1934 – 1935 divorce); Barbara Hutton (1942 – 1945 divorce) (one of the wealthiest women in the world, the couple was derisively nicknamed "Cash and Cary", although in an extensive prenuptial agreement Grant refused any financial settlement in the event of a divorce. Grant bristled at the accusation that he married for money: "I may not have married for very sound reasons, but money was never one of them"); actress Betsy Drake (1949 – 1962 divorce); singer Dyan Cannon (1965 – 1968 divorce); and Barbara Harris (1981 – 1986 his death).  The Final Footprint – Grant was cremated and his cremains were scattered somewhere in California.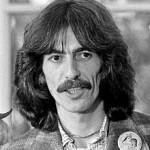 On this day in 2001, musician, singer and songwriter, lead guitarist of the Beatles, member of the Traveling Wilburys, George Harrison died at the age of 58 at a Hollywood Hills mansion that was once leased by Paul McCartney and was previously owned by Courtney Love.  The cause of death is listed on his Los Angeles County death certificate as "metastatic non-small cell lung cancer".  The second Beattle to pass away after John Lennon's murder.  Born in Liverpool, Lancashire, England, on 25 February 1943.  Among the songs he wrote or co-wrote include; "While My Guitar Gently Weeps", "Here Comes the Sun", "It Don't Come Easy", and "All Those Years Ago."  Harrison married twice, first to Pattie Boyd (1966 – 1977 divorce), and Olivia Trinidad Arias (1978 – 2001 his death).  The Final Footprint – Harrison was cremated at Hollywood Forever Cemetery and his ashes were scattered at Varanasi, India, in the Ganges, Saraswati and Yamuna Rivers by his close family in a private ceremony according to Hindu tradition.
Have you planned yours yet?
Follow TFF on twitter @RIPTFF