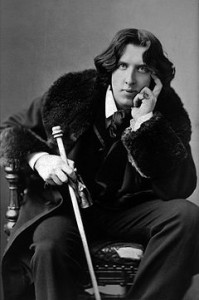 On this day in 1900, writer, playwright, poet, aesthete, Oscar Wilde died in Paris at the age of 46.  Born Oscar Fingal O'Flahertie Wills Wilde on 16 October 1854 in Dublin, Ireland.  One of my favorite writers.  Notable works:  The Importance of being Earnest and The Picture of Dorian Gray. Wilde is also well known for his witty quotes.  For example:  "A little sincerity is a dangerous thing, and a great deal of it is absolutely fatal."  "A man can be happy with any woman as long as he does not love her."   "Anyone who lives within their means suffers from a lack of imagination."  "Arguments are to be avoided; they are always vulgar and often convincing."  "I always like to know everything about my new friends, and nothing about my old ones."  "I am not young enough to know everything."  "I think that God in creating Man somewhat overestimated his ability."  "If you want to tell people the truth, make them laugh, otherwise they'll kill you."  "Illusion is the first of all pleasures."  "A gentleman is one who never hurts anyone's feelings unintentionally."  "In married life three is company and two none."  "Life is too important to be taken seriously."  "One should always be in love. That is the reason one should never marry."  "Women are made to be loved, not understood."  "I'm not saying we should misbehave, but we ought to look as though we might."  There are literally hundreds more.  Wilde was married to Constance Loyd (1898 her death).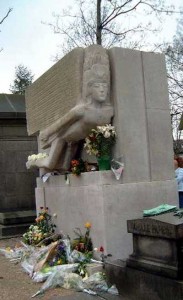 The Final Footprint – Wilde was initially buried in the Cimetière de Bagneux outside Paris.  In 1909 his remains were disinterred and entombed in Père Lachaise Cemetery in Paris.  His large rectangular granite tomb was designed by Sir Jacob Epstein, commissioned by Robert Ross, who asked for a small compartment to be made for his own ashes which were duly transferred in 1950.  The modernist angel depicted as a relief on the tomb was originally complete with male genitalia which have since been vandalised; their current whereabouts are unknown.  In 2000, Leon Johnson, a multimedia artist, installed a silver prosthesis to replace them.  The epitaph is a verse from The Ballad of Reading Gaol:
And alien tears will fill for him
Pity's long-broken urn,
For his mourners will be outcast men,
And outcasts always mourn.
Père Lachaise is the largest cemetery in Paris and one of the most visited cemeteries in the world.  Other notable Final Footprints at Père Lachaise include; Honoré de Balzac, Georges Bizet, Jean-Dominique Bauby, Maria Callas, Chopin, Colette, Auguste Comte, Jean-Baptiste-Camille Corot, Molière, Jim Morrison, Édith Piaf, Camille Pissarro, Marcel Proust, Sully Prudhomme, Gioachino Rossini, Georges-Pierre Seurat, Simone Signoret, Gertrude Stein, Alice B. Toklas, and Richard Wright.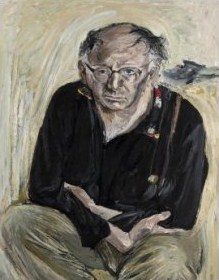 On this day in 1967, Irish poet and novelist Patrick Kavanagh died at the age of 63 in a Dublin nursing home.  In my opinion, one of the foremost poets of the 20th century.  Perhaps his best known works include the novel Tarry Flynn and the poems Raglan Road and The Great Hunger.  Born in rural Inniskeen, County Monaghan on 21 October 1904.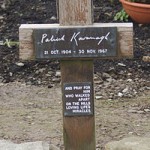 The Final Footprint – His grave is in Inniskeen adjoining the Patrick Kavanagh Centre.  His wife Katherine died in 1989; she is also buried there.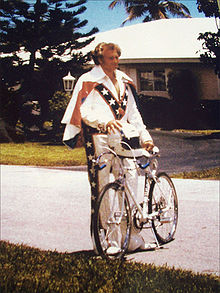 On this day in 2007, stunt performer Evel Knievel died from idiopathic pulmonary fibrosis in Clearwater, Florida at the age of 69.  Born Robert Craig Knievel on 17 October 1938 in Butte, Montana.  In his career, he attempted more than 75 ramp-to-ramp motorcycle jumps between 1965 and 1980.  In 1974, he attempted and failed a jump across Snake River Canyon in the Skycycle X-2, a steam-powered rocket.  He suffered more than 433 bone fractures in his career, thereby earning an entry in the Guinness Book of World Records as the survivor of "most bones broken in a lifetime".  Knievel was inducted into the Motorcycle Hall of Fame in 1999.  Knievel said; "You can't ask a guy like me why I performed. I really wanted to fly through the air. I was a daredevil, a performer. I loved the thrill, the money, the whole macho thing. All those things made me Evel Knievel. Sure, I was scared. You gotta be an ass not to be scared. But I beat the hell out of death."  Fanfare Films produced Evel Knievel, a 1971 movie starring George Hamilton as Knievel.  Knievel married twice; Linda Joan Bork (1959–97 divorce) and Krystal Kennedy (1999–2001 divorce).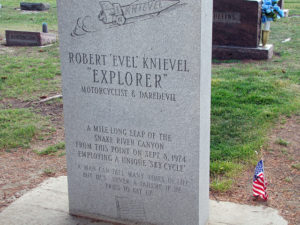 The Final Footprint – Knievel was buried at Mountain View Cemetery in his hometown of Butte on December 10, 2007, following a funeral at the 7,500-seat Butte Civic Center presided over by Pastor Dr. Robert H. Schuller with actor Matthew McConaughey giving the eulogy.  Prior to the Monday service, fireworks exploded in the Butte night sky as pallbearers carried Knievel's casket into the center.
Have you planned yours yet?
Follow TFF on twitter @RIPTFF