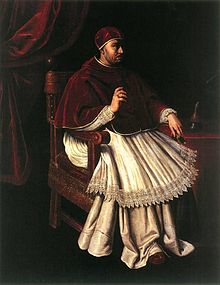 On this day in 1521, Pope Leo X died in Rome, Papal States at the age of 45.  Born Giovanni di Lorenzo de' Medici on 11 December 1475 in the Republic of Florence, the second son of Lorenzo the Magnificent, who was head of the Florentine Republic.  Leo was Pope from 9 March 1513 to his death in 1521.  He was elevated to the cardinalate in 1489.  Following the death of Pope Julius II, Giovanni was elected pope after securing the backing of the younger members of the Sacred College.  Early on in his rule he oversaw the closing sessions of the Fifth Council of the Lateran, but failed sufficiently to implement the reforms agreed.  In 1517 he led a costly war that succeeded in securing his nephew as duke of Urbino, but which damaged the papal finances.  He later only narrowly escaped a plot by some cardinals to poison him.  Perhaps best remembered for granting indulgences for those who donated to reconstruct St. Peter's Basilica, which practice was challenged by Martin Luther's 95 Theses.  He seems not to have taken seriously the array of demands for church reform that would quickly grow into the Protestant Reformation.  His Papal Bull of 1520, Exsurge Domine, simply condemned Luther on a number of areas and made ongoing engagement difficult.  He did, however, grant establishment to the Oratory of Divine Love.  Leo borrowed and spent heavily.  A significant patron of the arts, upon election Leo is alleged to have said, "Since God has given us the papacy, let us enjoy it".  Under his reign, progress was made on the rebuilding of Saint Peter's Basilica and artists such as Raphael decorated the Vatican rooms.  Leo also reorganised the Roman University, and promoted the study of literature, poetry and antiquities. The Final Footprint –  Leo is entombed in Santa Maria sopra Minerva, Rome.  Other notable final footprints at Santa Maria include; Saint Catherine of Siena, Fra Angelico, Popes Urban VII, Paul IV and the other Medici pope Clement VII.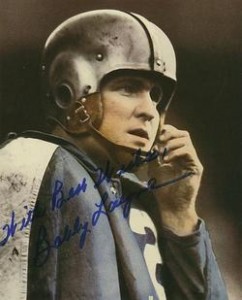 On this day in 1986, Texas Longhorn, quarterback, Hall of Famer, Bobby Layne, died in Lubbock, Texas.  Born Robert Lawrence Layne on 19 December 1926 in Santa Anna, Texas.  Layne attended Highland Park High School in Dallas and attended the University of Texas at Austin.
One of the greatest quarterbacks ever to play for Texas, Layne was selected to four straight All-Southwest Conference teams from 1944-1947.  He was one of the first inductees into the Cotton Bowl Hall of Fame.  In the 1946 Cotton Bowl Classic, where Texas beat Missouri 40-27, Layne accounted for every point, scoring four touchdowns, kicking four extra points and throwing for two other scores.  Voted the Outstanding Back in the 1948 Sugar Bowl victory over #6 Alabama.  Layne finished his Texas career with a school record 3,145 passing yards on 210 completions and 400 attempts.  Layne played baseball as a pitcher for Texas as well.  In his career as a pitcher he threw two no hitters.  Layne was drafted in the first round, number three overall by the Chicago Bears.  Layne was traded to the New York Bulldogs and then to the Detroit Lions.  In 1952, Layne led the Lions to their first NFL Championship in 12 years.  He would repeat this in 1953 for back to back NFL Championships, but fell short of a three-peat when the Lions lost to the Cleveland Browns in the 1954 NFL Championship Game.  Layne finished his career with the Pittsburgh Steelers.  After retiring from 15 seasons in the NFL, Layne held the career records for both passes attempted (3,700) and completed(1,814), as well as yards gained passing (26,768) and passing touchdowns (196).  He was not the most gifted or talented quarterback in the NFL at the time but his drive, leadership, and clutch play (he is credited with creating the two-minute offense) made him great.  Layne was one of the last players to play in the NFL without a facemask.  According to Doak Walker, "Layne never lost a game…time just ran out on him." Layne was voted into the Texas Longhorn Hall of Honor in 1963 and the Pro Football Hall of Fame in 1967.  In a special issue in 1995, Sports Illustrated called him "The Toughest Quarterback Who Ever Lived."  In 1999, he was ranked number 52 on the Sporting News' list of Football's 100 Greatest Players.  His number 22 has been retired by both the Longhorns and the Lions.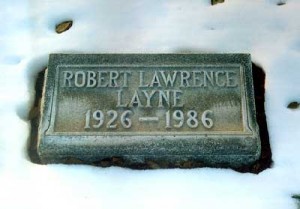 The Final Footprint – Layne is interred in City of Lubbock Cemetery in Lubbock, Texas.
Have you planned yours yet?
Follow TFF on twitter @RIPTFF