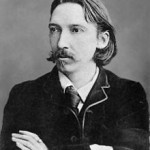 On this day in 1894, Scottish novelist, poet, essayist, and travel writer Robert Louis Stevenson died, probably of a cerebral hemorrhage at the age of 44 in Vailima, Samoa.  Born Robert Lewis Balfour Stevenson at 8 Howard Place, Edinburgh, on 13 November 1850.   Perhaps best know for his novels; Treasure Island (1883), Kidnapped (1886), and Strange Case of Dr Jekyll and Mr Hyde (1886).  Stevenson married once, Frances (Fanny) Matilda Van de Grift (1880 – 1894 his death).  For more on their love story visit our sister site, teawithtater.com, search Robert Louis stevenson.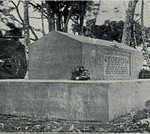 The Final Footprint – Upon his death, the Samoans insisted on surrounding his body with a watch-guard during the night and on bearing their Tusitala (his Somoan name which translates as Teller of Tales) upon their shoulders to nearby Mount Vaea, where they buried him on a spot overlooking the sea.  Stevenson had always wanted his 'Requiem' inscribed on his tomb:
Under the wide and starry sky,
Dig the grave and let me lie.
Glad did I live and gladly die,
And I laid me down with a will.
This be the verse you grave for me:
Here he lies where he longed to be;
Home is the sailor, home from sea,
And the hunter home from the hill.
Stevenson was loved by the Samoans, and his tombstone epigraph was translated to a Samoan song of grief  which is well-known and still sung in Samoa.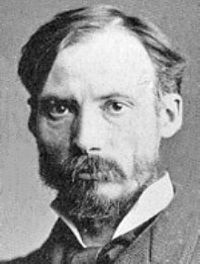 On this day in 1919, the artist who was a leading painter in the development of the Impressionist style, a celebrator of beauty and feminine sensuality, Pierre-Auguste Renoir, died in the village of Cagnes-sur-Mer, Provence-Alpes-Côte d'Azur, France.  Born on 25 February 1841 in Limoges, Haute-Vienne, France.  In 1890, he married Aline Victorine Charigot, who had already served as a model for him and would continue to do so.  In Paris, he meet and befriended Claude Monet.  In Palermo, Sicily, he met the composer Richard Wagner and painted his portrait.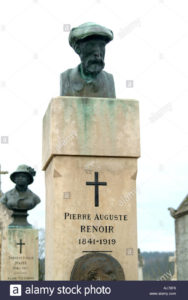 The Final Footprint – Renoir is interred in Cimetière du Essoyes, Essoyes, Aube, Champagne-Ardenne Region, France.
Have you planned yours yet?
Follow TFF on twitter @RIPTFF
Gallery
| | | | |
| --- | --- | --- | --- |
| Julie Manet with cat, 1867 | La Grenouillère, 1868, National Museum, Stockholm, Sweden | Portrait of Alfred Sisley, 1868 | Claude Monet Painting in His Garden at Argenteuil, 1873, Wadsworth Athenaeum, Hartford, Connecticut |
| Portrait of Claude Monet, 1875, Musée d'Orsay, Paris, France | Jeanne Durand-Ruel, 1876, Barnes Foundation Merion, Pennsylvania | A Girl with a Watering Can, 1876, National Gallery of Art, Washington, D.C. | Mme. Charpentier and her children, 1878, Metropolitan Museum of Art, New York |
| By the Water, 1880, Art Institute of Chicago, Chicago, Illinois | Luncheon of the Boating Party, 1880–1881, The Phillips Collection, Washington, D.C. | Portrait of Charles and Georges Durand-Ruel, 1882 | Dance in the City, 1882–1883, Musée d'Orsay, Paris, France |
| Dance in the Country (Aline Charigot and Paul Lhote), 1883, Musée d'Orsay, Paris | Pencil study for Dance in the Country 1883, Honolulu Academy of Arts | Children at the Beach at Guernsey, 1883, Barnes Foundation Merion, Pennsylvania | In the Garden, 1885, Hermitage St. Petersburg |
| Girl With a Hoop, 1885, National Gallery of Art, Washington, D.C. | Girl Braiding Her Hair (Suzanne Valadon), 1885 | Portrait of Berthe Morisot and daughter Julie Manet, 1894 | Gabrielle Renard and infant son Jean Renoir, 1895 |
| The Artist's Family, 1896, The Barnes Foundation, Merion, Pennsylvania | Graziella, 1896,The Detroit Institute of Arts | Portrait of Ambroise Vollard, 1908 | Portrait of Paul Durand-Ruel, 1910 |
Self-portraits
| | | | |
| --- | --- | --- | --- |
| | | | |
Nudes
| | | | |
| --- | --- | --- | --- |
| Diana the Huntress, 1867, The National Gallery of Art Washington, DC | Nude In The Sun, 1875, Musée d'Orsay, Paris, France | | The Large Bathers, 1887, Philadelphia Museum of Art, Philadelphia, Pa. |
| | Three Bathers, 1895, Cleveland Museum of Art Cleveland, Ohio | Woman on a Couch (Gabrielle), 1906–1907 | After The Bath, 1910, Barnes Foundation, Merion Pennsylvania |
| | Seated Bather Drying Her Leg, 1914, Musée de l'Orangerie, Paris, France | Women Bathers, 1916, National Museum, Stockholm, Sweden | Bathers, 1918, Barnes Foundation, Merion Pennsylvania |