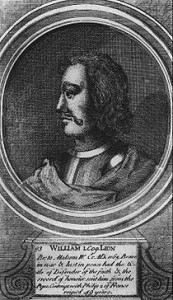 On this day in 1214, King of Scots from 1165 to 1214, William I, Uilleam mac Eanraig, Garbh (the Rough), founder of Arbroath Abbey, William the Lion, died in Stirling, Scotland at the age of 71.  His reign was the second longest in Scottish history.  William succeeded the throne upon the death of his brother Malcolm IV, being crowned on 24 December 1165.  William was powerfully built and red headed.
He was called Lion after his death because he adopted as his flag, or standard, a red lion rampant with a forked tail on a yellow background.  This, with the addition of a 'double tressure fleury counter-fleury' border, went on to become the Royal standard of Scotland, still used today, but quartered with those of England and of Ireland.  As a result of the Treaty of Falaise, Henry II had the right to choose William's bride.  William married Ermengarde de Beaumont, a granddaughter of King Henry I of England, at Woodstock Palace in 1186.  Edinburgh Castle was her dowry.  He was succeeded on the throne by his son Alexander II.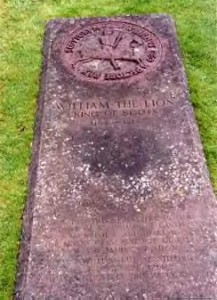 The Final Footprint – William was interred before the high altar in Arbroath Abbey in Arbroath, Scotland.  The Abbey is cared for by Historic Scotland and is open to the public throughout the year.  The distinctive red sandstone ruins stand at the top of the High Street in Arbroath.  In My Defens, God Me Defend!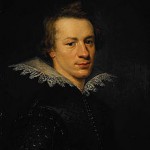 On this day in 1649, poet, the Scottish Petrarch, William Drummond of Hawthornden died at the age of 63.  Born on 13 December 1585 at Hawthornden Castle, Midlothian.  A noteworthy feature in Drummond's poetry, is that it owes its birth and inspiration to the English and Italian masters.  Amid all his sensuousness, and even in those lines most conspicuously beautiful, there is a dash of melancholy thoughtfulness; a tendency perhaps deepened by the death of his first love, Mary Cunningham.  Drummond was called "the Scottish Petrarch"; and his sonnets, which are the expression of a genuine passion, stand far above most of the contemporary Petrarcan imitations.  A remarkable burlesque poem Polemo Middinia inter Vitarvam et Nebernam (printed anonymously in 1684) has been persistently, and with good reason, ascribed to him.  It is a mock-heroic tale, in macaronic Latin enriched with Scottish Gaelic expressions, of a country feud on the Fife lands of his old friends the Cunninghams.  Drummond married Elizabeth Logan in 1632.  The Final Footprint – Drummond was buried in his parish church of Lasswade.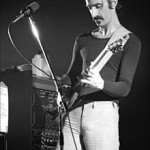 On this day in 1993, musician, songwriter, composer, recording engineer, record producer, and film director, Frank Zappa died in his home in Los Angeles with his wife and children by his side from prostate cancer at the age of 52.  Born Frank Vincent Zappa was born in Baltimore, Maryland, on 21 December 1940.  In a career spanning more than 30 years, Zappa composed rock, jazz, orchestral and musique concrète works.  He also directed feature-length films and music videos, and designed album covers.  Zappa produced almost all of the more than 60 albums he released with the band The Mothers of Invention and as a solo artist.  While in his teens, he acquired a taste for 20th-century classical composers such as Edgard Varèse, Igor Stravinsky, and Anton Webern along with 1950s rhythm and blues music.  Zappa was a self-taught composer and performer, and his diverse musical influences led him to create music that was often difficult to categorize. His 1966 debut album with The Mothers of Invention, Freak Out!, combined songs in conventional rock and roll format with collective improvisations and studio-generated sound collages.  His lyrics, often humorously, reflected his iconoclastic view of established social and political processes, structures and movements.  He was a highly productive and prolific artist and gained widespread critical acclaim.  Zappa and the Mothers were involved in a famous incident that inspired the great rock song "Smoke on the Water" by Deep Purple.  The lyrics of the song tell a true story: on 4 December 1971 Deep Purple had set up in Montreux, Switzerland to record an album using a mobile recording studio, rented from the Rolling Stones, at the entertainment complex that was part of the Montreux Casino.  On the eve of the recording session a Zappa and The Mothers of Invention concert was held in the casino's theatre.  In the middle of Don Preston's synthesizer solo on "King Kong", the place suddenly caught fire when somebody in the audience fired a flare gun into the rattan covered ceiling.  The resulting fire destroyed the entire casino complex, along with all the Mothers' equipment.  The "smoke on the water" that became the title of the song referred to the smoke from the fire spreading over Lake Geneva from the burning casino as the members of Deep Purple watched the fire from their hotel.  Zappa was married to Kathryn J. "Kay" Sherman from 1960 to 1964.  In 1967, he married Adelaide Gail Sloatman, with whom he remained until his death from prostate cancer in 1993.  The Final Footprint – Zappa was interred in an unmarked grave at the Westwood Village Memorial Park Cemetery in Los Angeles.  On Monday, 6 December, his family publicly announced that "Composer Frank Zappa left for his final tour just before 6:00 pm on Saturday."  Zappa was posthumously inducted into the Rock and Roll Hall of Fame in 1995 and received the Grammy Lifetime Achievement Award in 1997.  Pierce Brothers Westwood Village Memorial Park and Mortuary is a Dignity Memorial® property.  Other notable final footprints at Westwood include; Ray Bradbury,  Sammy Cahn, Truman Capote, James Coburn, Rodney Dangerfield, Janet Leigh, Farrah Fawcett, Brian Keith, Don Knotts, Burt Lancaster, Peter Lawford, Peggy Lee, Jack Lemmon, Karl Malden, Dean Martin, Walter Mathau, Marilyn Monroe, Carroll O'Connor, Roy Orbison, George C. Scott, Dorothy Stratten and Natalie Wood.
Have you planned yours yet?
Follow TFF on twitter @RIPTFF