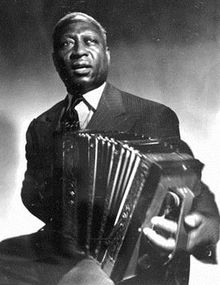 On this day in 1949, iconic folk and blues musician, King of the 12-String Guitar, Lead Belly, died in New York City at the age of 61.  Born Huddie William Ledbetter in January 1888 on the Jeter Plantation near Mooringsport, Louisiana.  He was incarcerated in 1918 for killing one of his relatives in a fight over a woman, and in 1930 for attempted homicide.  Lead Belly's vast songbook, much of which he adapted from previous sources, has provided material for numerous folk, country, pop and rock acts since his time including: The Beach Boys, Bob Dylan, Hank Williams, Jr., Creedence Clearwater Revival, Harry Belafonte, Van Morrison, Led Zeppelin, Nirvana, Kurt Cobain, Johnny Cash, Ram Jam,  Tom Petty, Dr John, Ry Cooder, Odetta, Tom Waits, Rod Stewart, Ernest Tubb, The Doors, and Meat Loaf.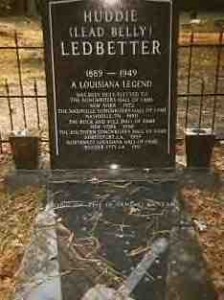 The Final Footprint – Lead Belly is interred in a private estate in Shiloh Baptist Church Cemetery in Mooringsport. Louisiana.  His grave is marked by a full granite ledger and a large upright granite marker.  He is honored with a life-size statue across from the Caddo Parish Courthouse in Shreveport.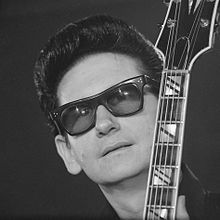 On this day in 1988, singer and songwriter, The Caruso of Rock, Roy Orbison died of a heart attack at the age of 52 at his mother's home in Hendersonville, Tennessee.  Born Roy Kelton Orbison on 23 April 1936 in Vernon, Texas.  Perhaps best known for his distinctive, powerful voice, complex compositions, and dark emotional ballads.  Orbison grew up in Texas and began singing in a rockabilly/country and western band in high school until he was signed by Sun Records in Memphis.  His greatest success came with Monument Records between 1960 and 1964, when 22 of his songs placed on the Billboard Top Forty, including "Only the Lonely", "Crying", and "Oh, Pretty Woman".  In 1988, he joined the supergroup Traveling Wilburys with George Harrison, Bob Dylan, Tom Petty, and Jeff Lynne and released a new solo album.  His life was marred by tragedy, including the death of his first wife and his two eldest sons in separate accidents.  Orbison was a natural baritone, but music scholars have suggested that he had a three or four octave range.  Elvis reportedly stated that his voice was the greatest he had ever heard.  Orbison was known for performing while standing still and solitary, wearing black clothes and dark sunglasses which lent an air of mystery to his persona.  The Final Footprint – Orbison's death was an international news event.  The Nashville Banner put it on the front page across six columns; it also made the front page of the New York Times.  A memorial was held in Nashville, and another in Los Angeles; he was buried at Westwood Village Memorial Park Cemetery.  In January 1989, Orbison became the first musician since Elvis to have two albums in the Top Five at the same time.  Orbison was initiated into the second class of the Rock and Roll Hall of Fame in 1987 by longtime admirer Bruce Springsteen. The same year he was inducted into the Nashville Songwriters Hall of Fame and the Songwriters Hall of Fame two years later.  Pierce Brothers Westwood Village Memorial Park and Mortuary is a Dignity Memorial® property.  Other notable final footprints at Westwood include; Ray Bradbury,  Sammy Cahn, Truman Capote, James Coburn, Rodney Dangerfield, Janet Leigh, Farrah Fawcett, Brian Keith, Don Knotts, Burt Lancaster, Peter Lawford, Peggy Lee, Jack Lemmon, Karl Malden, Dean Martin, Walter Mathau, Marilyn Monroe, Carroll O'Connor, George C. Scott, Dorothy Stratten, Natalie Wood and Frank Zappa.
Have you planned yours yet?
Follow TFF on twitter @RIPTFF