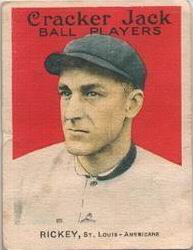 On this day in 1965, baseball Hall of Fame General Manager, "The Mahātmā," Branch Rickey, died in Columbia, Missouri at the age of 83.  Born Wesley Branch Rickey on 20 December 1881 in Stockdale, Ohio.  He was known for breaking Major League Baseball's color barrier by signing African-American player Jackie Robinson, for drafting the first Hispanic/Black Hispanic superstar, Roberto Clemente, for creating the framework for the modern minor league farm system, and for introducing the batting helmet.  He played for the St. Louis Browns and the New York Highlanders; managed the Browns and the St. Louis Cardinals; and was the General Manager for the Browns, Cardinals, Brooklyn Dodgers and the Pittsburgh Pirates.  Rickey was a man of deep Christian faith.  He is attributed with the famous quotation: "Luck is the residue of opportunity and design."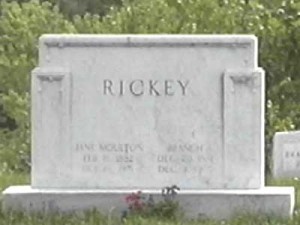 The Final Footprint – Rickey is interred in Rushtown Cemetery, Rushtown, Ohio.  His wife, Jane Moulton, is interred next to him.  Their graves are marked by a large upright granite marker.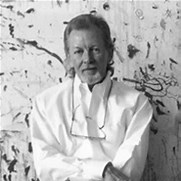 On this day in 2002, husband of Anne Rice, painter and poet Stan Rice died of brain cancer at the age of 60 in New Orleans.  Born on 7 November 1942 in Dallas.  He met his future wife in a high school journalism class in Richardson, Texas, and they married in Denton, Texas on October 14, 1961.  It was the death of his and Anne's first child, daughter Michele (1966–1972), at age six of leukemia, which sparked Rice's becoming a published author.  His first book of poems, based on his daughter's illness and death, was titled Some Lamb, and was published in 1975.  Rice encouraged his wife to quit her work as a waitress, cook and theater usher in order to devote herself full-time to her writing.  Rice, his wife and their son Christopher moved to Garden District, New Orleans in 1988, where he eventually opened the Stan Rice Gallery.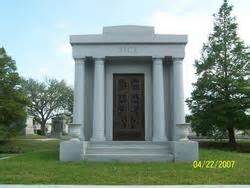 The Final Footprint – Rice is entombed in the Rice Family private mausoleum in Metairie Cemetery in New Orleans.  Other notable final footprints at Metairie include; Jim Garrison, jazz trumpeter Al Hirt, Hall of Fame baseball player Mel Ott, and swing king Louis Prima.
Have you planned yours yet?
Follow TFF on twitter @RIPTFF