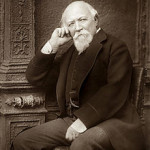 On this day in 1889, poet and playwright, one of the foremost Victorian poets, Robert Browning died at his son's home Ca' Rezzonico in Venice at the age of 77.  Born on 7 May 1812 in Camberwell, a district now forming part of the borough of Southwark in South London, England.  Perhaps as well known for his poetry as for his famously romantic marriage to the poet Elizabeth Barrett.  Their love letters to each other are among the most romantic letters ever written.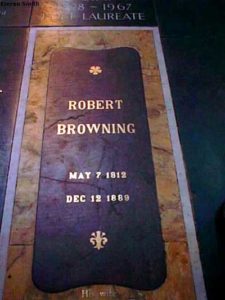 The Final Footprint – Browning was buried in Poets' Corner in Westminster Abbey; his grave now lies immediately adjacent to that of Alfred Tennyson.  Other notable Final Footprints at Westminster include; Lord Byron, Geoffrey Chaucer, Oliver Cromwell, Charles Darwin, Charles Dickens, Edward The Confessor, Elizabeth I, George II, George Friederic Handel, James I (James VI of Scotland), Samuel Johnson, Ben Jonson, Charles II, Edward III, Edward VI, Henry III, Henry V, Henry VII, Richard II, Rudyard Kipling, Henry Wadsworth Longfellow, John Milton, Sir Isaac Newton, Laurence Olivier, Henry Purcell, Mary I, Mary II, Mary Queen of Scots, Thomas Shadwell, Lord Alfred Tennyson, Dylan Thomas, and William III.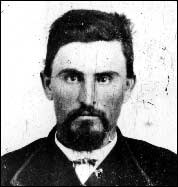 On this day in 1929, Texas Ranger, cattle rancher, The Father of the Texas Panhandle, Charles Goodnight, died in Tucson, Arizona at the age of 93.  Born on 5 March 1836 in Macoupin County, Illinois.  In 1846 his family moved to Texas.  At the age of 20, Goodnight began cowboyin' and joined the Texas Rangers a year later in 1857.  Following the Civil War, he became involved in the herding of feral Texas Longhorn cattle, "making the gather", a wide ranging round-up of cattle that had roamed near state-wide during the four years of war, northward from West Texas to railroads.  In 1866, he and Oliver Loving drove their first herd of cattle northward along what would become known as the Goodnight-Loving Trail.  Goodnight invented the chuckwagon, which was first used on the initial cattle drive.  Upon arriving in New Mexico, they formed a partnership with New Mexico cattleman John Chisum for future contracts to supply the United States Army with cattle.  After Loving's death, Goodnight and Chisum extended the trail from New Mexico to Colorado, and eventually to Wyoming.  Goodnight is reported to have kept a photograph of Loving in his pocket for a long time after his death.  As requested by the dying Loving, Goodnight carried the body from New Mexico to Weatherford, the seat of Parker County, Texas, for burial.  I have crossed and recrossed and walked and hiked various stretches of the Goodnight-Loving Trail in New Mexico and Colorado.
Goodnight founded in 1876 what was to become the first Texas Panhandle ranch, the JA Ranch, in the Palo Duro Canyon south of Amarillo.  He partnered with the Irish businessman John George Adair to create the JA, which stands for "John Adair".  In 1880, Goodnight was a founder of the Panhandle Stockman's Association.  I believe this organization was the precursor to the Panhandle Livestock Association of which I was a proud member when I lived in the Panhandle.  In addition, my uncle, Edward Benjamin Paul "Ben" McIntyre and my aunt, Nancy Ford McIntyre were both past presidents of the PLA.  In addition to raising cattle, Goodnight preserved a herd of native American Bison, which survives to this day.  He also crossbred buffalo with domestic cattle, which he called cattalo.  Goodnight was married twice, Mary Ann "Molly" Dyer (1870 – 1926 her death) and Corinne Goodnight, no relation (1927 – 1929 his death).  In Larry McMurtry's Pulitzer Prize-winning novel Lonesome Dove and its prequels and sequels (Streets of Laredo, Dead Man's Walk, and Commanche Moon) , the relationship between Gus McCrae and Woodrow Call appear to be based on the relationship between Goodnight and Loving.  The grave marker Call carves for Deets in the novel appears to be based on an actual gravestone Goodnight had created, and the trek back to Texas at the end of the novel appears to be based on Goodnights return of Loving's body to Texas.  All four novels include appearances by Goodnight as a character.  He plays his largest role in the final (chronological) volume of the series, Streets of Laredo where he and Call have become good friends.  J. Evetts Haley wrote a very good autobiography on Goodnight; Charles Goodnight: Cowman and Plainsman.  I have a copy autographed by the author.
In 1880, my Great-grandfather, Edward Henry Brainard left New York for Colorado then the Texas Panahndle to be a cowboy and start a ranch.  In 1886 he registered the Lazy B brand.  I like to think that Goodnight was an inspiration and that the two knew each other.  My heroes have always been Cowboys.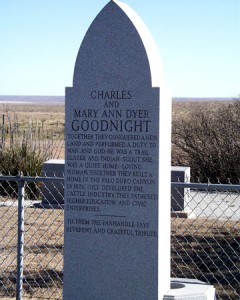 The Final Footprint – Goodnight and his first wife Molly are interred next to each other in Goodnight Cemetery, Goodnight, Texas.  Their graves are marked by a large upright granite marker inscribed with their names and the following:  "TOGETHER THEY CONQUERED A NEW LAND AND PERFORMED A DUTY TO MAN AND GOD.  HE WAS A TRAIL BLAZER AND INDIAN SCOUT.  SHE WAS A QUIET HOME-LOVING WOMAN.  TOGETHER THEY BUILT A HOME IN THE PALO DURO CANYON IN 1876.  THEY DEVELOPED THE CATTLE INDUSTRY.  THEY FATHERED HIGHER EDUCATION AND CIVIC ENTERPRISES.  TO THEM THE PANHANDLE PAYS REVERENT AND GRATEFUL TRIBUTE.
There is a sculpture of Goodnight in Panhandle, Texas and a bronze statue outside of the Panhandle-Plains Historical Museum at the West Texas A&M campus.
Have you planned yours yet?
Follow TFF on twitter @RIPTFF