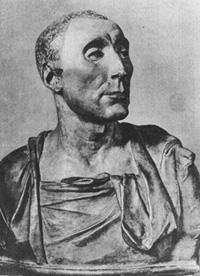 On this day in 1466, acclaimed Italian sculptor, Donatello, died in Florence, Italy at the age of 80.  Born Donato di Niccolò di Betto Bardi c. 1386 in Florence, Italy.  One of the most important Renaissance sculptors, known for his work in bas-relief, a form of shallow relief sculpture that, in Donatello's case, incorporated significant 15th century developments in perspectival illusionism.  His main works include:
"St. Mark" (1411–1413), Orsanmichele, Florence
St. George Tabernacle (c. 1415–1417) — Museo Nazionale del Bargello, Florence
"Prophet Habacuc" (1423–1425) — Museo dell'Opera del Duomo, Florence
"The Feast of Herod" (c. 1425) — Baptismal font, Duomo di Siena
"David" (c. 1425–1430) — Museo Nazionale del Bargello, Florence
"Equestrian Monument of Gattamelata" (1445–1450) — Piazza del Santo, Padua
"Magdalene Penitent" (c. 1455) — Museo dell'Opera del Duomo, Florence
"Judith and Holofernes" (1455–1460) — Palazzo Vecchio, Florence
"Virgin and Child with Four Angels" or "Chellini Madonna" (1456), Victoria and Albert Museum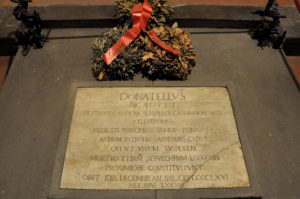 The Final Footprint – Donatello is entombed next to Cosimo de' Medici the Elder in the Basilica di San Lorenzo (Basilica of St Lawrence), one of the largest churches of Florence, Italy, situated at the centre of the city's main market district, and the burial place of all the principal members of the Medici family from Cosimo il Vecchio to Cosimo III.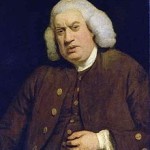 On this day in 1784,  poet, essayist, moralist, literary critic, biographer, editor and lexicographer, Dr. Johnson, Samuel Johnson died at a friends house in Islington, London at the age of 75.  Possibly the most distinguished man of letters in English history.  He is also the subject of  one of the most famous single works of biographical art in the whole of literature: James Boswell's Life of Samuel Johnson.  Johnson married Elizabeth "Tetty" or "Testsey" Jervis Porter (1735 – 1752 her death).  They married on 9 July 1735 at St. Werburgh's Church, Derby, where the event is reenacted annually.  Johnson called the marriage "a love-match on both sides," and always recalled her affectionately and with grief, especially on the anniversary of her death.  Born on 18 September 1709 in the family home above his father's bookshop in Lichfield, Staffordshire.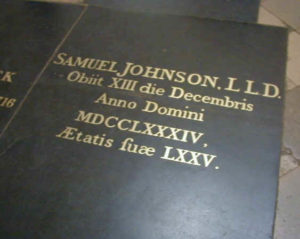 The Final Footprint – Johnson was buried on 20 December 1784 at Westminster Abbey.  Other notable Final Footprints at Westminster include; Robert Browning, Lord Byron, Geoffrey Chaucer, Oliver Cromwell, Charles Darwin, Charles Dickens, Edward The Confessor, Elizabeth I, George II, George Friederic Handel, James I (James VI of Scotland), Ben Jonson, Charles II, Edward III, Edward VI, Henry III, Henry V, Henry VII, Richard II, Rudyard Kipling, Henry Wadsworth Longfellow, John Milton, Sir Isaac Newton, Laurence Olivier, Henry Purcell, Mary I, Mary II, Mary Queen of Scots, Thomas Shadwell, Lord Alfred Tennyson, Dylan Thomas, and William III.
Have you planned yours yet?
Follow TFF on twitter @RIPTFF