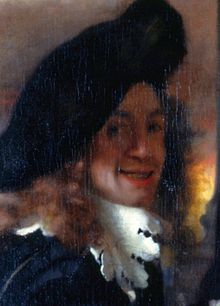 On this day in 1675, artist Johannes Vermeer died after a short illness in Delft, Dutch Republic, at the age of 43.  Baptized On 31 October 1632 in the Reformed Church in Delft.  Perhaps best known for his painting, Meisje met de parel (Girl with a Peal Earring) (1665), Vermeer specialized in domestic interior scenes of middle-class life.  He was a moderately successful provincial genre painter in his lifetime.  Vermeer apparently worked slowly and with great care, using bright colours and sometimes expensive pigments, with a preference for lapis lazuli and Indian yellow.  He is particularly renowned for his use of light.  Recognized during his lifetime in Delft and The Hague, his modest celebrity gave way to obscurity after his death and was omitted from surveys of Dutch art for nearly two centuries.  In the 19th century, Vermeer was rediscovered by Gustav Friedrich Waagen and Théophile Thoré-Bürger, who published an essay attributing sixty-six pictures to him, although only thirty-four paintings are universally attributed to him today.  Since that time, Vermeer's reputation has grown, and he is now acknowledged as one of the greatest painters of the Dutch Golden Age.  Vermeer married Catharina Bolenes (Bolnes).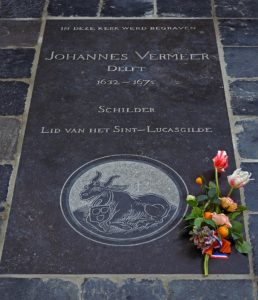 The Final Footprint – Vermeer is entombed in the Oude Kerk (Old Church), nicknamed Oude Jan ("Old John"), a Gothic Protestant church in the old city center of Delft.  Its most recognizable feature is a 75-meter-high brick tower that leans about two meters from the vertical.  Tracy Chevalier's novel Girl with a Pearl Earring and the film of the same name (2003) are named after the painting; they present a fictional account of its creation by Vermeer and his relationship with the (equally fictional) model.  The film was nominated for Oscars in cinematography, art direction, and costume design
Gallery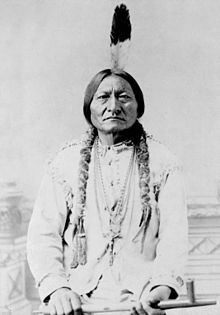 On this day in 1890, a Hunkpapa Lakota holy man, tribal chief, Sitting Bull was killed by Indian agency police on the Standing Rock Indian Reservation in South Dakota, during an attempt to arrest him, at a time when authorities feared that he would join the Ghost Dance movement, at the age of 58 or 59.   Tȟatȟáŋka Íyotake in Standard Lakota Orthography Jumping Badger, also nicknamed Slon-he or "Slow", in the Dakota Territory c. 1831.  In 2007, Sitting Bull's great-grandson asserted from family oral tradition that Sitting Bull was born along the Yellowstone River, south of present-day Miles City, Montana.  Sitting Bull led his people as a tribal chief during years of resistance to United States government policies.  Before the Battle of the Little Bighorn, Sitting Bull had a vision in which he saw the defeat of the 7th Cavalry under Lt. Col. George Armstrong Custer on 25 June 25 1876.  Sitting Bull's leadership inspired his people to a major victory.  Months after their victory at the battle, Sitting Bull and his group left the United States for Wood Mountain, North-West Territories (now Saskatchewan), where he remained until 1881, at which time he and most of his band returned to US territory and surrendered to U.S. forces.  After working as a performer with Buffalo Bill's Wild West show, Sitting Bull returned to the Standing Rock Agency in South Dakota.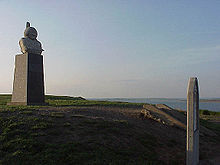 The Final Footprint – His body was taken to nearby Fort Yates for burial.  In 1953, his Lakota family exhumed what were believed to be his remains, reburying them near Mobridge, South Dakota near his birthplace.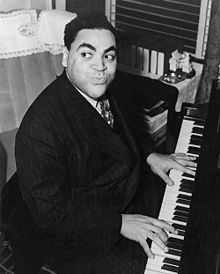 On this day in 1943, influential jazz pianist, organist, composer, singer, Fats Waller died from pneumonia on a cross-country train trip near Kansas City, Missouri at the age of 39.  Born Thomas Wright Waller in New York City on 21 May 1904.  Waller's innovations to the Harlem stride style laid the groundwork for modern jazz piano, and his best-known compositions, "Ain't Misbehavin'" and "Honeysuckle Rose", were inducted into the Grammy Hall of Fame posthumously, in 1984 and 1999.  The Final Footprint – At the time of his death, Waller was returning to New York City from Los Angeles, after the smash success of Stormy Weather, and after a successful engagement at the Zanzibar Room, during which he had fallen ill.  Reportedly, as the train with the body of Waller stopped in Kansas City, so stopped a train with his friend Louis Armstrong on board.  More than 4,000 people attended his funeral in Harlem, which prompted Dr. Adam Clayton Powell, Jr., who delivered the eulogy, to say that Fats Waller "always played to a packed house."  Afterwards he was cremated and his ashes were scattered, from an airplane piloted by an unidentified World War I black aviator, over Harlem.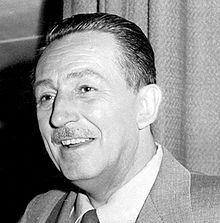 On this day in 1966, film producer, director, screenwriter, voice actor, animator, entrepreneur, entertainer, international icon, philanthropist, co-founder (with his brother Roy) of Walt Disney Productions, Walt Disney, died in Burbank, California at the age of 65.  Born Walter Elias Disney on 5 December 1901 in Hermosa, Chicago, Illinois.  His father, Elias, was of Irish-Canadian descent.  His mother, Flora Call, was of German-American descent.  Disney married once, Lillian Bounds (1925 – 1966 his death).  Disney holds the record for most Academy Award nominations (with 59) and most Oscars awarded (with 22).  The first movie I remember watching was Disney's animated production of The Jungle Book (1967) based on the book by Rudyard Kipling.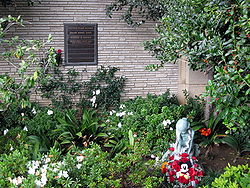 The Final Footprint – Disney was cremated and his cremated remains reside in the Disney Family Private Garden, Forest Lawn Memorial Park, Glendale, California.  Shortly before his death, he apparently wrote down the name of actor Kurt Russell.  No one seems to know why.  Before Disney died he made a short film for the Disney Company executive board in which he addressed each board member and ended the film by saying, "I'll be seeing you."  In 2009, the Walt Disney Family Museum opened in the Presidio of San Francisco.  Disney has two stars on the Hollywood Walk of Fame, one for movies and one for television.  Other notable Final Footprints at Forest Lawn Glendale include; L. Frank Baum, Humphrey Bogart, Lon Chaney, Natalie Cole, Nat King Cole, Sam Cooke, Dorothy Dandridge, Sammy Davis, Jr., Errol Flynn, Clark Gable, Jean Harlow, Michael Jackson, Carole Lombard, Casey Stengel, Jimmy Stewart, Elizabeth Taylor, and Spencer Tracy.
Have you planned yours yet?
Follow TFF on twitter @RIPTFF