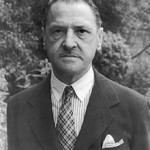 On this day in 1965 playwright, novelist, short story writer W. Somerset Maugham died in Nice, France at the age of 91.  Born William Somerset Maugham on 25 January 1874 in the U. K. Embassy in Paris.  Among the most popular writers of his era and reputedly one of the highest paid authors during the 1930s.  Maugham trained and qualified as a doctor.  The first run of his first novel, Liza of Lambeth (1897), sold out so rapidly that Maugham gave up medicine to write full-time.  During the First World War, he served with the Red Cross and in the ambulance corps, before being recruited in 1916 into the British Secret Intelligence Service, for which he worked in Switzerland and Russia before the Bolshevik Revolution of 1917.  During and after the war, he traveled in India and Southeast Asia; all of these experiences were reflected in later short stories and novels.  Maugham married Gwendoline Maud Syrie Barnardo Wellcome (1917 – 1928 divorce).  Maugham's love life apparently was almost never smooth.  He once confessed: "I have most loved people who cared little or nothing for me and when people have loved me I have been embarrassed… In order not to hurt their feelings, I have often acted a passion I did not feel."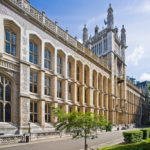 The Final Footprint – Maugham was cremated and his cremains were scattered near the Maughan Library, The King's School, Canterbury.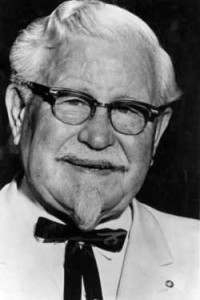 On this day in 1980, U. S. Army veteran, entrepreneur, founder of Kentucky Fried Chicken, philanthropist, Colonel Sanders, died in Louisville, Kentucky at the age of 90.  Born Harland David Sanders on 9 September 1890 in Henryville, Indiana.  He opened his first restaurant in Corbin, Kentucky in 1930 when he was 40.  Sanders began developing his distinctive appearance in 1950, growing his trademark mustache and goatee and donning a white suit and string tie.  He never wore anything else in public during the last 20 years of his life, using a heavy wool suit in the winter and a light cotton suit in the summer.  At age 65, Sanders' restaurant failed due to the new Interstate 75 reducing his customer traffic.  He took $105 from his first Social Security check and began visiting potential franchisees.  Dave Thomas, founder of Wendy's was offered a chance to turn around a failing Kentucky Fried Chicken restaurant.  He helped save the restaurant, and revolutionized the fast food industry.  Sanders was married twice; Josephine King (divorced) and Claudia Price.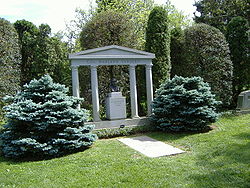 The Final Footprint – Sanders is interred with his wife Claudia in the Sanders Private Estate, Cave Hill Cemetery, Louisville, Kentucky.  The estate is marked by a large granite monument bearing his name and a bronze bust of Sanders on a granite pedestal.  Their graves are marked by a full ledger granite marker.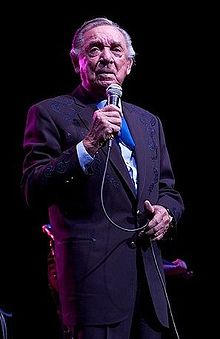 On this day in 2013, Grammy award winning singer, songwriter, guitarist, The Cherokee Cowboy, Ray Price died from complications of pancreatic cancer at his home in Mt. Pleasant, Texas at the age of 87.  Born Noble Ray Price on 12 January 1926 Perryville, Texas.  In my opinion, his wide ranging baritone was among the best male voices of country music.  Some of his well-known recordings include "Release Me", "Crazy Arms", "Heartaches by the Number", "For the Good Times", "Night Life", and "You're the Best Thing That Ever Happened to Me".  Price was elected to the Country Music Hall of Fame in 1996.  He continued to record and tour well into his mid-eighties.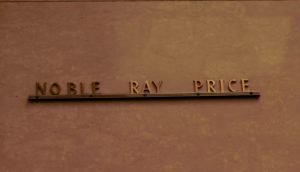 The Final Footprint – Price is interred at Restland Memorial Park in Dallas.
Lee Van Cleef

Van Cleef in Stories of the Century (1954)

Spouse(s)

Patsy Ruth (m. 1943;div. 1960)
Joan Drane (m. 1960;div. 1974)
Barbara Havelone (m. 1976)
On this day in 1989, United States Navy Veteran, actor Lee Van Cleef died from a heart attack at his home in Oxnard, California, at the age of 64. Throat cancer was listed as a secondary cause of death.
Born Clarence Leroy Van Cleef Jr. on January 9, 1925 in Somerville, New Jersey. His sinister features overshadowed his acting skills and typecast him as a minor villain for a decade before he achieved stardom in Spaghetti Westerns such as The Good, the Bad and the Ugly. He declined to have his hook nose altered to play a sympathetic character in his film debut, High Noon, and was relegated to a non-speaking outlaw as a result. After suffering serious injuries in a car crash, Van Cleef began to lose interest in his apparently waning career by the time Sergio Leone gave him a major role in For a Few Dollars More. The film made him a box-office draw, especially in Europe.
Van Cleef possessed the rare physical characteristic of heterochromatic eyes, having eyes of two different colors; in his case, one green and one blue.
Van Cleef was married three times. He and his first wife, Patsy Ruth Kahle, his high school sweetheart, were married December 10th, 1943, had three children, Alan, Deborah and David, and divorced in 1960. Later that year, he married his second wife, Joan Marjorie Drane, on April 9th, 1960, and adopted their daughter, Denise. He and Joan divorced in 1974. Two years later, he married his third wife, Barbara Havelone, on July 13th, 1976, to whom he remained married until his death in 1989
The Final Footprint
Van Cleef is interred at Forest Lawn Memorial Park Cemetery, Hollywood Hills, California, with an inscription on his gravestone referring to his many acting performances as sinister, threatening characters: "BEST OF THE BAD". Other notable final footprints at Hollywood Hills include Bette Davis, Carrie Fisher, Bobby Fuller, Strother Martin, Ricky Nelson, and Debbie Reynolds.
Have you planned yours yet?
Follow TFF on twitter @RIPTFF