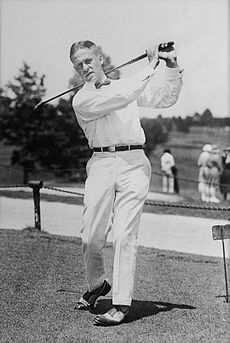 On this day in 1971, amateur golfer, designer of Augusta National Golf Club and co-founder of the Masters Tournament, Bobby Jones, died in Atlanta, Georgia at the age of 69.  Born Robert Tyre Jones, Jr. on 17 March 1901 in Altanta, Georgia.  He earned his B.S. in Mechanical Engineering from Georgia Tech in 1922.  He then earned a B.A. in English Literature from Harvard College in 1924.  After only one year in law school at Emory University, he passed the Georgia bar exam.  Jones was the most successful amateur golfer ever to compete on a national and international level.  Jones won the the U.S Open four times, The Open Championship three times, the U.S. Amateur five times and the British Amateur once.  In 1930, he won the Grand Slam, all four tournaments.  In total, he won 13 major championships.  In my opinion, he is the greatest golfer of all-time.  Jones was married in 1924 to the former Mary Rice Malone.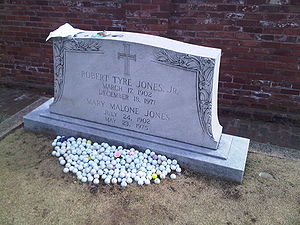 The Final Footprint – Jones and his wife are buried in Oakland Cemetery in Atlanta.  Their graves are marked by a companion granite marker.  Fans and friends continue to leave golf balls at the gravesite in tribute.  Another notable final footprint at Oakland is that of Margaret Mitchell.
Have you planned yours yet?
Follow TFF on twitter @RIPTFF