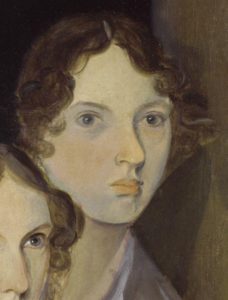 On this day in 1848, novelist Emily Brontë died from tuberculosis at the Brontë family home in Haworth Parsonage, Haworth, England at the age of 30.  Born Emily Jane Brontë  on 30 July 1818 in the village of Thornton, Yorkshire, in the North of England, to Maria Branwell and Patrick Bronte.  She was the younger sister of Charlotte Brontë.  Perhaps best remembered for her only novel, Wuthering Heights, now considered a classic of English literature.  She never married.  The Final Footprint – She was interred in the Church of St Michael and All Angels family capsule, Haworth.  Brontë would never know the extent of fame she achieved with her one and only novel, Wuthering Heights, as she died a year after its publication.  Wuthering Heights is the name of the farmhouse on the Yorkshire moors where the story unfolds.  The book's core theme is the destructive effect that jealousy and vengefulness have, both on the jealous or vengeful individuals and on their communities.  Wuthering Heights received mixed reviews when first published, and was considered controversial because its depiction of mental and physical cruelty was unusually stark, and it challenged strict Victorian ideals of the day, including religious hypocrisy, morality, social classes and gender inequality.  Poet and painter Dante Gabriel Rossetti referred to it as a "fiend of a book — an incredible monster."  Wuthering Heights has inspired adaptations, including film, radio and television dramatisations, a musical by Bernard J. Taylor, a ballet, operas (by Bernard Herrmann, Carlisle Floyd, and Frédéric Chaslin), a role-playing game, and a 1978 song by Kate Bush.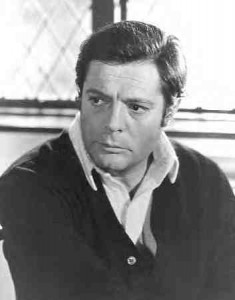 On this day in 1996, Academy Award-nominated actor, Knight Grand Cross, Marcello Mastroianni, died in Paris at the age of 72.  Born Marcello Vincenzo Domenico Mastroianni on 28 September 1924 in Fontana Liri, Italy.  A man who worked with and loved some of the most beautiful women in the world.  His prominent films include La dolce vita (1960), La Notte (1961), Ieri, oggi, domani (Yesterday, Today and Tomorrow) (1963), Matrimonio all'italiana (Marriage Italian-Style (1964), Una giornata particolare (A Special Day) (1977), and Ready to Wear (Prêt-à-Porter) (1994).  Mastroianni and Sophia Loren were one of the most successful and enduring screen couples of cinema history, paired up in 14 movies over twenty years.  He was married once to Flora Carabella (1950 – 1996 his death).  Mastroianni and actress Catherine Deneuve were longtime lovers during the seventies.  Both his daughters and Deneuve were at his bedside when he died of pancreatic cancer, as was his partner at the time, author and filmmaker Anna Maria Tatò.  The Trevi Fountain in Rome, associated with his role in Federico Fellini's La dolce vita, was symbolically turned off and draped in black as a tribute.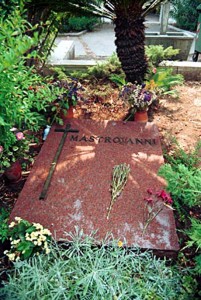 The Final Footprint – Mastroianni is interrred in the Mastroianni Family Estate in Cimitero Monumentale del Verano, Rome, Italy.  His grave is marked by a granite full ledger marker.
Have you planned yours yet?
Follow TFF on twitter @RIPTFF