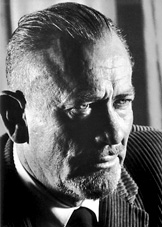 On this day in 1968, Pulitzer Prize and Noble Prize-winning writer, John Steinbeck, died of heart disease in New York City at the age of 66.  Born John Ernst Steinbeck, Jr. on 27 February 1902 in Salinas, California of German and Irish descent.  Perhaps best remembered for his novels; The Grapes of Wrath (1939) which won the Pulitzer, East of Eden (1952) and the novella Of Mice and Men (1937).  Most of Steinbeck's work is set in southern and central California, particularly in the Salinas Valley and the California Coast Ranges region.  His works frequently explored the themes of fate and injustice, especially as applied to downtrodden or everyman protagonists.  The movie version of East of Eden, directed by Elia Kazan, marked the debut of James Dean.  He attended Stanford University but did not graduate.  Steinbeck married three times; Carol Henning (1930 – 1943 divorce), Gwyndolyn Conger (1943 – 1948 divorce), Elaine Scott (1950 – 1968 his death).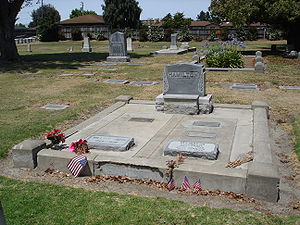 The Final Footprint – Steinbeck was cremated and his cremated remains were interred in the Hamilton Family Estate in Garden of Memories Memorial Park in Salinas with his parents and his maternal grand-parents.  His mother's maiden name was Hamilton.  His third wife, Elaine, was later buried there as well.  The estate is marked by an upright granite marker engraved with the Hamilton name.
Have you planned yours yet?
Follow TFF on twitter @RIPTFF