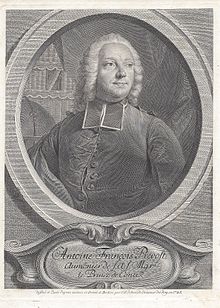 On this day in 1763, author Abbé Prévost died at the age of 66 in Chantilly, France.  Born Antoine François Prévost d'Exiles on 1 April 1697 at Hesdin, Artois.  While living in the Hague, he engaged on a translation of De Thou's Historia, and, relying on the popularity of his first book, published at Amsterdam a Suite in three volumes, forming volumes v, vi, and vii of the original Mémoires et aventures d'un homme de qualité.  The seventh volume contained the famous Manon Lescaut, separately published in Paris in 1731 as Histoire du Chevalier des Grieux et de Manon Lescaut.  The book was eagerly read, chiefly in pirated copies, being forbidden in France.  Puccini's opera, Manon Lescaut is based on the novel.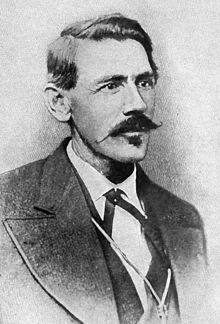 On this day in 1884, cattle barron in the American West, John Chisum died in Eureka Springs, Arkansas, where he had repeatedly sought treatments, due to complications from surgery to remove a growth from his jaw, at the age of 60.  Born John Simpson Chisum on 15 August 1824 in Hardeman County, Tennessee.  Chisum moved with his family to Texas in 1837, finding work as a building contractor.  He also served as county clerk in Lamar County.  Chisum was of Scottish, English, and Welsh descent.  In 1854, Chisum became engaged in the cattle business and became one of the first to send his herds to New Mexico Territory.  He obtained land along the Pecos River by right of occupancy and eventually became the owner of a large ranch in the Bosque Grande, about forty miles south of Fort Sumner, with over 100,000 head of cattle.  In 1866-67, Chisum formed a partnership with cattlemen Charles Goodnight and Oliver Loving to assemble and drive herds of cattle for sale to the United States Army in Fort Sumner and Santa Fe, New Mexico, to provide cattle to miners in Colorado as well as provide cattle to the Bell Ranch.  A gambler, Chisum frequently played poker with Texas John Slaughter, a lawman in Texas and later the Arizona Territory.  Chisum with money, advice, and influence behind the scenes, played a role in the Lincoln County War between the opposing factions of cattle farmers and business owners, and involving Billy the Kid.  Chisum never married.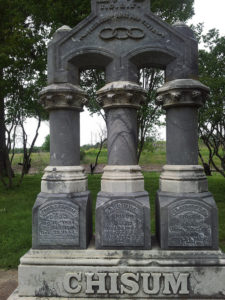 The Final Footprint – Chisum is interred in the Chisum Family Cemetery in Paris, Texas.  He left his estate worth $500,000 to his brothers Pitzer and James.  While living in Bolivar, Texas, he lived with a young slave girl named Jensie and had two daughters with her.  The relationship is described in a book titled Three Ranches West.  Chisum had an extended family living with him at the South Springs ranch in Roswell.  Chisum's niece Sallie, daughter of his brother James, became a beloved figure in the area, where she lived until 1934.  Sallie kept a diary or journal that has historical importance because of its references to Billy the Kid and Pat Garrett, both of whom she knew.  She and John Chisum are honored by statues to their memory in Roswell and Artesia, New Mexico.  Chisum has been portrayed on film by John Wayne in Chisum (1970) and James Coburn in Young Guns II (1990).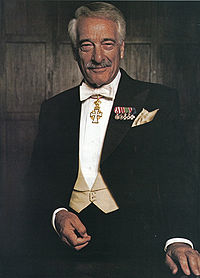 On this day in 2000, comedian, conductor and pianist, The Clown Prince of Denmark, The Unmelancholy Dane, The Great Dane, Victor Borge, died in Greenwich, Connecticut at the age of 91.  Born Børge Rosenbaum on 3 January 1909 in Copenhagen, Denmark.  Borge was married twice; Elsie Chilton (1933 – divorce) and Sarabel Sanna Scraper (1953 – 2000 her death).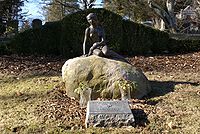 The Final Footprint – Borge was cremated.  Part of his cremated remains were interred with his second wife at Putnam Cemetery in Greenwich, with a replica of Danish icon The Little Mermaid sitting on a large rock at the gravesite, the other part with his parents in Western Jewish Cemetery (Mosaisk Vestre Begravelsesplads), Copenhagen, Denmark.
Have you planned yours yet?
Follow TFF on twitter @RIPTFF