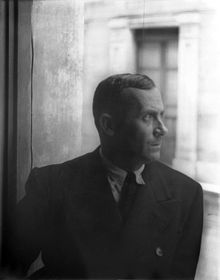 On this day in 1983, painter, sculptor, and ceramicist, Joan Miró died from heart disease in his home in Palma (Majorca).  Born Joan Miró i Ferrà on 20 April 1893 in Barcelona.  Earning international acclaim, his work has been interpreted as Surrealism, a sandbox for the subconscious mind, a re-creation of the childlike, and a manifestation of Catalan pride.  In numerous interviews dating from the 1930s onwards, Miró expressed contempt for conventional painting methods as a way of supporting bourgeois society, and famously declared an "assassination of painting" in favour of upsetting the visual elements of established painting.  A museum dedicated to his work, the Fundació Joan Miró, was established in his native city of Barcelona in 1975, and another, the Fundació Pilar i Joan Miró, was established in his adoptive city of Palma de Mallorca in 1981.  Miró married Pilar Juncosa in Palma (Majorca) on 12 October 1929.  The Final Footprint – Miró is entombed in Cementiri de Montjuïc, Barcelona. 
Gallery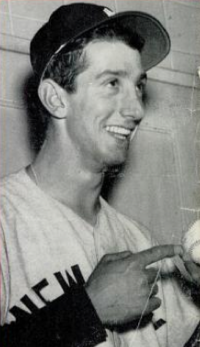 On this day in 1989, baseball player, All-Star second

baseman, manager, 5× World Series champion (1951–1953, 1956, 1977), New York Yankees #1 retired, Billy Martin died in a low speed, single vehicle collision during an ice storm at the end of the driveway to his farm in Port Crane, north of Binghamton, New York, at the age of 61.  Born Alfred Manuel Martin, Jr. on 16 May 1928 in Berkeley, California.  Perhaps best known as the manager of the New York Yankees, a position he held five different times.  As Yankees manager, he led the team to consecutive American League pennants in 1976 and 1977; the Yankees were swept in the 1976 World Series by the Cincinnati Reds but triumphed over the Los Angeles Dodgers in six games in the 1977 World Series.  As a manager, Martin was known for turning losing teams into winners, and for arguing animatedly with umpires, including a widely parodied routine in which he kicked dust on their feet.  On 10 August  1986, the Yankees retired Martin's uniform number 1 and dedicated a plaque in his honor for Monument Park at Yankee Stadium.  The plaque contains the words, There has never been a greater competitor than Billy.  Martin told the crowd, "I may not have been the greatest Yankee to put on the uniform, but I am the proudest."  On 24 May 1986, on the season finale of Saturday Night Live, co-host Martin was "fired" by executive producer Lorne Michaels for being "drunk" in a skit, slurring his lines.  During the goodnights, Martin "sets fire" to the dressing room in retaliation.  In 1988, on Saturday Night Live's "Weekend Update," comedian Dennis Miller opened the sports segment with, "In Calgary tonight, Katarina Witt won the gold medal in figure skating, prompting Yankees owner George Steinbrenner to fire manager Billy Martin."  Steinbrenner and Martin appeared together in a series of funny commercials for Miller Lite beer.  Martin was married four times Lois Berndt, Gretchen Winkler, Heather Ervolino, and Jillian Guiver.  The Final Footprint – Martin was eulogized by Cardinal John O'Connor at St. Patrick's Cathedral, New York, before his funeral at Gate of Heaven Cemetery in Hawthorne, New York.  His grave is located about 150 feet (46 m) from the grave of Babe Ruth in Section 25.  The following epitaph appears on the headstone: I may not have been the greatest Yankee to put on the uniform, but I was the proudest.  Former United States President Richard Nixon and Steinbrenner, along with many former New York Yankees greats attended Martin's funeral service.  Other notable Yankees whose final footprints include memorialization in Monument Park; Babe Ruth, Lou Gehrig, Joe DiMaggio, George Steinbrenner, Thurman Munson, Mickey Mantle, Roger Maris, Phil Rizzuto, Mel Allen, Bob Sheppard, and Casey Stengel.  Other notable final footprints at Gate of Heaven include; James Cagney, Babe Ruth, Sal Mineo, and Dutch Schultz.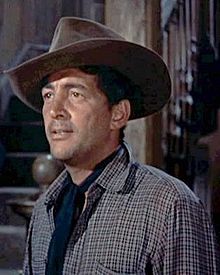 On this day in 1995, legendary singer and actor, American icon, member of the Rat Pack, The King of Cool, Dean Martin, died at his Beverly Hills home at the age 78.  Born Dino Paul Crocetti on 7 June 1917 in Steubenville, Ohio to Italian parents.  Martin was a major star in four areas of show business: concert stage/night clubs, recordings, motion pictures, and television.  Martin was on the nightclub circuit when he met the comic Jerry Lewis at the Glass Hat Club in New York.  They formed a friendship and soon began participating in each other's acts combining their musical and comedic talents.  Martin and Lewis made their offical debut at Atlantic City's 500 Club on 24 July 1946.  From then until 1956 they were one of the hottest acts in America appearing in clubs, on television and in movies.  By the mid '60s, Martin was a top movie, recording, and nightclub star.  He first starred alongside Frank Sinatra in the Vincente Minnelli drama, Some Came Running (1958).  Martin was acclaimed for his performance as Dude in Rio Bravo (1959), directed by Howard Hawks and also starring John Wayne and singer Ricky Nelson.  He teamed up again with Wayne in The Sons of Katie Elder (1965), although perhaps unconvincingly cast as brothers.  As a singer, Martin was influenced by Harry Mills, Bing Crosby, and Perry Como until he developed his own style and could hold his own in duets with Sinatra and Crosby.  Like Sinatra, he could not read music, but he recorded more than 100 albums and 600 songs.  His signature tune, "Everybody Loves Somebody", improbably knocked The Beatles' "A Hard Day's Night" out of the number-one spot in the United States in 1964.  Elvis was said to have been influenced by Martin's style.  In the late 1950s and early 1960s, Martin and Sinatra, along with friends Joey Bishop, Peter Lawford, and Sammy Davis, Jr. formed the legendary Rat Pack, so called by the public after an earlier group of social friends, the Holmby Hills Rat Pack centered on Humphrey Bogart and Lauren Bacall, of which Sinatra had been a member.  The Martin-Sinatra-Davis-Lawford-Bishop group referred to themselves as "The Summit" or "The Clan".  Martin launched his weekly NBC comedy-variety series, The Dean Martin Show in 1965 which ran until 1974.  After the show's cancellation, NBC continued to air the Dean Martin Celebrity Roast format in a series of TV specials through 1984.  Martin was married three times; Betty McDonald (1941 – 1949 divorce) Jeanne Biegger (1949 – 1972 divorce), Catherine Hawn (1973 – 1976 divorce).  Perhaps my all-time favorite entertainer: Rio Bravo is one of my favorite movies; the Martin and Lewis movies are great; I remember wathcing his show on television; the roast specials were some of the funniest shows I ever saw; and of course he is one of my favorite singers.  The holiday season does not officially start for me until I hear him sing, Baby it's cold Outside.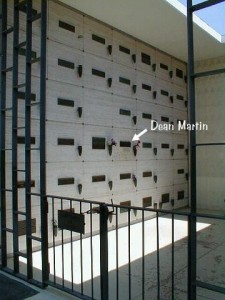 The Final Footprint – Martin is entombed in the Sanctuary of Love Mausoleum at Pierce Brothers Westwood Village Memorial Park and Mortuary (a Dignity Memorial® provider) in Los Angeles, California.  The bronze plaque on his crypt has his name and birth and death dates and this inscription; EVERYBODY LOVES SOMEBODY SOMETIME.  The lights of the Las Vegas Strip were dimmed in his honor.  Martin has three stars on the Hollywood Walk of Fame: One at 6519 Hollywood Blvd. (for movies), one at 1817 Vine (for recordings) and one at 6651 Hollywood Boulevard (for television).  His footprints were immortalized at Grauman's Chinese Theater in 1964.  Other notable final footprints at Westwood include; Ray Bradbury,  Sammy Cahn, Truman Capote, James Coburn, Rodney Dangerfield, Janet Leigh, Farrah Fawcett, Brian Keith, Don Knotts, Burt Lancaster, Peter Lawford, Peggy Lee, Jack Lemmon, Karl Malden, Dean Martin, Walter Mathau, Marilyn Monroe, Carroll O'Connor, Roy Orbison, George C. Scott, Dorothy Stratten, Natalie Wood and Frank Zappa.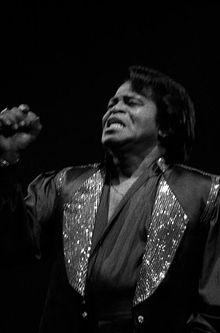 On this day in 2006, recording artist, musician, songwriter, the Hardest Working Man in Show Business, the Godfather of Soul, James Brown died from congestive heart failure resulting from complications of pneumonia, at age 73 with his personal manager and longtime friend Charles Bobbit at his bedside in the Emory Crawford Long Memorial Hospital in Atlanta.  Born James Joseph Brown, Jr. on 3 May 1933, in Barnwell, South Carolina in a small wooden shack.  One of the founding fathers of funk music and a major figure of 20th-century popular music and dance.  In a career that spanned six decades, Brown influenced the development of several music genres.  He began his career as a gospel singer in Toccoa, Georgia.  Joining an R&B vocal group called the Avons that later evolved to become The Famous Flames, Brown served as the group's lead singer.  First coming to national public attention in the late 1950s as a member of The Flames with the ballads "Please, Please, Please" and "Try Me", Brown built a reputation as a tireless live performer with the The Famous Flames and his backing band, sometimes known as the James Brown Band or the James Brown Orchestra.  His success peaked in the 1960s with the live album Live at the Apollo and hit singles such as "Papa's Got a Brand New Bag", "I Got You" and "It's a Man's Man's Man's World".  During the late 1960s, Brown moved from a continuum of blues and gospel-based forms and styles to a profoundly "Africanized" approach to music-making that influenced the development of funk music.  By the early 1970s, Brown had fully established the funk sound after the formation of The J.B.'s with records such as "Get Up (I Feel Like Being a) Sex Machine" and "The Payback".  Brown also became notable for songs of social commentary, including the 1968 hit "Say It Loud – I'm Black and I'm Proud".  He continued to perform and record for the duration of his life until his death.  Brown recorded 16 number-one singles on the Billboard R&B charts.  Brown was honored by many institutions including inductions into the Rock and Roll Hall of Fame and Songwriters Hall of Fame.  Brown is included in most rankings of greatest artists of all time.  Brown was married three times; Velma Warren (1953 – 1969 divorce), Deidre "Deedee" Jenkins (1970 – 1981 divorce) and Adrienne Lois Rodriguez (1984 – 1996 her death).  A fourth marriage to Tomi Rae Hynie in 2002 was later ruled invalid.  The Final Footprint –
After Brown's death, Brown's relatives and friends, a host of celebrities and thousands of fans attended public memorial services at the Apollo Theater in New York on 28 December 2006 and at the James Brown Arena on 30 December 2006 in Augusta, Georgia.  A separate, private memorial service was also held in North Augusta, South Carolina on 29 December 2006, which was attended by Brown's family and close friends.  Celebrities who attended Brown's public and/or private memorial services included among others; Michael Jackson, Jimmy Cliff, Joe Frazier, Buddy Guy, Ice Cube, Ludacris, Dr. Dre, Little Richard, Dick Gregory, MC Hammer, Prince, Jesse Jackson, Ice-T, Jerry Lee Lewis, Bootsy Collins, LL Cool J, Lil Wayne, Lenny Kravitz, 50 Cent, Stevie Wonder, Todd Williams and Don King.  All of the public and private memorial services were officiated by Rev. Al Sharpton.  Brown's public and private memorial ceremonies were elaborate, complete with costume changes for Brown and videos featuring him in concert performances.  Brown's body, which was placed in a Promethean casket, which is bronze polished to a golden shine, was driven through the streets of New York to the Apollo Theater in a white, glass-encased horse-drawn carriage.  In Augusta, Georgia, the procession for Brown's public memorial visited Brown's statue as the procession made its way to the James Brown Arena.  During the public memorial at the James Brown Arena, nachos and pretzels were served to mourners, as a video showed Brown's last performance in Augusta, Georgia and the Ray Charles version of "Georgia on My Mind" played soulfully in the background.  Brown's last backup band, The Soul Generals, also played the music of Brown's hits during the memorial service at the James Brown Arena.  The group was joined by Bootsy Collins on bass, with MC Hammer performing a dance in James Brown style.  Former Temptations lead singer Ali-Ollie Woodson performed "Walk Around Heaven All Day" at the memorial services.  Brown is entombed in the Thomas Family Home Crypt, Beech Island, Aiken County, South Carolina.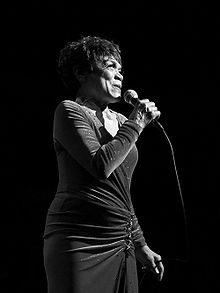 On this day in 2008, Tony nominated actress, singer, cabaret star, dancer, stand-up comedienne, activist and voice artist, Eartha Kitt died from colon cancer on at her home in Weston, Connecticut at the age of 81, with her daughter by her side.  Born Eartha Mae Keith on a cotton plantation in North, a small town in Orangeburg County near Columbia, South Carolina, on 17 January 1927.  Known for her highly distinctive singing style and her 1953 recordings of "C'est Si Bon" and the enduring Christmas novelty smash "Santa Baby", which were both US Top 10 hits.  Orson Welles once called her the "most exciting woman in the world".  Kitt began her career in 1943 with the Katherine Dunham Company and appeared in the 1945 original Broadway production of the musical Carib Song.  In the early 1950s, she had six US Top 30 hits, including "Uska Dara" and "I Want to be Evil".  Her other notable recordings include the UK Top 10 hit "Under the Bridges of Paris" (1954), "Just an Old Fashioned Girl" (1963) and "Where Is My Man" (1983).  She took over the role of Catwoman in 1967 for the third and final season of the Batman television series, replacing Julie Newmar.  In 1968, her career in America suffered after she made anti-war statements at a White House luncheon. Ten years later, she made a successful return to Broadway in the 1978 original production of the musical Timbuktu!, for which she received the first of her two Tony Award nominations.  Her second was for the 2000 original production of the musical The Wild Party.  After romances with the cosmetics magnate Charles Revson and banking heir John Barry Ryan III, she married John William McDonald, an associate of a real estate investment company, on 6 June 1960.  They divorced in 1965.  The Final Footprint – Kitt was cremated.
Have you planned yours yet?
Follow TFF on twitter @RIPTFF