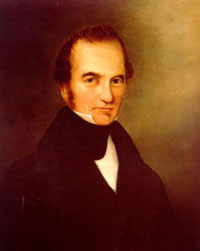 On this day in 1836, empresario, The Father of Texas, Stephen F. Austin died died of pneumonia at noon at the home of George B. McKinstry right outside of what is now West Columbia, Texas.  Born Stephen Fuller Austin in the mining region of southwestern Virginia (Wythe County) in what is now known as Austinville, some 256 miles (412 km) southwest of Richmond, Virginia.  Austin led the second, and ultimately successful, colonization of Texas by bringing 300 families from the United States.  Austin never married.  On 10 June 1836, Austin was in New Orleans, where he received word of Santa Anna's defeat by Sam Houston at the Battle of San Jacinto.  On August 4, Ausitn announced his candidacy for president of Texas.  He felt confident he could win the election until two weeks before the election, when on August 20, Houston entered the race.  Houston went on to win the election.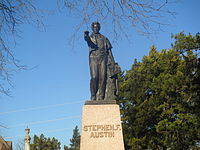 The Final Footprint – Austin's last words were "The independence of Texas is recognized! Don't you see it in the papers?…" Upon hearing of Austin's death, Houston ordered an official statement proclaiming: "The Father of Texas is no more; the first pioneer of the wilderness has departed."  Austin was originally buried at Gulf Prairie Cemetery in Brazoria County, Texas.  Austin's body was moved, however, in 1910 to the Texas State Cemetery in Austin, Texas.  The capital of Texas, Austin in Travis County, Austin County, Austin Bayou, Stephen F. Austin State University in Nacogdoches, Austin College in Sherman, and a number of K-12 schools are named after Austin.  Angleton, Texas, features a statue of Austin, sponsored by The Stephen F. Austin 500, sculpted by David Adickes, with a base of 12 feet and a total statue height of 67 feet, similar in height to the statue of Sam Houston found in Huntsville, Texas.  The base is 2 feet taller than the base of the Houston statue.  The National Statuary Hall Collection permits each state to select just two statues for display at the Capital in Washington, DC. Texas selected Sam Houston and Stephen F. Austin; these statues were sculpted by German immigrant Elisabet Ney.  In 1959, Austin was posthumously inducted into the Hall of Great Westerners at the National Cowboy Hall of Fame in Oklahoma City, Oklahoma.  In Austinville, Virginia, Austin's birthplace, a monument was erected along the New River near a junction with the New River Trail State Park.  In Bellville, Texas, the county seat of Austin County, a large bust of Austin by sculptor David Adickes is located at the intersection of State Highways 36 and 159.  Other notable final footprints at Texas State Cemetery include; John B. and Nellie Connally,  J. Frank Dobie, Barbara Jordan, Tom Landry (cenotaph), James A. Michener (cenotaph), Ann Richards, Edwin "Bud" Shrake, Big Foot Wallace, and Walter Prescott Webb.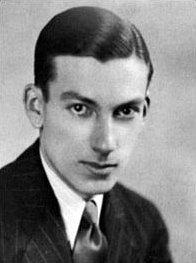 On this day in 1981, Oscar-winning composer, pianist, singer, actor, and bandleader, Hoagy Carmichael, died in Rancho Mirage, California at the age of 82.  Born Hoagland Howard Carmichael on 22 November 1899 in Bloomington, Indiana.  He is best known for writing the music to "Stardust", "Georgia On My Mind", "The Nearness of You", and "Heart and Soul", four of the most-recorded American songs of all time.  In my opinion, Carmichael was one of the most talented, inventive, sophisticated and jazz-oriented of the hundreds of writers composing pop songs in the first half of the 20th century.  The Oscar was awarded for "In the Cool, Cool, Cool, of the Evening", lyrics by Johnny Mercer.  Carmichael attended Indiana University and the Indiana University School of Law, where he received his Bachelor's degree in 1925 and a law degree in 1926.  He married twice; Ruth Menardi in 1935 and Dorothy Wanda McKay in 1977.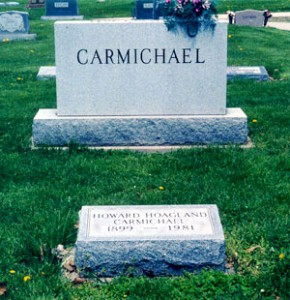 The Final Footprint –  Carmichael is interred in Rose Hill Cemetery, Bloomington, Indiana.  His grave is marked by an individual upright granite marker and a granite foot marker.  Carmichael wrote two autobiographies: The Stardust Road (1946) and Sometimes I Wonder (1965).  Dick Sudhalter wrote the first full biography of Carmichael, Stardust Melody: The Life and Music of Hoagy Carmichael.  Author Ian Fleming wrote in his novels Casino Royale and Moonraker that British secret agent James Bond resembled Carmichael, but with a scar down one cheek.  In the book Casino Royale, James Bond compares himself unfavorably with Carmichael.  Former Beatles singer and songwriter John Lennon reportedly announced that Carmichael was his favourite songwriter. 
Carrie Fisher
Fisher in 2013
On this day in 2016, actress and writer Carrie Fisher died at UCLA Medical Center of sudden cardiac death, at age 60, four days after experiencing a medical emergency during a transatlantic flight from London to Los Angeles. Born Carrie Frances Fisher on October 21, 1956 in Burbank, California. Perhaps best known for playing Princess Leia in the Star Wars films. Her other film credits include Shampoo (1975), The Blues Brothers (1980), Hannah and Her Sisters (1986), The 'Burbs (1989), When Harry Met Sally… (1989), Soapdish (1991), and The Women (2008).
Fisher wrote several semi-autobiographical novels, including Postcards from the Edge and an autobiographical one-woman play, and its non-fiction book, Wishful Drinking, based on the play. She wrote the screenplay for the film version of Postcards From The Edge. Her one-woman stage show of Wishful Drinking was filmed for television. In later years, she earned praise for speaking publicly about her experiences with bipolar disorder and drug addiction.
Fisher met musician Paul Simon while filming Star Wars, and the pair dated from 1977 until 1983. In 1980, she was briefly engaged to Canadian actor and comedian Dan Aykroyd, who proposed to her on the set of their film The Blues Brothers. She said: "We had rings, we got blood tests, the whole shot. But then I got back together with Paul Simon." Fisher was married to Simon from August 1983 to July 1984, and they dated again for a time after their divorce. During their marriage, she appeared in Simon's music video for the song "Rene and Georgette Magritte with Their Dog after the War". Simon's song "Hearts and Bones" is about their romance.
She subsequently had a relationship with Creative Artists Agency principal and talent agent Bryan Lourd. Eddie Fisher. The couple's relationship ended when Lourd left to be in a homosexual relationship. In interviews, Fisher described Lourd as her second husband, but a 2004 profile of the actress and writer revealed that she and Lourd were never legally married.
In her 2016 autobiography The Princess Diarist, Fisher wrote that she and Harrison Ford had a three-month affair during the filming of Star Wars in 1976.
The Final Footprint 
The day after Fisher's death, her mother Debbie Reynolds suffered a stroke at the home of son Todd, where the family was planning Fisher's burial arrangements. She was taken to a hospital, where she died later that afternoon. According to Todd Fisher, Reynolds had said, "I really want to be with Carrie" immediately prior to suffering the stroke. On January 5, 2017, a joint private memorial was held for Fisher and Reynolds. A portion of Fisher's ashes were laid to rest beside Reynolds in a crypt at Forest Lawn Memorial Park in Hollywood Hills. The remainder of her ashes are held in a giant, novelty Prozac pill. Other notable final footprints at Hollywood Hills include Lee Van Cleef, Bette Davis, Bobby Fuller, Lemmy Kilmister, Strother Martin, and Ricky Nelson.
Her final film, Star Wars: The Last Jedi, was released on December 15, 2017 and is dedicated to her.
In her 2008 book, Wishful Drinking, Fisher wrote about what she hoped would eventually be her obituary: "I want it reported that I drowned in moonlight, strangled by my own bra." Several obituaries and retrospectives featured the quote. In the absence of a star for Fisher on the Hollywood Walk of Fame, fans created their own memorial using a blank star. Along with flowers and candles, words put on the blank star read, "Carrie Fisher may the force be with you always". Lightsaber vigils and similar events in Fisher's honor were held at various Alamo Drafthouse Cinemas theaters and other sites. On January 6, 2017, the lights on Broadway in Manhattan were darkened for one minute in honor of Fisher and her mother. On March 25, 2017, a public memorial for mother and daughter was held at the Hall of Liberty theater in Forest Lawn Memorial Park. The event was streamed live on Reynolds' website. On April 14, a special tribute to Fisher was held by Mark Hamill during the Star Wars Celebration in Orlando.
Have you planned yours yet? 
Follow TFF on twitter @RIPTFF