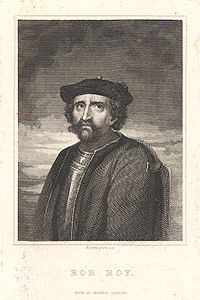 On this day in 1734, Scottish folk hero, cattleman, outlaw, the Scottish Robin Hood, Red MacGregor, Rob Roy, died at in his house in Inverlochlarig Beg, Balquhidder, Scotland.  Born Robert Roy MacGregor at Glengyle, Scotland.  Baptised 7 March 1671.  Rob Roy is anglicised from the Scottish Gaelic Raibeart Ruadh, or Red Robert. This is because Rob Roy had red hair, though it darkened to auburn in later life.  His father was Donald MacGregor, and his mother Margaret Campbell.  He later met Mary Helen MacGregor of Comar, who was born at Leny Farm, Strathyre, and they were married in Glenarklet in January 1693.  She bore him four sons: James (known as Mor or Tall), Ranald, Coll, and Robert (known as Robin Oig or Young Rob).  Rob Roy together with his father joined the Jacobite rising led by Viscount Dundee, Bonnie Dundee, to support the Stuart King James who had been deposed by William of Orange.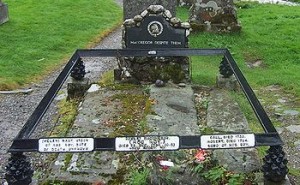 The Final Footprint – Rob Roy is interred with his wife and sons Coll and Robert in Balquhidder Church Cemetery, Balquhidder, Scotland.  Their graves are enclosed by an ornamental bronze rail and marked by an upright stone marker with the inscription; MACGREGOR DESPITE THEM.  The publication of Rob Roy, by Sir Walter Scott in 1817, further added to his fame and fleshed out his biography.  William Wordsworth wrote a poem called "Rob Roy's Grave" during a visit to Scotland.  Adaptations of his story has also been told in film, including the 1995 Rob Roy directed by Michael Caton-Jones and starring Liam Neeson.
Lemmy

Lemmy performing in 2005
On this day in 2015, musician, singer-songwriter, founder and frontman for Motörhead, Lemmy died at his apartment in Los Angeles at 4pm PST, from prostate cancer, congestive heart failure, and cardiac arrhythmia. Born Ian Fraser Kilmister on 24 December 1945 in Stoke-on-Trent, Staffordshire, England, United Kingdom. In my opinion, their music was one of the foundations of the heavy metal genre. He was known for his appearance (including his friendly mutton chops), and his distinctive gravelly, raspy singing voice. He was also known for his unmistakable bass playing style, using a Rickenbacker bass and over-driven Marshall tube bass stacks. Alongside his music career, he also had many minor roles and cameo appearances in film and television.
He played in several rock groups in the 1960s, including the Rockin' Vickers. He worked as a roadie for Jimi Hendrix and The Nice, before joining the space rock band Hawkwind in 1971, singing lead vocals on their hit "Silver Machine". After being fired from Hawkwind for drug possession in 1975, he founded Motörhead during the same year as the lead singer, bassist, songwriter and frontman. Motörhead's success peaked in 1980 and 1981 and included the hit single "Ace of Spades" and the top charting live album No Sleep 'til Hammersmith. Lemmy continued to record and tour regularly with Motörhead until his death.


The Final Footprint 
Motörhead announced his death on their official Facebook page. According to the band, his cancer had only been diagnosed two days prior to his death. 
Lemmy's memorial service took place at Forest Lawn Memorial Park, Hollywood Hills, on 9 January 2016.  The service was streamed live over YouTube with more than 230,000 people logging on to watch, while others gathered at the Rainbow Bar and Grill. His body was cremated following the funeral. His remains were placed in a 3D-printed mantelpiece shaped like his trademark cavalry hat and emblazoned with the slogan "born to lose, lived to win". The piece was on display during his funeral and was later interred at Forest Lawn. Other notable final footprints at Hollywood Hills include Lee Van Cleef, Carrie Fisher, Bette Davis, Bobby Fuller, Strother Martin, and Ricky Nelson.
Have you planned yours yet? 
Follow TFF on twitter @RIPTFF