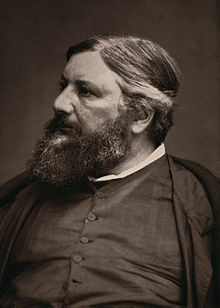 On this day in 1877 painter Gustave Courbet died in La Tour-de-Peilz, Switzerland, of liver disease aggravated by heavy drinking at the age of 58.  Born Jean Désiré Gustave Courbet on 10 June 1819 in Ornans (department of Doubs), France.  Courbet led the Realist movement in 19th-century French painting.  Committed to painting only what he could see, he rejected academic convention and the Romanticism of the previous generation of visual artists.  His independence set an example that was important to later artists, such as the Impressionists and the Cubists.  Courbet occupies an important place in 19th-century French painting as an innovator and as an artist willing to make bold social statements through his work.  Courbet's paintings of the late 1840s and early 1850s brought him his first recognition.  They challenged convention by depicting unidealized peasants and workers, often on a grand scale traditionally reserved for paintings of religious or historical subjects.  Courbet's subsequent paintings were mostly of a less overtly political character: landscapes, seascapes, hunting scenes, and nudes.  He was imprisoned for six months in 1871 for his involvement with the Paris Commune, and lived in exile in Switzerland from 1873 until his death.  The Final Footprint – Courbet is interred in Ornans.  Of his exile Courbet said; "I am fifty years old and I have always lived in freedom; let me end my life free; when I am dead let this be said of me: 'He belonged to no school, to no church, to no institution, to no academy, least of all to any régime except the régime of liberty."
Gallery
Self-portrait with Black Dog, 1842
Nudes

Les Bas Blancs, (Woman with White Stockings), ca 1861 (Barnes Foundation)

Woman with a Parrot, 1866

Le Sommeil (Sleep), 1866, Petit Palais, Musée des Beaux-Arts de la Ville de Paris

The Origin of the World (L'Origine du monde), 1866, Paris: Musée d'Orsay

The Bather, 1868, Metropolitan Museum of Art, New York
Other

After Dinner at Ornans, 1849

Farmers of Flagey on the Return From the Market, 1850, Museum of Art, Besançon

The Meeting ("Bonjour, Monsieur Courbet"), 1854, Fabre Museum, Montpellier

The Grain Sifters (Les Cribleuses de blé), 1854

The Trellis, 1862, Toledo Museum of Art, Toledo, Ohio

The Greyhounds of the Comte de Choiseul, 1866

The kill of deer, 1867, Museum of Art, Besançon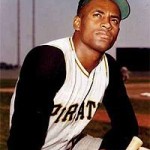 On this day in 1972, baseball player, United States Marine Corp Reserve, humanitarian, 15x All-Star, 2x World Series Champion, 12x Gold Glove Award winner, 4x NL batting champion, Hall of Famer, Pittsburgh Pirate, #21, Roberto Clemente died an aviation accident off the coast of Isla Verde, Puerto Rico, while in route to deliver aid to earthquake victims in Nicaragua.  Born Roberto Clemente Walker on 18 August 1934 in barrio San Antón, Carolina, Puerto Rico.  Clemente was a right fielder who played 18 seasons for the Pirates from 1955 through 1972.  He was a National League, Most Valuable Player once.  In 1972, Clemente got his 3,000th major league hit.  Clemente was involved in charity work in Puerto Rico and Latin American countries during the off seasons, often delivering baseball equipment and food to those in need.  Clemente was inducted posthumously to the National Baseball Hall of Fame in 1973, becoming the first Latin American to be enshrined.  He was also one of only two Hall of Fame members for whom the mandatory five-year waiting period had been waived, the other being Lou Gehrig in 1939.  Clemente is the first Latino player to win a World Series as a starter (1960), to receive a National League MVP Award (1966) (Zoilo Versalles won the AL MVP IN '65,) and to receive a World Series MVP Award (1971).  The Final Footprint – Clemente's body was never recovered.  Beginning in 1973 (1971), MLB presents the Roberto Clemente Award (named Commissioner's Award, 1971 & 1972) every year to a player with outstanding baseball playing skills who is personally involved in community work.  Clemente was posthumously presented three civilian awards of the United States government from the President of the United States including the first Presidential Citizen's Medal: President Richard Nixon, May 14, 1973: Roberto Walker Clemente Congressional Gold Medal; President Richard Nixon, May 14, 1973: Presidential Citizens Medal; President George W. Bush, July 23, 2003: Presidential Medal of Freedom.  Clemente's uniform number 21 was retired by the Pittsburgh Pirates on 6 April 1973.  The United States Postal Service issued a Roberto Clemente postal stamp on August 17, 1984.  Clemente was inducted into the United States Marine Corps Sports Hall of Fame in 2003.  Clemente was named a member of Major League Baseball's Latino Legends Team in 2005.  Clemente was selected for the All Time Rawlings Gold Glove Team (50th anniversary of the Gold Glove award; 1957) in 2007.  Clemente was inducted into the Hispanic Heritage Baseball Museum Hall of Fame in 2010.  PNC Park, the home ballpark of the Pirates which opened in 2001, includes a right field wall 21 feet (6.4 m) high, in reference to Clemente's uniform number and his normal fielding position during his years with the Pirates.  The Pirates originally erected a statue in memory of Clemente at Three Rivers Stadium, an honor previously awarded to Honus Wagner.  The statue was moved to PNC Park when it opened, and stands at the corner near the Roberto Clemente Bridge.  An identical smaller statue was unveiled in Newark, New Jersey's Branch Brook Park in 2012.  The team considered naming PNC Park after Clemente, but despite popular sentiment the team chose instead to sell the naming rights to locally based PNC Financial Services, with the bridge being renamed after him considered a compromise.  The coliseum in San Juan, Puerto Rico was named the Roberto Clemente Coliseum in 1973; two baseball parks are in Carolina, the professional one, Roberto Clemente Stadium, and the Double-A.  There is also the Escuela de los Deportes (School of Sports) that has the Double-A baseball park.  Today, this sports complex is called Ciudad Deportiva Roberto Clemente.  In Pittsburgh, the 6th Street Bridge was renamed in his memory.  The City of Pittsburgh maintains Roberto Clemente Memorial Park along North Shore Drive in the city's North Side which includes a bronze relief by sculptor Eleanor Milleville.  In 2007, the Roberto Clemente Museum opened in the Lawrenceville section of Pittsburgh.  Near the old Forbes Field where he began his pro career the city of Pittsburgh has renamed a street in his honor.  Champion thoroughbred horse Roberto, bred in 1968 and owned by then-Pirates owner John W. Galbreath, was named for Clemente.  The horse would go on to become a champion in Britain and Ireland, and in June 1973, following Clemente's passing, won the Group I Coronation Stakes at Epsom.  The state of New York opened Roberto Clemente State Park in The Bronx in 1973.  Some schools, such as Roberto Clemente High School in Chicago the Roberto Clemente Charter School in Allentown, Pennsylvania, Roberto Clemente Academy in Detroit, Roberto Clemente Elementary School and New Roberto Clemente Middle School in Paterson, New Jersey, Roberto W. Clemente Middle School in Germantown, Maryland, were named in his honor.  There's also a Roberto Clemente Stadium in Masaya, Nicaragua.  Roberto Clemente Little League in Branch Brook Park in Newark, New Jersey is named after him as well.  In June 2013, at aforementioned Clemente Park in The Bronx, a statue of the Hall-of-Fame icon, sculpted by Cuban-American Maritza Hernandez, was finally installed.  It depicts Clemente doffing his cap after notching his 3,000th hit on Sept. 30, 1972.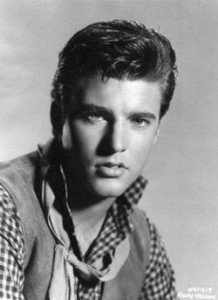 On this day in 1985, singer-songwriter, musician, and actor, Ricky Nelson, died in De Kalb, Texas at the age of 45.  Born Eric Hilliard Nelson on 8 May 1940 in Teaneck, New Jersey.  Most probably remember him best as Ozzie and Harriet Nelson's son and the show The Adventures of Ozzie and Harriet or for his hit songs.  I remember him best in his role as Colorado from the Howard Hawk's movie Rio Bravo starring John Wayne, Dean Martin and Walter Brennan.  The day after Christmas 1985, Nelson and his band left for a three-stop tour of the Southern United States.  Following shows in Orlando, Florida and Guntersville, Alabama, Nelson and band members boarded a vintage DC-3 in Guntersville and took off for a New Year's Eve extravaganza in Dallas, Texas.  The plane crashed northeast of Dallas in De Kalb.  Seven were killed: Nelson and his fiancée, Helen Blair; bassist Patrick Woodward; drummer Rick Intveld; keyboardist Andy Chapin; guitarist Bobby Neal; and road manager/soundman Donald Clark Russell.  Nelson was married once to Sharon Kristin Harmon (1963 – 1982 divorce).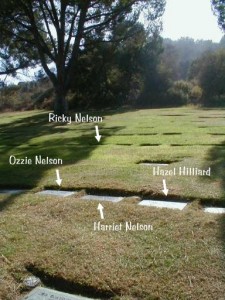 The Final Footprint – Nelson is interred in Forest Lawn Memorial Park, Hollywood Hills, Los Angeles, California.  His grave is marked by an individual flat bronze marker.  The inscription reads; BELOVED FATHER AND SON.  He is interred near his parents.  Other notable final footprints at Hollywood Hills include Gene Autry, Carrie Fisher, Bobby Fuller, Lemmy Kilmister, Strother Martin, and Debbie Reynolds.
Natalie Cole

Cole in 2007
On this day in 2015, singer, songwriter, actress, Natalie Cole died at the age of 65 at Cedars-Sinai Medical Center in Los Angeles, California, due to congestive heart failure. Born Natalie Maria Cole on February 6, 1950 at Cedars of Lebanon Hospital in Los Angeles, the daughter of Nat King Cole and former Duke Ellington Orchestra singer Maria Hawkins Ellington, and raised in the affluent Hancock Park district of Los Angeles. She rose to musical success in the mid-1970s as an R&B artist with the hits "This Will Be", "Inseparable" (1975), and "Our Love" (1977). Cole re-emerged as a pop artist with the 1987 album Everlasting and her cover of Bruce Springsteen's "Pink Cadillac". In the 1990s, she re-recorded standards by her father, resulting in her biggest success, Unforgettable… with Love, which sold over seven million copies and also won Cole seven Grammy Awards.

Cole was married three times. She married Marvin Yancy, songwriter, producer and former member of the 1970s R&B group The Independents on July 31, 1976. Marvin was her producer, and an ordained Baptist minister who helped reintroduce her to religion. Cole and Yancy got divorced in 1980; Yancy died of a heart attack in 1985, aged 34. In 1989, Cole married record producer and former drummer for the band Rufus, Andre Fischer; they were divorced in 1995. In 2001, Cole married bishop Kenneth Dupree; they divorced in 2004. 
The Final Footprint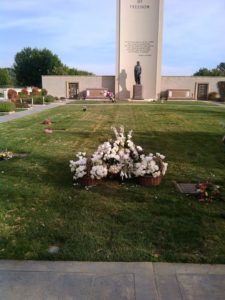 Cole's family, offered the following comment. "Natalie fought a fierce, courageous battle, dying how she lived … with dignity, strength and honor. Our beloved mother and sister will be greatly missed and remain unforgettable in our hearts forever."
Cole's funeral was held on January 11, 2016, at the West Angeles Church of God in Christ in Los Angeles. David Foster, Stevie Wonder, Smokey Robinson, Lionel Richie, Chaka Khan, Eddie Levert, Mary Wilson, Gladys Knight, Ledisi, Jesse Jackson, Angela Bassett, Denise Nicholas, Marla Gibbs, Jackée Harry and Freda Payne were among the mourners at the funeral. After the funeral, she was buried at Forest Lawn Memorial Park in Glendale, California. Other notable Final Footprints at Forest Lawn Glendale include; L. Frank Baum, Humphrey Bogart, Lon Chaney, Nat King Cole, Sam Cooke, Dorothy Dandridge, Sammy Davis, Jr., Walt Disney, Errol Flynn, Clark Gable, Jean Harlow, Michael Jackson, Carole Lombard, Casey Stengel, Jimmy Stewart, Elizabeth Taylor, and Spencer Tracy.
Have you planned yours yet?
Follow TFF on twitter @RIPTFF