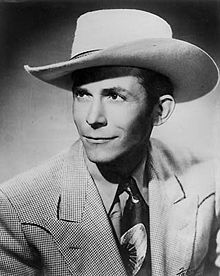 On this day in 1953, legendary singer-songwriter and American Icon, Luke the Drifter, Hank Williams, died in the back seat of a 1952 baby blue Cadillac convertible somewhere between Bristol, Virginia and Oak Hill, West Virginia, at the age of 29.  Born Hiram King Williams on 17 September 1923 in Mount Olive, Alabama.  Father of Hank Williams, Jr. and grandfather of Hank III.  In my opinion, the greatest country music star of all time.  His songs have been recorded by hundreds of other artists, many of whom have also had hits with the tunes, in a range including pop, gospel, blues and rock styles.  My favorite Hank songs include; "Lovesick Blues", "Long Gone Lonesome Blues", "Why Don't You Love Me", "Moanin' the Blues", "Cold, Cold Heart", "Hey Good Lookin'", "Your Cheatin' Heart", "Take These Chains from My Heart", "Move it on Over", "Mind Your Own Business", "Dear John", "Crazy Heart".  Songs that pay tribute to Williams include; "The Ride" by David Allan Coe, "Hank Williams Said it Best" by Guy Clark, "The Night Hank Williams came to Town" by Johnny Cash and Waylon Jennings, "Are You sure Hank Done it this Way" by Jennings, "The Conversation" by Hank, Jr. and Jennings, "The Great Hank" by Robert Earl Keen, "If You Don't Like Hank Williams" by Kris Kristofferson, and "I Feel like Hank Williams Tonight" by Jerry Jeff Walker.  His band was called the Driftin Cowboys.  Williams married twice; Audrey Sheppard (1943 – 1952 divorce) and Billie Jean Jones Eshlimar (1952 – 1953 his death).  I created a real country music station on slacker.com called All Three Hanks.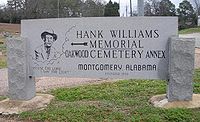 The Final Footprint – Williams is interred in the Williams Private Estate in Oakwood Annex Cemetery, Montgomery, Alabama.  Ernest Tubb sang at his funeral service.  Audrey died 4 November 1975 and is interred next to Williams.  The estate is marked by two large granite columns, one for Hank and one for Audrey.  Hank's is engraved with the inscription; "PRAISE THE LORD" I SAW THE LIGHT.  Both graves are marked by full ledger granite markers.  At the head of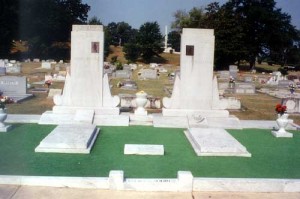 Hank's grave is a granite cowboy hat on a granite base inscribed with; LUKE THE DRIFTER, MEN WITH BROKEN HEARTS, I JUST TOLD MAMA GOODBY.  Between the graves is a granite tablet with the following inscription: PLEASE DO NOT DESECRATE THIS SACRED SPOT.  MANY THANKS HANK WILLIAMS, JR.   A life size bronze statue has been erected adjacent to the Montgomery City Hall, the site of many of his concerts and his funeral.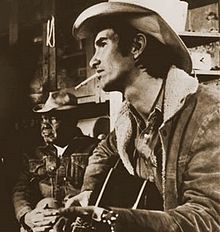 On this day in 1997, singer, songwriter, Townes Van Zandt died from a heart attack at his home in Smyrna, Tennessee at the age of 52.  Born John Townes Van Zandt on 7 March 1944 in Fort Worth, Texas.  Many of his songs, including "If I Needed You" and "To Live Is to Fly", are considered standards.  Van Zandt had a devoted fanbase, but he never had a successful album or single.  In 1983, six years after Emmylou Harris had first popularized it, Willie Nelson and Merle Haggard covered his song "Pancho and Lefty," scoring a number one hit on the Billboard country music charts.  Van Zandt was notorious for his drug addictions and alcoholism.  Van Zandt married three times; Fran Petters (1965 – 1970 divorce), Cindy Morgan (1978 – 1983 divorce), and Jeanene Munsell (1983 – 1994).  The Final Footprint – Van Zandt died forty-four years to the day after Hank Williams (see above) one of his main songwriting influences.  Two services were held for Van Zandt: one in Texas, mostly attended by family; and another in a large Nashville church, attended by friends, acquaintances, and fans.  Some of his ashes were placed underneath a headstone in the Van Zandt family plot at the Dido Cemetery in Dido, Texas, outside of Fort Worth. Van Zandt could be called a cult musician and "a songwriter's songwriter.  Steve Earle considered Van Zandt a mentor, once called Van Zandt "the best songwriter in the whole world and I'll stand on Bob Dylan's coffee table in my cowboy boots and say that."  Earle's eldest son, Justin Townes Earle, also a musician, is named after Van Zandt.  Earle wrote the song "Fort Worth Blues" as a tribute to Van Zandt and in 2009 released an album titled Townes, which featured all covers of Van Zandt songs.  Influential in the subgenre referred to as outlaw country, his Texas-grounded impact stretched farther than country.
Have you planned yours yet?
Follow TFF on twitter @RIPTFF