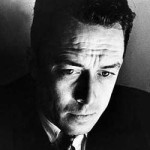 On this day in 1960, author, journalist, and philosopher, Nobel Prize laureate, Albert Camus died at the age of 46, in a car accident near Sens, in Le Grand Fossard in the small town of Villeblevin.  Born 7 November 1913 in Dréan (then known as Mondovi) in French Algeria to a Pied-Noir family.  His views contributed to the rise of the philosophy known as absurdism.  Camus wrote in his essay "The Rebel" that his whole life was devoted to opposing the philosophy of nihilism while still delving deeply into individual freedom.  Although often cited as a proponent of existentialism, the philosophy with which Camus was associated during his own lifetime, he rejected this particular label.  In an interview in 1945, Camus rejected any ideological associations: "No, I am not an existentialist. Sartre and I are always surprised to see our names linked…"  Though Sartre later accepted the association to existentialism.  In 1949, Camus founded the Group for International Liaisons within the Revolutionary Union Movement after his split with Garry Davis's Citizens of the World movement.  The formation of this group, according to Camus, was intended to "denounce two ideologies found in both the USSR and the USA" regarding their idolatry of technology.  Camus was awarded the 1957 Nobel Prize for Literature "for his important literary production, which with clear-sighted earnestness illuminates the problems of the human conscience in our times".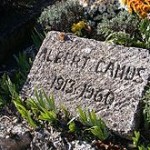 The Final Footprint – Camus was buried in the Lourmarin Cemetery, Lourmarin, Vaucluse, France.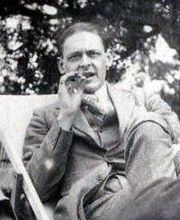 On this day in 1965, Nobel Prize winning poet and playwright, T. S. Eliot, died from emphysema in London at the age of 76.  Born Thomas Stearns Eliot on 26 September 1888 in St. Louis, Missouri.  In my opinion, one of the most important English-language poets of the 20th century.  The poem that made his name, The Love Song of J. Alfred Prufrock is quite possibly a masterpiece of the modernist movement.  Eliot's other well known poems include; Gerontion (1920), The Waste Land (1922), The Hollow Men (1925), Ash Wednesday (1930), and Four Quartets (1945).  He is also known for his seven plays, particularly Murder in the Cathedral (1935).  The musical Cats, composed by Andrew Lloyd Webber, is based on Eliot's collection of whimsical poems, Old Possum's Book of Practical Cats.  Eliot graduated from Harvard.  Eliot married twice; Vivienne Haigh-Wood (1915 – 1947 her death) and Esmé Valerie Fletcher (1957 – 1965 his death).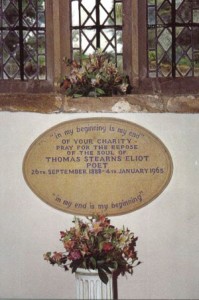 The Final Footprint – Eliot was cremated at Golders Green Crematorium in London and his cremains interred at St Michael's Church in East Coker, Somerset, England.  A commemorative plaque on the church wall bears his chosen epitaph–lines from his poem "East Coker" the second of the four poems that comprise his Four Quartets: "in my beginning is my end" "in my end is my beginning" and the following inscription; "OF YOUR CHARITY PRAY FOR THE REPOSE OF THE SOUL OF THOMAS STEARNS ELIOT POET". Other notable cremations at GGC include; Kingsley Amis, Neville Chamberlain, T. S. Eliot, Sigmund Freud, Henry James, Rudyard Kipling, Vivien Leigh, Keith Moon, Peter Sellers, Bram Stoker, H. G. Wells and Amy Winehouse.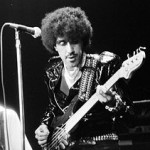 On this day in 1986, Irish singer and musician who is best known for being the founding member, principal songwriter, lead vocalist and bassist of the Irish rock band Thin Lizzy, Phil Lynott died of pneumonia and heart failure due to sepsis in Salisbury District Hospital's intensive care unit, at the age of 36.  Born Philip Parris Lynott on 20 August 1949 in Hallam Hospital (now Sandwell General Hospital) in West Bromwich (then in Staffordshire), England.  Lynott married Caroline Crowther (1980 – 1986 his death).  Of course my favorite Thin Lizzy song is "Cowboy Song".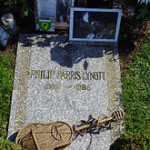 The Final Footprint – Lynott's funeral was held at St Elizabeth's Church, Richmond on 9 January 1986, with most of Thin Lizzy's ex members in attendence, followed by a second service at Howth Parish Church on 11th.  He was buried in St Fintan's Cemetery, Dublin.
Have you planned yours yet?
Follow TFF on twitter @RIPTFF