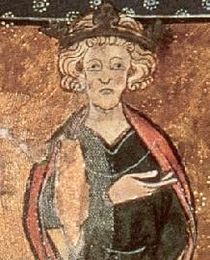 On this day in 1066, Anglo-Saxon king of England and saint, Edward the Confessor, died in London at the apporoximate age of 62.  Born c. 1003 in Islip, Oxfordshire, England, the son of Æthelred the Unready and Emma of Normandy.  Edward's reign began in 1042 on the death of his half brother Harthacanut; the king of Denmark and England was the son of Cnut the Great and Emma of Normandy, Edward's mother.  His reign restored the rule of the House of Wessex after the period of Danish rule since Cnut had conquered England in 1016 but marked the continuing disintegration of royal power in England and the advancing power of the earls.  Edward married Edith of Wessex but the union was childless.  When Edward died in 1066 he had no son to take over the throne and conflict arose as three men claimed the throne of England.  His nearest heir would have been his great nephew Edgar Ætheling who was 14 at the time.  Edward made a deathbed bestowal of the crown on Harold Godwinson, the brother of Queen Edith.  The Viking king, Harald III of Norway based a claim to the throne of England on an agreement supposedly made by Magnus and Harthacnut, which stated that if either died, the other would inherit the deceased's throne and lands.  When Harthacnut died, Magnus assumed the crown of Denmark, but did not press his claim on England, allowing Edward to take the throne.  William, Duke of Normandy (William the Conqueror), whose great aunt Emma was Edward's mother, claimed that Edward promised him the throne upon Edward's death.  The resulting conflict led to the Norman Conquest and the subsequent influence of Norman-French culture on England.  Osbert de Clare, a monk of Westminster, represented Edward as a holy man, reported to have performed several miracles and to have healed people by his touch.  Osbert was, as his surviving letters demonstrate, an active ecclesiastical politician, and went to Rome to advocate the cause for Edward to be declared a saint, successfully securing his canonization by Pope Alexander III in 1161.  Edward is commemorated on 13 October by the Roman Catholic Church, the Church of England and other Anglican Churches.  He is regarded as the patron saint of kings, difficult marriages, and separated spouses.  From the reign of Henry II of England to 1348, he was considered the patron saint of England.  During the reign of Edward III of England he was replaced in this role by Saint George, though Edward has remained the patron saint of the British Royal Family.  Edward had a stone abbey built at Westminster Abbey which became the traditional place for English and British royalty coronations and burials.  Other notable Final Footprints at Westminster include; Robert Browning, Lord Byron, Geoffrey Chaucer, Oliver Cromwell, Charles Darwin, Charles Dickens, Edward The Confessor, Elizabeth I, George II, George Friederic Handel, James I (James VI of Scotland), Samuel Johnson, Ben Jonson, Charles II, Edward III, Edward VI, Henry III, Henry V, Henry VII, Richard II, Rudyard Kipling, Henry Wadsworth Longfellow, John Milton, Sir Isaac Newton, Laurence Olivier, Henry Purcell, Mary I, Mary II, Mary Queen of Scots, Thomas Shadwell, Lord Alfred Tennyson, Dylan Thomas, and William III.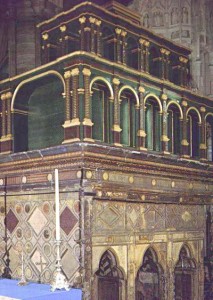 The Final Footprint – Edward is entombed in the Chapel of St. Edward the Confessor located behind the sanctuary in Westminster Abbey.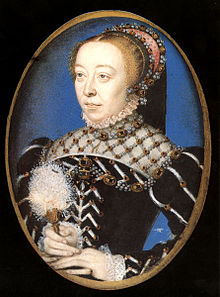 On this day in 1589, Italian noblewoman, as the wife of King Henry II, the Queen of France from 1547 until 1559, Catherine de' Medici died at the age of sixty-nine, probably from pleurisy the Royal Château of Blois, Loir-et-Cher department, Loire Valley, France.  Born in Florence, Republic of Florence, as Caterina Maria Romula di Lorenzo de' Medici.  The Medici family were at the time the de facto rulers of Florence: originally bankers, they came to great wealth and power by bankrolling the monarchies of Europe.  The Medici produced four Popes of the Catholic Church, Pope Leo X (1513–1521), Pope Clement VII (1523–1534), Pope Pius IV (1559–1565), and Pope Leo XI (1605); two regent queens of France, Catherine and Marie (1600–1610); and, in 1531, the family became hereditary Dukes of Florence. Catherine's father, Lorenzo II de' Medici, was made Duke of Urbino by his uncle Pope Leo X.  Her mother, Madeleine de la Tour d'Auvergne, the Countess of Boulogne, was from one of the most prominent and ancient French noble families; this prestigious maternal heritage was of benefit to her future marriage to a fils de France.  As the mother of three sons who became kings of France during her lifetime she had extensive influence in the political life of France.  For a time she ruled France as its regent.  In 1533, at the age of fourteen, Caterina married Henry, second son of King Francis I and Queen Claude of France.  Throughout his reign, Henry excluded Catherine from participating in state affairs and instead showered favours on his chief mistress, Diane de Poitiers, who wielded much influence over him.  Henry's death thrust Catherine into the political arena as mother of the frail fifteen-year-old King Francis II.  When he died in 1560, she became regent on behalf of her ten-year-old son King Charles IX and was granted sweeping powers.  After Charles died in 1574, Catherine played a key role in the reign of her third son, Henry III.  Catherine's three sons reigned in an age of almost constant civil and religious war in France.  The problems facing the monarchy were complex and daunting.  At first, Catherine compromised and made concessions to the rebelling Protestants, or Huguenots, as they became known.  She failed, however, to grasp the theological issues that drove their movement.  Later, she resorted in frustration and anger to hard-line policies against them.  In return, she came to be blamed for the excessive persecutions carried out under her sons' rule, in particular for the St. Bartholomew's Day massacre of 1572, in which thousands of Huguenots were killed in Paris and throughout France.  Some historians have excused Catherine from blame for the worst decisions of the crown, though evidence for her ruthlessness can be found in her letters.  In practice, her authority was always limited by the effects of the civil wars.  Her policies, therefore, may be seen as desperate measures to keep the Valois monarchy on the throne at all costs, and her patronage of the arts as an attempt to glorify a monarchy whose prestige was in steep decline.  Without Catherine, it is unlikely that her sons would have remained in power.  The years in which they reigned have been called "the age of Catherine de' Medici".  According to one of her biographers Mark Strage, Catherine was the most powerful woman in sixteenth-century Europe.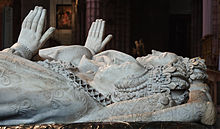 The Final Footprint – Because Paris was held by enemies of the crown, Catherine had to be buried at Blois.  Diane, daughter of Henry II and Philippa Duci, later had her body moved to Saint-Denis basilica.  In 1793, a revolutionary mob tossed her bones into a mass grave with those of the other kings and queens.  Eight months after Catherine's burial, Jacques Clément stabbed Henry III to death.  At the time, Henry was besieging Paris with the King of Navarre, who would succeed him as Henry IV of France.  Henry III's assassination ended nearly three centuries of Valois rule and brought the Bourbon dynasty into power.  The Cathedral Basilica of Saint Denis is a large medieval abbey church in the city of Saint-Denis, now a northern suburb of Paris.  The building is of unique importance historically and architecturally, as its choir completed in 1144 is considered to be the first Gothic church ever built.  The abbey is where the kings of France and their families were buried for centuries and is therefore often referred to as the "royal necropolis of France".  All but three of the monarchs of France from the 10th century until 1789 have their remains here.  Other notable final footprints at St. Denis include: Clovis I (465–511), Childebert I (496–558), Arégonde (c.515–c.573), Fredegonde (Wife of Chilperic I of Neustria) (?–597), Dagobert I (603–639), Clovis II (635–657), Charles Martel (686–741), Pippin the Younger (714–768) and his wife Bertrada of Laon (726–783), Carloman I King of the Franks (c.751–771), Charles the Bald (823–877) (his brass monument was melted down during the Revolution) and his wife, Ermentrude of Orléans (823–869), Carloman (866–884), Robert II the Pious (972–1031) and Constance of Arles (c. 986–1032), Henry I (1008–1060), Louis VI (1081–1137), Louis VII (1120–1180) and Constance of Castile (1141–1160), Philip II Augustus (1180–1223), Louis IX (1214-1270), Charles I of Naples (1226–1285), king of the Two Sicilies (1266–85), Philip III the Bold (1245–1285), Philip IV the Fair (1268–1314) and his mother Isabella of Aragon (1247–1271), Leo V of Armenia (1342–1393), Louis XII of France (1462–1515), Francis I (1494–1547), Henry II (1519–1559), Francis II (1544–1560), Charles IX (1550–1574) (no monument), Henry III (1551–1589), also King of Poland (heart burial monument), Henry IV (1553–1610) and Marie de' Medici, Louis XIII (1601–1643), Louis XIV (1638–1715), Louis XV (1710–1774), Louis XVI (1754–1793) and Marie Antoinette (1755–1793), Louis XVII (1785–1795) (only his heart; his body was dumped into a mass grave), and Louis XVIII (1755–1824).
Have you planned yours yet?
Follow TFF on twitter @RIPTFF