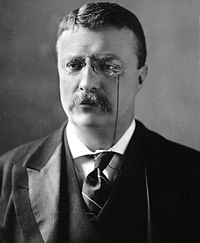 On this day in 1919, author, politician, soldier, Colonel in the U.S. Army, 33rd Governor of New York, 25th Vice President of the United States, 26th President of the United States, Nobel Peace Prize and Medal of Honor recipient, Teddy Roosevelt, died in his sleep at his home, Sagamore Hill in Oyster Bay, New York from a pulmonary embolism at the age of 60.  Born Theodore Roosevelt on 27 October 1858, in a four-story brownstone at 28 East 20th Street, in the modern-day Gramercy section of New York City.  The Roosevelt family is of Dutch origin.  His brother Elliott would be the father of future First Lady Eleanor Roosevelt.  He and Franklin D. Roosevelt, the 32nd POTUS were cousins.  Their grandfather was Nicholas Roosevelt.  Roosevelt graduated from Harvard.  He was an avid reader and a firm believer in physical fitness.  The argument can be made that Roosevelt changed the nation's political system by permanently placing the presidency at center stage and making character as important as the issues.  History and legend have been kind to him.  His friend, historian Henry Adams, proclaimed, "Roosevelt, more than any other living man ….showed the singular primitive quality that belongs to ultimate matter – the quality that mediaeval theology assigned to God – he was pure act."  Historians typically rank Roosevelt among the top presidents.  Roosevelt was married twice; Alice Hathaway Lee (1880 – 1884 her death) and Edith Kermit Carow (1886 – 1919 his death).  My favorite TR quote is; "Speak softly and carry a big stick."  Those that know me recognize that as one of my defining traits.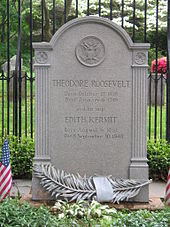 The Final Footprint – Upon receiving word of his death, his son Archie telegraphed his siblings simply, "The old lion is dead."  Woodrow Wilson's vice president, Thomas R. Marshall, said that "Death had to take Roosevelt sleeping, for if he had been awake, there would have been a fight."  In addition to sisters Corinne and Bamie and his wife Edith, Roosevelt was survived by five children and eight grandchildren at the time of his death.  He is interred in the Roosevelt Private Estate in Youngs Memorial Cemetery, Oyster Bay with his second wife Edith.  The estate is marked by a large upright granite marker inscribed with their names and birth and death dates.  His grave is marked by a bronze on granite foot marker inscribed with his name and birth and death dates and; MEDAL OF HONOR LIEUT COLONEL US ARMY SPANISH AMERICAN WAR.  Roosevelt was included with George Washington, Thomas Jefferson and Abraham Lincoln at the Mount Rushmore Memorial near Keystone, North Dakota, designed in 1927 with the approval of Republican President Calvin Coolidge.  Roosevelt's legacy includes several other important commemorations. The United States Navy named two ships for Roosevelt: the USS Theodore Roosevelt (SSBN-600), a submarine that was in commission from 1961 to 1982; and the USS Theodore Roosevelt (CVN-71), an aircraft carrier that has been on active duty in the Atlantic Fleet since 1986.  Hundreds of schools and streets have been named in Roosevelt's honor.  The Hollywood Roosevelt Hotel in Los Angeles is named after him, as is the Roosevelt Hotel in New York City.  Perhaps Roosevelt's most lasting popular legacy, however, is the stuffed toy bears—teddy bears—named after him following an incident on a hunting trip in Mississippi in 1902.  Roosevelt famously ordered the mercy killing of a wounded black bear.  After a national cartoonist illustrated the President with a bear, a toy maker heard the story and asked Roosevelt if he could use his name on a toy bear.  Roosevelt approved and the teddy bear was born.  Bears and later bear cubs became closely associated with Roosevelt in political cartoons thereafter.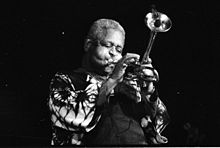 On this day in 1993, jazz trumpeter, bandleader, composer, Dizzy Gillespie died from pancreatic cancer in Englewood, New Jersey at the age of 75.  Born John Birks Gillespie on 21 October 1917 in Cheraw, South Carolina.  In my opinon Gillespie's had an important influence on jazz and was one of the greatest jazz trumpeters of all time.  Gillespie was a trumpet virtuoso and improviser and added layers of harmonic complexity previously unknown in jazz.  His beret and horn-rimmed spectacles, his scat singing, his bent horn, pouched cheeks and his light-hearted personality were essential in popularizing bebop.  In the 1940s Gillespie, together with Charlie Parker, became a major figure in the development of bebop and modern jazz.  Gillespie was married to Lorraine Willis (1940 – 1993 his death).  The Final Footprint – Gillespie is interred in the Flushing Cemetery, Queens, New York.  Gillespie had two funerals.  One was a Bahá'í funeral at his request, at which his closest friends and colleagues attended.  The second was at the Cathedral of St. John the Divine in New York open to the public.  Fellow jazz legend, Louis Armstrong is also interred at Flushing Cemetery.
Have you planned yours yet? Follow TFF on twitter @RIPTFF