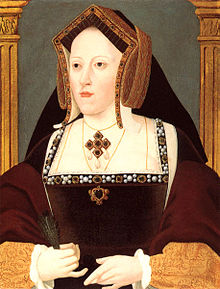 On this day in 1536,  Princess of Wales as the wife of Prince Arthur, as the wife of King Henry VII, Queen of England from 1509 until 1533, Catherine of Aragon died at Kimbolton Castle at the age of 50.  Born at the Archbishop's Palace in Alcalá de Henares near Madrid, on the night of 16 December 1485.  She was the youngest surviving child of King Ferdinand II of Aragon and Queen Isabella I of Castile.  Catherine was three years old when she was betrothed to Prince Arthur, heir apparent to the English throne.  They married in 1501, and Arthur died five months later.  In 1507, she held the position of ambassador for the Spanish Court in England, becoming the first female ambassador in European history.  Catherine subsequently married Arthur's younger brother, the recently succeeded Henry VIII, in 1509.  For six months in 1513, she served as regent of England while Henry VIII was in France.  During that time the English won the Battle of Flodden, an event in which Catherine played an important part.  By 1525, Henry VIII was infatuated with his mistress, Anne Boleyn, and dissatisfied that his marriage to Catherine had produced no surviving sons, leaving their daughter, the future Mary I of England, as heiress presumptive at a time when there was no established precedent for a woman on the throne.  He sought to have their marriage annulled, setting in motion a chain of events that led to England's schism with the Catholic Church.  When Pope Clement VII refused to annul the marriage, Henry defied him by assuming supremacy over religious matters.  In 1533 their marriage was declared invalid and Henry married Anne on the judgement of clergy in England, without reference to the Pope.  Catherine refused to accept Henry as Supreme Head of the Church of England and considered herself the King's rightful wife and queen, attracting much popular sympathy.  Despite this, she was acknowledged only as Dowager Princess of Wales by Henry.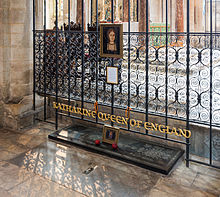 The Final Footprint – Catherine was entombed in Peterborough Cathedral with the ceremony due to a Dowager Princess of Wales, not a queen.  Henry did not attend the funeral and forbade Mary to attend.  Catherine's English subjects held her in high esteem, and her death set off tremendous mourning among the English people.  The controversial book The Education of Christian Women by Juan Luis Vives, which claimed women have the right to an education, was commissioned by and dedicated to her.  Such was Catherine's impression on people that even her enemy, Thomas Cromwell, said of her, "If not for her sex, she could have defied all the heroes of History."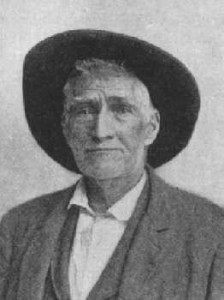 On this day in 1899, Texas Ranger, Big Foot Wallace, died in Big Foot, Texas at the age of 82.  Born William Alexander Anderson Wallace on 3 April 1817 in Lexington, Virginia.  Wallace was a famous Texas Ranger who took part in many of the military conflicts of the Republic of Texas and the United States in the 1840s, including the Mexican-American War.  Reportedly a descendant of Scottish hero William Wallace.  Larry McMurtry included a fictionalized version of Wallace in his Lonesome Dove prequel, Dead Man's Walk.  In this book, Wallace is one of the Rangers who signs on with Augustus McCrae and Woodrow Call to go on the Texas Santa Fe Expedition.  My Heroes have always been Cowboys.  T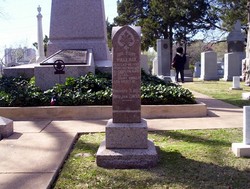 he Final Footprint – Wallace was originally interred in Devine, Texas, but the Texas legislature appropriated the necessary funds to have him disinterred and reinterred in a place of honor in the Texas State Cemetery, Austin, Texas.  His grave is marked by a large granite marker inscribed with his name and birth and death dates and the following; HERE LIES HE WHO SPENT HIS MANHOOD DEFENDING THE HOMES OF TEXAS.  BRAVE HONEST AND FAITHFUL.  Other notable final footprints at Texas State Cemetery include; Stephen F. Austin, John B. Connally, Nellie Connally, J. Frank Dobie, Barbara Jordan, Tom Landry (cenotaph), James A. Michener (cenotaph), Ann Richards, Edwin "Bud" Shrake, and Walter Prescott Webb.
Have you planned yours yet?
Follow TFF on twitter @RIPTFF