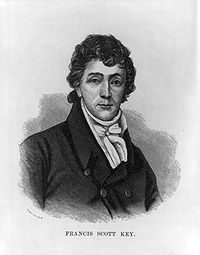 On this day in 1843, lawyer, author, and poet, Francis Scott Key, died at the home of his daughter Elizabeth Howard in Baltimore, Maryland at the age of 63.  Born on 1 August 1779 in Carroll County Maryland.  During the War of 1812, Key dined aboard the British ship HMS Tonnant, as a guest of the British.  Key was there to negotiate the release of prisoners.  Key was not allowed to return to his own sloop: he had become familiar with the strength and position of the British units and with the British intent to attack Baltimore.  As a result, Key was unable to do anything but watch the bombarding of the American forces at Fort McHenry during the Battle of Baltimore on the night of 13 September – 14 September 1814.  When the smoke cleared, Key was able to see an American flag still waving and reported this to the prisoners below deck.  On the way back to Baltimore, he was inspired to write a poem describing his experience, "The Defence of Fort McHenry", which he published in the Patriot on 20 September 1814.  He intended to fit the words to the rhythms of composer John Stafford Smith's "To Anacreon in Heaven".  It became  known as "The Star Spangled Banner".  Under this name, the song was adopted as the American national anthem, first by an Executive Order from President Woodrow Wilson in 1916 (which had little effect beyond requiring military bands to play it) and then by a Congressional resolution in 1931, signed by President Herbert Hoover.  In 1832, Key served as the attorney for Sam Houston during his trial in the U.S. House of Representatives for assaulting another Congressman.  Key was a distant cousin and the namesake of F. Scott Fitzgerald whose full name was Francis Scott Key Fitzgerald.  Scott was married to Mary Tayloe "Polly" Lloyd (1784 – 1843 his death).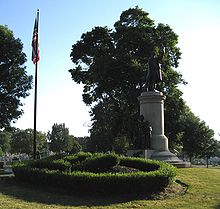 The Final Footprint – Key was initially entombed in Old Saint Paul's Cemetery in Baltimore, Maryland in the vault of John Eager Howard.  In 1866, his body was moved to his family plot in Frederick, Maryland at Mount Olivet Cemetery.  The Key Monument Association erected a memorial in 1898 and the remains of both Francis Scott Key and his wife were placed in a crypt in the base of the monument.  Cenotaphs in his honor have been erected at Fort McHenry, on Eutaw Street in Baltimore and at the Presidio in San Francisco, California.  The US Navy named a submarine in his honor, the USS Francis Scott Key. 
Have you planned yours yet?
Follow TFF on twitter @RIPTFF