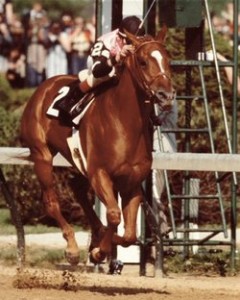 On this day in 2001, thoroughbred racehorse, Champion Two-Year-Old Colt (1977), Champion Three-Year-Old Male (1978), Two-X Horse of the Year (1978, 1979) and 11th Triple Crown Winner (1978), Affirmed, died at Jonabell Farm near Lexington, Kentucky.  Affirmed was euthanized after falling seriously ill with laminitis, a circulatory hoof disease.  The same disease led to the death of fellow Triple Crown winner Secretariat.  Foaled on 21 February 1975 at Harbor View Farm near Fellowship, Florida.  Affirmed was the great-great-grandson of Triple Crown winner War Admiral through damsire Crafty Admiral, and thereby the great-great-great grandson of Man o' War who won two of the three Triple Crown races himself.  Affirmed was also known for his famous rivalry with Alydar, whom he met ten times, including in all three Triple Crown races and where Alydar became the first racehorse to finish second in all three Triple Crown races.  I remember watching all three of those races that year.  I fell in love with both of these beautiful chestnut horses.  Affirmed was trained by Hall of Fame trainer Laz Barrera.  Barrera once said: "Affirmed is greater than Secretariat, or any Triple Crown winner, because only Affirmed had to face Alydar."  During the Triple Crown races, Affirmed was ridden by Hall of Fame jockey Steve Cauthen.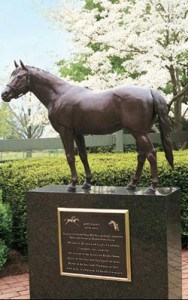 The Final Footprint – Affirmed was buried whole, the ultimate honor for a race horse, at Jonabell Farm, wearing the flamingo pink colors of his original owners, Harbor View Farm.  His grave is marked by a half-life size bronze statue on a granite base.
Have you planned yours yet?
Follow TFF on twitter @RIPTFF