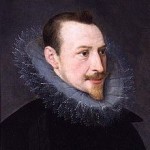 On this day in 1599, poet Edmund Spenser died in London at the age of 46.  Born in East Smithfield, London, around the year 1552.  Perhaps best known for The Faerie Queene, an epic poem and fantastical allegory celebrating the Tudor dynasty and Elizabeth I.  In my opinion, he is one of the premier craftsmen of Modern English verse, and one of the greatest poets in the English language.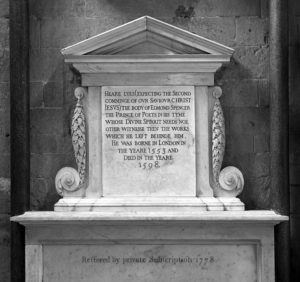 The Final Footprint – His coffin was carried to his grave in Westminster Abbey by other poets, who reportedly threw many pens and pieces of poetry into his grave with many tears.  His epitaph reads:
HERE LYES (EXPECTING THE SECOND
COMMINGE OF OVR SAVIOVR CHRIST
IESVS) THE BODY OF EDMUND SPENCER
THE PRINCE OF POETS IN HIS TYME
WHOSE DIVINE SPIRRIT NEEDS NOE
OTHIR WITNESSE THEN THE WORKS
WHICH HE LEFT BEHINDE HIM
Other notable Final Footprints at Westminster include; Robert Browning, Lord Byron, Geoffrey Chaucer, Oliver Cromwell, Charles Darwin, Charles Dickens, Edward The Confessor, Elizabeth I, George II, George Friederic Handel, James I (James VI of Scotland), Samuel Johnson, Ben Jonson, Charles II, Edward III, Edward VI, Henry III, Henry V, Henry VII, Richard II, Rudyard Kipling, Henry Wadsworth Longfellow, John Milton, Sir Isaac Newton, Laurence Olivier, Henry Purcell, Mary I, Mary II, Mary Queen of Scots, Thomas Shadwell, Lord Alfred Tennyson, Dylan Thomas, and William III.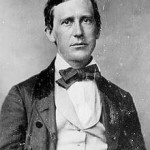 On this day in 1864, songwriter, "The Father of American Music", Stephen Foster died in Bellevue Hospital in New York at the age of 37.  Born Stephen Collins Foster on 4 July 1826 in Lawrenceville, Pennsylvania.  Primarily known for his parlour and minstrel music.  Foster wrote over 200 songs; among his best known are "Oh! Susanna," "Camptown Races," "Old Folks at Home," "My Old Kentucky Home," "Jeanie with the Light Brown Hair,"  and "Beautiful Dreamer."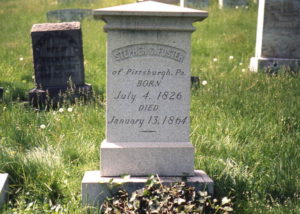 The Final Footprint – Foster was buried in the Allegheny Cemetery in Pittsburgh.  He was inducted into the Songwriters Hall of Fame in 1970, and the Nashville Songwriters Hall of Fame in 2010.  "My Old Kentucky Home" is the official song of the Kentucky Derby.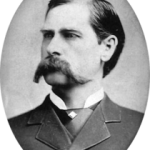 On this day in 1929, city policeman, teamster, buffalo hunter, bouncer, saloon-keeper, gambler, brothel owner, pimp, miner, boxing referee, Pima County Deputy Sheriff, and Deputy Town Marshal in Tombstone, Arizona, Wyatt Earp died at home in the Earps' apartment at 4004 W 17th Street, in Los Angeles, of chronic cystitis (some sources cite prostate cancer) at the age of 80.  Born Wyatt Berry Stapp Earp in Monmouth, Warren County in western Illinois, on 19 March 1848.  Earp took part in the Gunfight at the O.K. Corral during which lawmen killed three outlaw Cowboys.  To Wyatt's displeasure, the 30-second gunfight defined the rest of his life.  He is often regarded as the central figure in the shootout in Tombstone, although his brother Virgil was Tombstone City Marshal and Deputy U.S. Marshal that day, and had far more experience as a sheriff, constable, and marshal and in combat.  His first wife Urilla Sutherland Earp died while pregnant less than a year after they married.  Within the next two years he was arrested, sued twice, escaped from jail, then was arrested three more times for "keeping and being found in a house of ill-fame".  He landed in the cattle boomtown of Wichita, Kansas where he became a deputy city marshal for one year and developed a solid reputation as a lawman.  In 1876 he followed his brother James to Dodge City, Kansas where he became an assistant city marshal.  In winter 1878, he went to Texas to gamble where he met John Henry "Doc" Holliday whom Earp credited with saving his life.  Earp moved constantly throughout most of his life from one boomtown to another.  He left Dodge City in 1879 and with his brothers James and Virgil, moved to Tombstone where a huge silver boom was underway.  The Earps bought an interest in the Vizina mine and some water rights.  There, the Earps clashed with a loose federation of outlaw cowboys.  Wyatt, Virgil, and their younger brother Morgan held various law enforcement positions that put them in conflict with Tom and Frank McLaury, and Ike and Billy Clanton, who threatened to kill the Earps.  The conflict escalated over the next year, culminating on 26 October 1881 in the Gunfight at the O.K. Corral, during which the Earps and Holliday killed three of the Cowboys.  In the next five months, Virgil was ambushed and maimed and Morgan was assassinated.  Pursuing a vendetta, Wyatt, his brother Warren, Holliday, and others formed a federal posse which killed three of the Cowboys they thought responsible.  Unlike his lawmen brothers Virgil and James, Wyatt was never wounded in the few gunfights he took part in, which only added to his mystique after his death.  After leaving Tombstone, Earp and his third wife Josephine Earp moved from one boomtown to another, starting in Eagle City, Idaho; followed by San Diego, California; Nome, Alaska; Tonopah, Nevada; and finally Vidal, California.  An extremely flattering, largely fictionalized, best-selling biography published after his death created his reputation as a fearless lawman.  As a result of the book, Wyatt Earp has been the subject of and model for a large number of films, TV shows, biographies and works of fiction that have increased his mystique.  Earp's modern-day reputation is that of the Old West's "toughest and deadliest gunman of his day".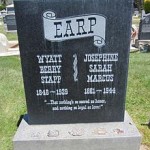 The Final Footprint – His Associated Press obituary described him as a "gun-fighter, whose blazing six-shooters, were for most of his life allied with the side of law and order".  His pallbearers were W. J. Hunsaker, (Earp's attorney in Tombstone and noted L.A. attorney); Jim Mitchell (Los Angeles Examiner reporter and Hollywood screenwriter); George W. Parsons (founding member of Tombstone's "Committee of Vigilance"); Wilson Mizner (a friend of Wyatt's during the Klondike Gold Rush); John Clum (a good friend from his days in Tombstone, former Tombstone mayor, and editor of The Tombstone Epitaph); William S. Hart (good friend and western actor and silent film star); and Tom Mix (friend and western film star).  The newspapers reported that Mix cried during his friend's service.  His wife Josie was too grief-stricken to attend.  Josie, who was of Jewish heritage, had Earp's body cremated and buried his ashes in the Marcus family plot at the Hills of Eternity, a Jewish cemetery in Colma, California.  Although it never was incorporated as a town, the settlement formerly known as Drennan located near the site of some of his mining claims was renamed Earp, California in his honor when the post office was established there in 1930.  When Josie died in 1944, her ashes were buried next to Earp's.  The original gravemarker was stolen on 8 July 1957 but was later recovered.  Earp has been portrayed in films by various actors including; Randolph Scott, Henry Fonda, Burt Lancaster, James Garner, Kurt Russell, Kevin Costner, and Val Kilmer.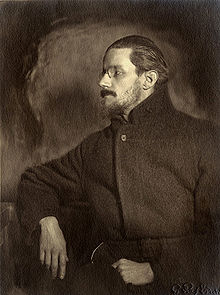 On this day in 1941, novelist and poet, James Joyce, died following surgery for a perforated ulcer in Zurich, Switzerland at the age of 58.  Born James Augustine Aloysius Joyce on 2 February 1882 in the Dublin, Ireland suburb of Rathgar.  In my opinion, one of the most influential writers of the early 20th century.  Perhaps best known for Ulysses (1922), his landmark novel which perfected his stream of consciousness technique in a modern re-telling of The Odyssey.  Joyce's other major works include; the short-story collection Dubliners (1914), and the novels A Portrait of the Artist as a Young Man (1916) and Finnegans Wake (1939).  In 1904, he met Nora Barnacle, a young woman from Connemara, County Galway who was working as a chambermaid.  She would be his lover, companion, muse and eventual wife.  On 16 June 1904, they had their first date, an event which would be commemorated by providing the date for the action of Ulysses.  The entire novel chronicles the passage of Leopold Bloom on an ordinary day in Dublin.  Joyce fans worldwide now celebrate 16 June as Bloomsday.  The day involves a range of cultural activities including Ulysses readings and dramatisations, pub crawls and general merriment, much of it hosted by the James Joyce Centre in North Great George's Street.  Joyce and Nora were married from 1931 until his death.  "Molly Bloom's soliloquy" from Ulysses is one of my all-time favorite literary passages.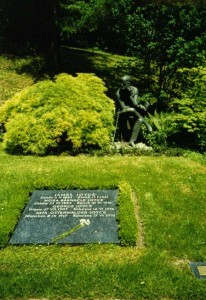 The Final Footprint – Joyce is interred in the Joyce private estate in Fluntern Cemetery in Zurich.  The estate is marked by a bronze statue of Joyce.  Nora died on 10 April 1951 and is interred next him.  Their graves are maked by a full ledger granite marker.  Other memorials inlcude; a bronze bust in St. Stephen's Green in Dublin, a bronze statue in Trieste, Italy, the Jame-Joyce-Plateau fountain at Platzspitz Park in Zurich and a bronze statue on North Earl Street in Dublin.
Have you planned yours yet?
Follow TFF on twitter @RIPTFF