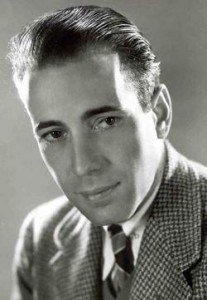 On this day in 1957, U.S. Navy veteran, Academy Award-winning actor and American icon, Bogie, Humphrey Bogart, died at his home in Holmby Hills, California at the age of 57.  Born Humphrey DeForest Bogart on 25 December 1899 in New York City.  Bogart is a Dutch name meaning orchard.  His acting breakthrough came in 1941, with High Sierra and The Maltese Falcon. The next year, his performance in Casablanca raised him to the peak of his profession and cemented his trademark film persona;  the hard-boiled cynic who ultimately shows his noble side.  Bogart's other notable movies included; To Have and Have Not (1944), The Big Sleep (1946), Dark Passage (1947), Key Largo (1948), with his wife Lauren Bacall; The Treasure of the Sierra Madre (1948); The African Queen (1951), for which he won his only Academy Award; Sabrina (1954) and The Caine Mutiny (1954).  His last movie was The Harder They Fall (1956).  During a film career of almost thirty years, he appeared in 75 feature films.  Bogart was married four times; Helen Menken (1926 – 1927 divorce), Mary Phillips (1928 – 1937 divorce), Mayo Methot (1938 – 1945 divorce), Bacall (1945 – 1957 his death).
Bogart met Bacall while filming To Have and Have Not (1944), a loose adaptation of the Ernest Hemingway novel.  When they met, Bacall was nineteen and Bogart was forty-five.  He nicknamed her "Baby."  Bogart was drawn to Bacall's high cheekbones, green eyes, tawny blond hair, and lean body, as well as her poise and earthy, outspoken honesty.  Their physical and emotional rapport was very strong from the start and quite contrary to the Hollywood norm, it was his first affair with a leading lady.  Bogart was still miserably married and his early meetings with Bacall were discreet and brief, their separations bridged by ardent love letters.
Bogart was a founding member of the Rat Pack.  In the spring of 1955, after a long party in Las Vegas with Frank Sinatra, Judy Garland, her husband, Sid Luft, Mike Romanoff and wife Gloria, David Niven, Angie Dickinson and others, Bacall surveyed the wreckage of the party and declared, "You look like a goddamn rat pack."  Romanoff's home in Beverly Hills was where the Rat Pack became official.  Sinatra was named Pack Leader, Bacall was named Den Mother, Bogart was Director of Public Relations, and Luft was Acting Cage Manager.  When asked by columnist Earl Wilson what the purpose of the group was, Bacall responded "to drink a lot of bourbon and stay up late."
Bogart is credited with five of the most quotable quotes in American cinema:  "Here's looking at you, kid" – Casablanca, "The stuff that dreams are made of." – The Maltese Falcon, "Louis, I think this is the beginning of a beautiful friendship." – Casablanca, "We'll always have Paris." – Casablanca, "Of all the gin joints in all the towns in all the world, she walks into mine." – Casablanca.  Bogart is also credited with one of the top movie misquotations.  In Casablanca, neither he, nor anyone else, ever said, "Play it again, Sam".  When Ilsa (Ingrid Bergman), his former love, first enters the Café Americain, she spots Sam, the piano player (Dooley Wilson) and asks him to "Play it once, Sam, for old times' sake."  When he feigns ignorance, she responds, "Play it, Sam. Play "As Time Goes By.""  Later that night, alone with Sam, Rick says, "You played it for her and you can play it for me" and "If she can stand it, I can! Play it!"  The slang term "bogarting" refers to taking an unfairly long time with a cigarette, drink, et cetera, that is supposed to be shared (e.g., "Don't bogart the microphone!").  It derives from Bogart's style of cigarette smoking, with which he left his cigarette dangling from his mouth rather than withdrawing it between puffs.  No one was Bogart cool, before or since.  Indeed, here is lookin' at you.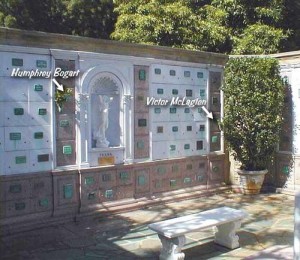 The Final Footprint – Bogart was cremated and his cremains are inurned in the Garden of Memory Columbarium of Eternal Light, Forest Lawn Memorial Park, Glendale, California.  Inurned with his cremains is a small gold whistle, which he had given to Bacall, before they married, in reference to their first movie.  His star on the Hollywood Walk of Fame is located at 6322 Hollywood Boulevard.  The latest in a long line of Bogart biographies is Stefan Kanfer's  "Tough Without a Gun: The Life and Extraordinary Afterlife of Humphrey Bogart."  Other notable Final Footprints at Forest Lawn Glendale include; L. Frank Baum, Lon Chaney, Dorothy Dandridge, Sammy Davis, Jr., Elizabeth Taylor, Jean Harlow, Nat King Cole, Sam Cooke, Walt Disney, Errol Flynn, Clark Gable, Michael Jackson, Carole Lombard, Casey Stengel, Jimmy Stewart, and Spencer Tracy.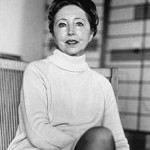 On this day in 1977, author Anaïs Nin died in Los Angeles, California after a three year battle with cancer.  Born Angela Anaïs Juana Antolina Rosa Edelmira Nin y Culmell on 21 February 1903 in Neuilly, France to a Cuban father and a French/Danish mother.  Nin wrote journals (which span more than 60 years, beginning when she was 11 years old and ending shortly before her death), novels, critical studies, essays, short stories, and erotica; including Delta of Venus (1977), Little Birds (1979) and Henry and June (1986).  On 3 March 1923, in Havana, Cuba, Nin married her first husband, Hugh Parker Guiler (1898–1985), a banker and artist, later known as "Ian Hugo" when he became a maker of experimental films in the late 1940s.  According to her diaries, Vol.1, 1931–1934, Nin shared a bohemian lifestyle with writer Henry Miller during her time in Paris.  The diaries tell that her union with Miller was very passionate and physical, and that she believed that it was a pregnancy by him that she aborted in 1934.  In 1947, at the age of 44, she met former actor Rupert Pole in a Manhattan elevator on her way to a party.  The two ended up dating and traveled to California together; Pole was sixteen years her junior.  On 17 March 1955, she married him at Quartzsite, Arizona, returning with Pole to live in California.  Guiler remained in New York City and was unaware of Nin's second marriage until after her death in 1977, or chose not to know.  Nin referred to her simultaneous marriages as her "bicoastal trapeze".  In 1966, Nin had her marriage with Pole annulled, due to the legal issues arising from both Guiler and Pole having to claim her as a dependent on their federal tax returns.  Though the marriage was annulled, Nin and Pole continued to live together as if they were married, up until her death in 1977.  Nin often cited authors Djuna Barnes and D. H. Lawrence as inspirations. 
The Final Footrpint – Her body was cremated, and her ashes were scattered over Santa Monica Bay in Mermaid Cove.  Philip Kaufman directed the 1990 film Henry & June based on Nin's novel Henry and June: From the Unexpurgated Diary of Anaïs Nin.  She was portrayed in the film by Maria de Medeiros.
Have you planned yours yet?
Follow TFF on twitter @RIPTFF