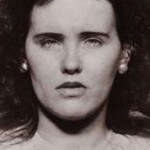 On this day in 1947, The Black Dahlia, Elizabeth Short's body was found in the Leimert Park district of Los Angeles, the victim of a gruesome and much-publicized murder.  Born Elizabeth Short on 29 July 1924 in Boston, Massachusetts.  Short acquired the nickname posthumously by newspapers in the habit of nicknaming crimes they found particularly colorful.  Short's unsolved murder has been the source of widespread speculation, leading to many suspects, along with several books and film adaptations of the story.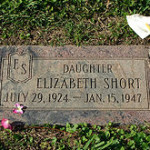 The Final Footprint –  Short was buried at the Mountain View Cemetery in Oakland, California.  A 1975 TV movie, "Who Is the Black Dahlia?" featured Lucie Arnaz in the role of Elizabeth.  James Ellroy wrote The Black Dahlia in 1987.  It was a fictionalized account of Elizabeth, the events in her life eventually leading to her death, and two obsessed cops who attempt to find her killer.  A fictionalized account of Black Dahlia murder was featured in the program American Horror Story: Murder House in episode 9 Spooky Little Girl.  She was portrayed by actress Mena Suvari.  In the episode, Elizabeth was murdered by a young doctor who resided in the show's haunted house.  Short is portrayed in the episode as a ghost who has lost her memory and is doomed to linger on the house's premises.  True Confessions, a 1981 film starring Robert De Niro and Robert Duvall was loosely based on the murder case.  The film was adapted from a 1977 novel of the same name by John Gregory Dunne.  A movie titled The Black Dahlia,  based on Ellroy's book, was released in September 2006 directed by Brian De Palma and starred Josh Hartnett, Scarlett Johansson, Aaron Eckhart and Hilary Swank.  Mia Kirshner played Elizabeth.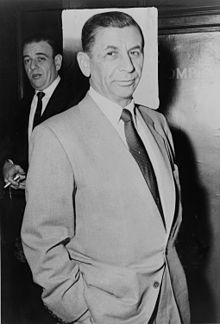 On this day in 1983, major organized crime figure, the "Mob's Accountant", Meyer Lansky died of lung cancer at the age of 80 in Miami Beach.  Born Meyer Suchowlansky in Grodno (then in Russian Empire, now in Belarus) on 4 July 1902.  Along with his associate Charles "Lucky" Luciano, Lansky was instrumental in the development of the "National Crime Syndicate" in the United States.  For decades he was thought to be one of the most powerful individuals in the country.  Lansky developed a gambling empire which stretched across the seas.  He was said to own points in casinos in Las Vegas, Cuba, The Bahamas and London.  Although a member of the Jewish Mob, Lansky undoubtedly had strong influence with the Italian Mafia and played a large role in the consolidation of the criminal underworld (although the full extent of this role has been the subject of some debate, as he himself denied many of the accusations against him).  Despite all the reports, the U.S. Justice Department never found Lansky guilty of anything more serious than illegal gambling.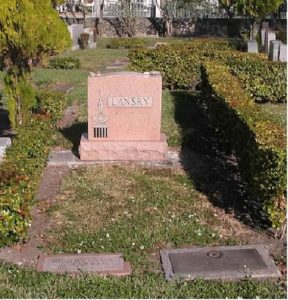 The Final Footprint – Lansky is interred in Mount Nebo Miami Memorial Gardens in West Miami.  The character Hyman Roth, portrayed by Lee Strasberg, and certain aspects of the main character Michael Corleone from Francis Ford Coppola's film The Godfather Part II (1974), appear to be based on Lansky.  Shortly after the premiere in 1974, Lansky phoned Strasberg and congratulated him on a good performance (Strasberg was nominated for an Oscar for his role), but added "You could've made me more sympathetic."  Roth's statement to Michael Corleone that "We're bigger than U.S. Steel" was actually a direct quote from Lansky, who said the same thing to his wife while watching a news story on the Cosa Nostra.  The Godfather character Johnny Ola is similar to Lansky's associate Vincent Alo.  Additionally, the character Moe Greene, who was a friend of Roth's, appears to be modeled upon Bugsy Siegel.  The film reflects real life in that Lansky was denied the Right of Return to Israel and returned to the U.S. to face criminal charges, but fabricated details regarding Roth's attempts to bribe Latin American dictators for entry to their countries, as well as Roth's ultimate fate.  Maximilian "Max" Bercovicz, the gangster played by James Woods in Sergio Leone's opus Once Upon A Time In America, appears to be inspired by Lansky.  Mark Rydell played Lansky in the 1990 Sydney Pollack film Havana, starring Robert Redford.  The film Bugsy (1991), a biography of Siegel, included Lansky as a major character, played by Ben Kingsley, who was nominated for the Academy Award for Best Supporting Actor for his performance.  In the 1991 film Mobsters, he is played by Patrick Dempsey.  Lansky is portrayed by Dustin Hoffman in the 2005 film The Lost City, which presents a fictionalized account of Lansky's involvement in Cuba.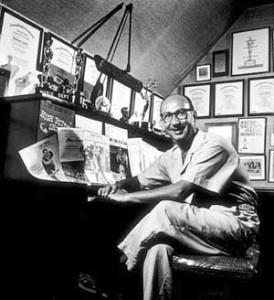 On this day in 1993, lyricist, songwriter and musician, multiple Academy Award-winner, Sammy Cahn, died in Los Angeles, California at the age of 79 from heart failure.  Born Samuel Cohen on 18 June 1913 in The Lower East Side of Manhattan.  My favorite Cahn songs are; "(Love is) The Tender Trap", "Come Fly with Me" and "My Kind of Town".  Cahn and composer Jimmy Van Heusen wrote many songs for Frank Sinatra.  Cahn was married twice; Gloria Delson and Virginia "Tita" Curtis.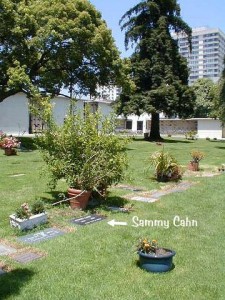 The Final Footprint – Cahn is interred at Pierce Brothers Westwood Village Memorial Park and Mortuary (a Dignity Memorial® provider) in Los Angeles.  His grave is marked by a full ledger granite marker inscribed with his name, birth and death years and; SLEEP WITH A SMILE.  Other notable final footprints at Westwood include; Ray Bradbury, Truman Capote, James Coburn, Rodney Dangerfield, Janet Leigh, Farrah Fawcett, Brian Keith, Don Knotts, Burt Lancaster, Peter Lawford, Peggy Lee, Jack Lemmon, Karl Malden, Dean Martin, Walter Mathau, Marilyn Monroe, Carroll O'Connor, Roy Orbison, George C. Scott, Dorothy Stratten, Natalie Wood and Frank Zappa.
Have you planned yours yet?
Follow TFF on twitter @RIPTFF