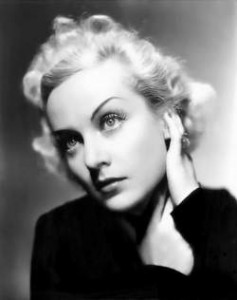 On this day in 1942, Academy Award nominated actress, Carole Lombard, died on Mount Potosi near Las Vegas, Nevada at the age of 33.  Born Jane Alice Peters on 6 October 1908 in Fort Wayne, Indiana.  She is particularly noted for her roles in the screwball comedies of the 1930s.  Lombard is listed as one of the American Film Institute's greatest stars of all time and was the highest-paid star in Hollywood in the late 1930s.  Graham Greene praised the "heartbreaking and nostalgic melodies" of her faster-than-thought delivery: "Platinum blonde, with a heart-shaped face, delicate, impish features and a figure made to be swathed in silver lamé, Lombard wriggled expressively through such classics of hysteria as Twentieth Century and My Man Godfrey."  Lombard was married twice; William Powell (1931 – 1933 divorce) and Clark Gable (1939 – 1942 her death).  Lombard and Gable eloped in Kingman, Arizona on the 29 March 1939.  The couple, both lovers of the outdoors, bought a 20-acre ranch in Encino, California, where they kept barnyard animals and enjoyed hunting trips.  Lombard and 21 others, including her mother, were killed when TWA Flight 3 crashed on returning to California from a war bond rally in Indiana.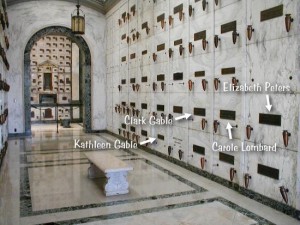 The Final Footprint – Gable was flown to Las Vegas after learning of the tragedy to claim the bodies of his wife, mother-in-law, and Otto Winkler, who aside from being his press agent had been a close friend.  Lombard's funeral was held on 21 January at Forest Lawn Memorial Park Cemetery in Glendale, California.  Lombard is entombed in the Great Mausoleum Sanctuary of Trust, Forest Lawn Memorial Park, Glendale.  Her crypt is memorialized with a bronze plaque with the name, CAROLE LOMBARD GABLE and her birth and death dates.  Shortly after her death, Gable (who was inconsolable and devastated by his loss) joined the United States Army Air Forces, as Lombard had asked him to do numerous times after the United States had entered World War II.  After officer training, Gable headed a six-man motion picture unit attached to a B-17 bomb group in England to film aerial gunners in combat, flying five missions himself.  In December 1943, the United States Maritime Commission announced that a Liberty ship named after Lombard would be launched.  Gable attended the launch of the SS Carole Lombard on 15 January 1944, the two-year anniversary of Lombard's record-breaking war bond drive.  The ship was involved in rescuing hundreds of survivors from sunken ships in the Pacific and returning them to safety.  Despite being married twice more, Gable chose to be entombed beside Lombard when he died in 1960.  Other notable Final Footprints at Forest Lawn Glendale include; L. Frank Baum, Humphrey Bogart, Lon Chaney, Dorothy Dandridge, Sammy Davis, Jr., Elizabeth Taylor, Jean Harlow, Nat King Cole, Sam Cooke, Walt Disney, Errol Flynn, Clark Gable, Michael Jackson, Casey Stengel, Jimmy Stewart, and Spencer Tracy.
Have you planned yours yet?
Follow TFF on twitter @RIPTFF