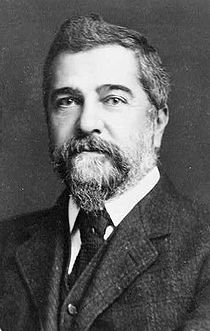 On this day in 1933, artist and designer Louis Comfort Tiffany died in New York City at the age of 84.  Born on 18 February 1848 in New York City, the son of Charles Lewis Tiffany, founder of Tiffany and Company; and Harriet Olivia Avery Young.  Tiffany worked in the decorative arts and is best known for his work in stained glass.  He is the American artist most associated with the Art Nouveau and Aesthetic movements.  Tiffany was affiliated with a prestigious collaborative of designers known as the Associated Artists.  Tiffany designed stained glass windows and lamps, glass mosaics, blown glass, ceramics, jewelry, enamels and metalwork.  Tiffany married twice: Mary Woodbridge Goddard (1872 – 1884 her death) and Louise Wakeman Knox (1886 – 1904 her death).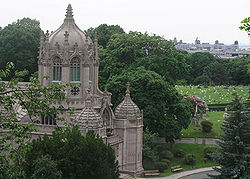 The Final Footprint – Tiffany is interred in Green-Wood Cemetery, Brooklyn.  Other notable final footprints at Green-Wood include; Albert Anastasia, Jean-Michel Basquiat, Leonard Bernstein, Lorenzo da Ponte, and Charles Ebbets.
Gallery
Stained glass windows

Window of St. Augustine, in the Lightner Museum, St. Augustine, Florida.

Girl with Cherry Blossoms (c. 1890)

The Tree of Life stained glass

Angel of the Resurrection (1904), in the Indianapolis Museum of Art

The New Creation, at Brown Memorial Presbyterian Church, Baltimore, Maryland

The Baptism of Christ, at Brown Memorial

Nicodemus Came to Him by Night, First Presbyterian Church, Lockport, NY

John the Baptist at Arlington Street Church in Boston

Sermon on the Mount at Arlington Street Church in Boston

Christ the Consoler at Pullman Memorial Universalist Church, Albion, NY

Pastoral window at Second Presbyterian Church (Chicago, Illinois)
Education (Chittenden Memorial Window) at Yale University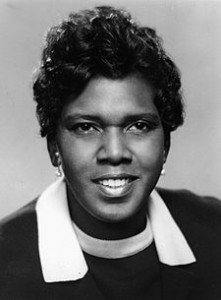 On this day in 1996, 15 years ago, U.S. Congresswoman, Texas Senator, Presidential Medal of Freedom recipient, Barbara Jordan, died in Austin, Texas.  Born Barbara Charline Jordan on 21 February 1936 in Houston, Texas.  She was the first African-American elected to the Texas Senate after reconstruction and the first Southern black woman ever elected to the U.S. House of Representatives.  Jordan was mentioned as a possible running mate to Jimmy Carter in 1976.  That year, she became the first African-American woman to deliver the keynote address at the Democratic National Convention.  Jordan retired from politics in 1979 and became an adjunct professor teaching ethics at the University of Texas at Austin Lyndon B. Johnson School of Public Affairs.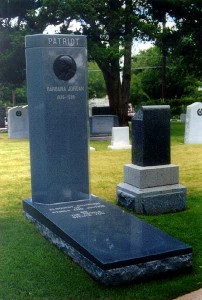 The Final Footprint – Jordan is interred in the Texas State Cemetery in Austin becoming the first African-American woman interred there.  Her grave is marked by a large granite upright column monument and a full ledger granite marker.  At the top of the column the word, PATRIOT, is engraved and the ledger is engraved in part; WE THE PEOPLE SALUTE YOU.  Upon her death, Jordan lay in state at the LBJ Library on the campus of The University of Texas at Austin.  The main terminal at Austin-Bergstrom International Airport is named after her.  On April 24, 2009, a Barbara Jordan statue was unveiled at the University of Texas at Austin.  Other notable final footprints at Texas State Cemetery include; Stephen F. Austin, John B. Connally, Nellie Connally, J. Frank Dobie, Tom Landry (cenotaph), James A. Michener (cenotaph), Ann Richards, Edwin "Bud" Shrake, Big Foot Wallace, and Walter Prescott Webb.
Have you planned yours yet?