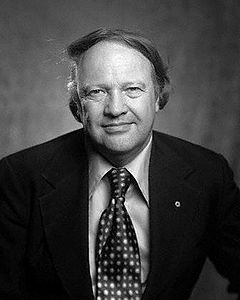 On this day in 1997, U.S. Army and U.S Air Force veteran, poet, novelist, eighteenth Poet Laureate Consultant in Poetry to the Library of Congress, James Dickey, died in Columbia, South Carolina at the age of 73.  Born James Lafayette Dickey on 2 February 1923 in Atlanta, Georgia.  He attended Clemson and later graduated from Vanderbilt.  Dickey taught at Rice University and The University of South Carolina.  Perhaps best known for his novel Deliverance (1970).  The film version was released in 1972 starring Burt Reynolds, Jon Voight and Ned Beatty and was nominated for an Academy Award.  Both the book and the movie are unforgettable.  I highly recommend both.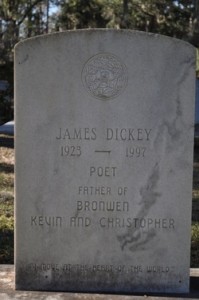 The Final Footprint – Dickey is interred in All Saints Episcopal Church Cemetery in Pawleys Island, South Carolina.  His grave is marked with an upright marble marker inscribed with his name, birth and death years and; POET and "I MOVE AT THE HEART OF THE WORLD".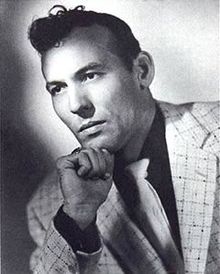 On this day in 1998, singer, songwriter, musician, the King of Rockabilly, Carl Perkins died at the age of 65 at Jackson-Madison County Hospital in Jackson, Tennessee from throat cancer after suffering several strokes.  Born Carl Lee Perkins on 9 April 1932 in Tiptonville, Tennessee.  Perkins, who recorded most notably at Sun Records Studio in Memphis, Tennessee, beginning in 1954, is perhaps best known for his song is "Blue Suede Shoes".  Charlie Daniels said, "Carl Perkins' songs personified the rockabilly era, and Carl Perkins' sound personifies the rockabilly sound more so than anybody involved in it, because he never changed."  Paul McCartney claimed that "if there were no Carl Perkins, there would be no Beatles."   Perkins was inducted into the Rock and Roll, the Rockabilly, and the Nashville Songwriters Halls of Fame; and was a Grammy Hall of Fame Award recipient.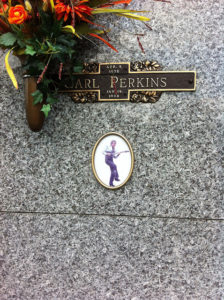 The Final Footprint – Among mourners at Perkin's funeral at Lambuth University were George Harrison, Jerry Lee Lewis, Wynonna Judd, Garth Brooks, Johnny Cash and June Carter Cash.  Perkins was entombed at Ridgecrest Cemetery in Jackson.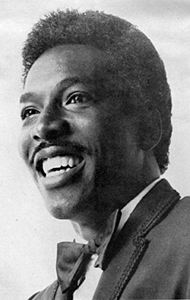 On this day in 2006, singer, songwriter, the Wicked Pickett, Wilson Pickett died from a heart attack in Reston, Virginia at the age of 64.  Born on 18 March 1941 in Prattville, Alabama.  A major figure in the development of American soul music, Pickett recorded over 50 songs which hit the US R&B charts, and frequently crossed over to the US Billboard Hot 100.  Among his best known hits are "In the Midnight Hour" (which he co-wrote), "Land of 1,000 Dances", "Mustang Sally", and "Funky Broadway".  The impact of Pickett's songwriting and recording led to his 1991 induction into the Rock and Roll Hall of Fame.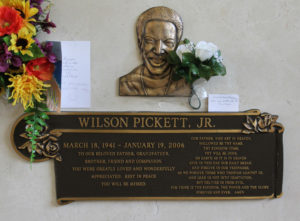 The Final Footprint – Pickett was laid to rest in a mausoleum in Louisville, Kentucky at Evergreen Cemetery on Preston Highway.  The eulogy was delivered by Pastor Steve Owens of Decatur, Georgia.  Little Richard, a long-time friend of Pickett's, spoke about him and preached a message at the funeral.  He was remembered on 20 March 2006, at New York's B.B. King Blues Club with performances by the Commitments, Ben E King, his long-term backing band the Midnight Movers, soul singer Bruce "Big Daddy" Wayne, and Southside Johnny in front of an audience that included members of his family, including two brothers.
Have you planned yours yet?
Follow TFF on twitter @RIPTFF