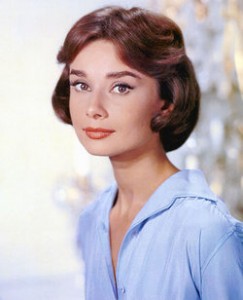 On this day in 1993, Oscar, Tony, Grammy and Emmy-winner, actress, humanitarian, Presidential Medal of Freedom recipient, the incomparably beautiful and talented, Audrey Hepburn died at her home in Tolochenaz, Vaud, Switzerland at the age of 63 from appendiceal cancer.  Born Audrey Kathleen Ruston on 4 May 1929 in Ixelles, Belgium.  Hepburn's father was an English banker of Irish descent and her mother was a Dutch aristocrat.  Her father later prefixed the surname of his maternal grandmother, Kathleen Hepburn, to the their and her surname became Hepburn-Ruston.  Oh my, where do we begin.  She is one of my very favorite actresses.  My favorite Hepburn movies: Roman Holiday (1953), Sabrina (1954), Breakfast at Tiffany's (1961), My Fair Lady (1964).  Hepburn was chosen to play the lead character in the Broadway play Gigi, that opened on 24 November 1951.  The writer Colette, when she first saw Hepburn, reportedly said "Voilà! There's our Gigi".  She and her co-star from Roman Holiday, Gregory Peck, became lifelong friends.  During the shooting of Sabrina, Hepburn was sent to a then young and upcoming fashion designer Hubert de Givenchy to decide on her wardrobe.  Givenchy and Hepburn developed a lasting friendship, and she was often a muse for many of his designs.  They formed a lifelong friendship and partnership.  Also, during the filming of Sabrina, Hepburn became romantically involved with co-star William Holden.  Hepburn was married twice; Mel Ferrer (1954 -1968 divorce) and Andrea Dotti (1969 – 1982 divorce).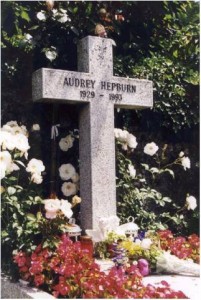 The Final Footprint – Funeral services were held at the village church of Tolochenaz, Switzerland, on 24 January 1993.  Maurice Eindiguer, the same pastor who wed Hepburn and Ferrer and baptised her son Sean in 1960, presided over her funeral while Prince Sadruddin Aga Khan, of UNICEF, delivered a eulogy.  Family members and friends attended the funeral, including her sons, partner Robert Wolders, brother Ian Quarles van Ufford, ex-husbands Dotti and Ferrer, Givenchy, executives of UNICEF, and fellow actors Alain Delon and Roger Moore.  Flower arrangements were sent to the funeral by Peck, Elizabeth Taylor and the Dutch royal family.  Hepburn is interred in Tolochenaz Cemetery.  Her grave is marked by a full ledger granite marker with a granite cross.  After her death, Peck went on camera and tearfully recited her favourite poem, "Unending Love" by Rabindranath Tagore.  This is one of my favorite poems.  Do yourself a favor and read it, soon and often.
Barbara Stanwyck

Stanwyck in 1943
On this day in 1990, model, dancer and actress Barbara Stanwyck died aged 82, of congestive heart failure and chronic obstructive pulmonary disease (COPD) at Saint John's Health Center in Santa Monica, California. Born Ruby Catherine Stevens on July 16, 1907 in Brooklyn. Stanwyck was a film and television star, known during her 60-year career for her strong, realistic screen presence. After a short but notable career as a stage actress in the late 1920s, she made 85 films in 38 years in Hollywood, before turning to television.
Orphaned at the age of four and partially raised in foster homes, by 1944 Stanwyck had become the highest-paid woman in the United States. She was nominated for the Academy Award for Best Actress four times, for Stella Dallas (1937), Ball of Fire (1941), Double Indemnity (1944) and Sorry, Wrong Number (1948). For her television work, she won three Emmy Awards, for The Barbara Stanwyck Show (1961), The Big Valley (1966) and The Thorn Birds (1983).
She received an Honorary Oscar at the 1982 Academy Award ceremony. Stanwyck received a star on the Hollywood Walk of Fame in 1960.
While playing in The Noose, Stanwyck reportedly fell in love with her married co-star, Rex Cherryman. Cherryman had become ill early in 1928 and his doctor advised him to take a sea voyage to Paris where he and Stanwyck had arranged to meet. While still at sea, he died of septic poisoning at the age of 31.
On August 26, 1928, Stanwyck married her Burlesque co-star, Frank Fay. She and Fay later claimed they disliked each other at first, but became close after Cherryman's death. A botched abortion at the age of 15 had resulted in complications which left Stanwyck unable to have children. The marriage was a troubled one. Fay's successful career on Broadway did not translate to the big screen, whereas Stanwyck achieved Hollywood stardom. Fay was reportedly physically abusive to his young wife, especially when he was inebriated. Some claim that this union was the basis for A Star Is Born. The couple divorced on December 30, 1935.
In 1936, while making the film His Brother's Wife (1936), Stanwyck became involved with her co-star, Robert Taylor. Stanwyck served as support and adviser to the younger Taylor, who had come from a small Nebraska town. She guided his career, and acclimated him to the sophisticated Hollywood culture. The couple began living together, sparking newspaper reports about the two. Stanwyck was hesitant to remarry after the failure of her first marriage. However, their 1939 marriage was arranged with the help of Taylor's studio Metro-Goldwyn-Mayer, a common practice in Hollywood's golden age. Louis B. Mayer went as far as presiding over arrangements at the wedding. She and Taylor enjoyed time together outdoors during the early years of their marriage, and owned acres of prime West Los Angeles property. Their large ranch and home in the Mandeville Canyon section of Brentwood, Los Angeles, is still referred to by the locals as the old "Robert Taylor ranch."
Stanwyck and Taylor mutually decided in 1950 to divorce. Taylor had romantic affairs, and there were unsubstantiated rumors about Stanwyck having had affairs as well. After the divorce, they acted together in Stanwyck's last feature film, The Night Walker (1964). She never remarried and cited Taylor as the love of her life, according to her friend and Big Valley co-star Linda Evans. She took his death in 1969 very hard, and took a long break from film and television work.
Stanwyck had a romantic affair with actor Robert Wagner, whom she met on the set of Titanic (1953). Wagner, who was 22, and Stanwyck, who was 45 at the beginning of the relationship, had a four-year romance, which is described in Wagner's memoir Pieces of My Heart (2008). Stanwyck ended the relationship. In the 1950s, Stanwyck reportedly also had a one-night stand with the much younger Farley Granger, which he wrote about in his autobiography Include Me Out: My Life from Goldwyn to Broadway (2007)
The Final Footprint
She had indicated that she wanted no funeral service. In accordance with her wishes, her remains were cremated and the ashes scattered from a helicopter over Lone Pine, California, where she had made some of her western films.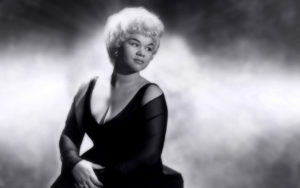 On this day in 2012, singer, songwriter Etta James died from leukemia five days before her 74th birthday, at Riverside Community Hospital in Riverside, California.  Born Jamesetta Hawkins on 25 January 1938, in Los Angeles.  Her style spanned a variety of music genres including blues, R&B, soul, rock and roll, jazz and gospel.  Starting her career in 1954, she gained fame with hits such as "The Wallflower", "At Last", "Tell Mama", "Something's Got a Hold on Me", and "I'd Rather Go Blind" for which she wrote the lyrics.  James is regarded as having bridged the gap between rhythm and blues and rock and roll, and was the winner of six Grammys and 17 Blues Music Awards.  She was inducted into the Rock and Roll Hall of Fame in 1993, the Blues Hall of Fame in 2001, and the Grammy Hall of Fame in both 1999 and 2008.  James was married to Artis Mills.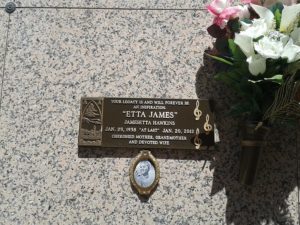 The Final Footprint – Her funeral, presided over by Reverend Al Sharpton, took place in Gardena, California eight days after her death.  Singers Stevie Wonder and Christina Aguilera each gave a musical tribute.  She was entombed at Inglewood Park Cemetery in Los Angeles County, California.  Other notable Final Footprints at Inglewood Park include; Ray Charles, Ella Fitzgerald, baseball player Curt Flood, actress Betty Grable, attorney Robert Kardashian (father of  Kim, Kourtney and  Khloé), soul musician Billy Preston , blues singer Big Mama Thornton, and blues musician T-Bone Walker.
Have you planned yours yet?
Follow TFF on twitter @RIPTFF